Undergraduate Senior
Environmental Engineering
"My favorite aspects of the program are the size of the cohort and core junior year curriculum."
Degree:
Environmental Engineering
Hometown:
Los Angeles, CA
Why engineering?
I love solving problems in unique and creative ways. I enjoyed learning about chemistry, math and physics before UW and I wanted to understand more about the background of how things happen in this world in order to solve issues that people and the environment face.
Why CEE?
I have always had a passion for the environment and improving lives. Growing up I was always outdoors, from playing sports and doing all kinds of activities like swimming to just observing and admiring. I grew to love the environment that not only surrounds us, but supports our lives in every way. One aspect that I began to appreciate the most was water. I began to realize how important potable water is behind the scenes and the gravity of the benefits that clean water provides, including, bathing, cooking, washing clothes and staying hydrated. In the life that most of my peers and I live in, these basic necessities are accessible by turning on a faucet in our homes; however, not everyone around the globe has this convenience. With my passion for conserving the environment and dedication to providing potable water to people, I chose to study environmental engineering to improve human life without sacrificing environmental quality.
What do you enjoy most about the program?
My favorite aspects of the program are the size of the cohort and core junior year curriculum. I really enjoyed that during junior year, the whole cohort took the same classes and it was a relatively small group compared to the size of UW classes in freshman and sophomore years. This allows the cohort to bond and work together, as well as have a better student-professor relationship. The curriculum allows students to survey all aspects of the field. I've learned so much about environmental engineering and what I can do in the future.
Area of interest
I am interested most in water supply and treatment. With my interests in providing clean water to people, while preserving and protecting the environment, I want to focus on water and resource reuse.
Do you participate in any research?
I worked with a professor on a lab titled "Water Purification in Less Developed Countries." I did all kinds of research about water and accessible ways to disinfect water from various sources on a large scale. This involved research through journals, books, articles, and more, as well as testing different ideas I discovered and brainstormed. I learned a lot about various unconventional, but accessible and practical ways to treat water.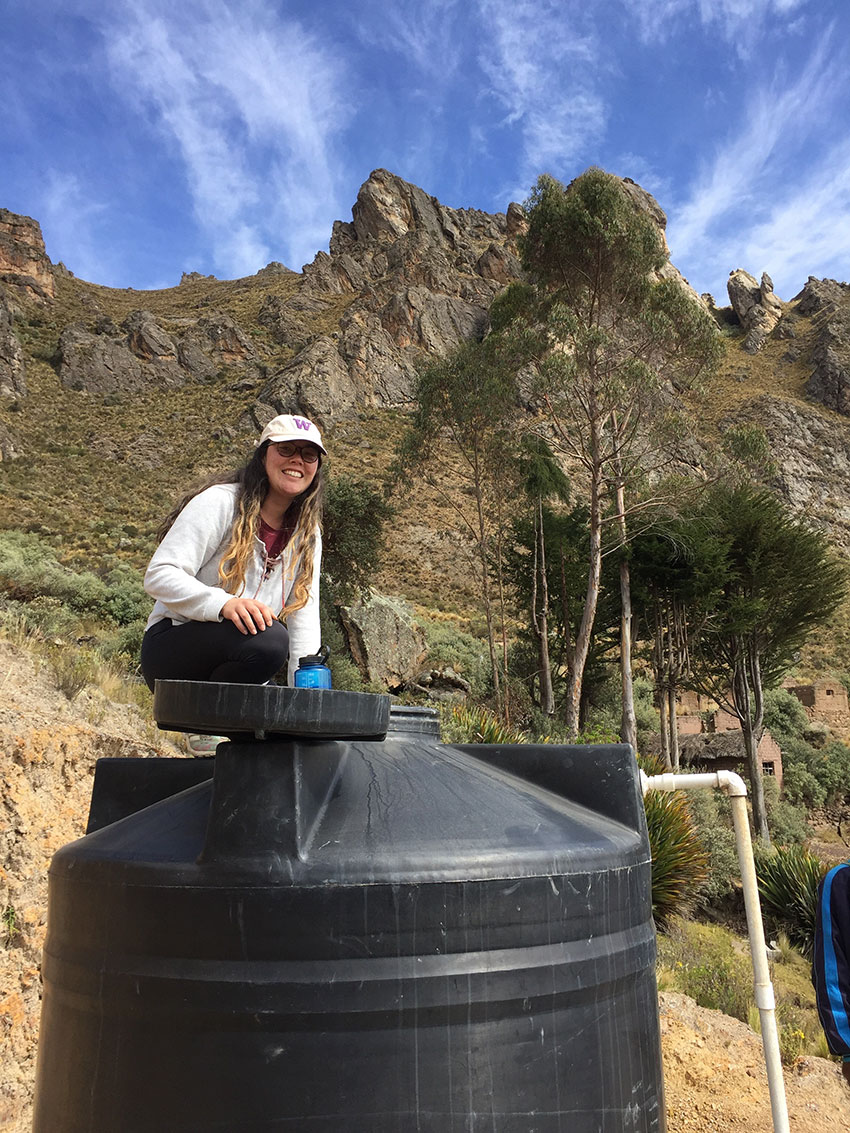 Internships?
During summer 2019, I had the opportunity to work with Engineers in Action (EIA), an NGO based in La Paz, Bolivia, helping with various water projects in rural communities throughout Bolivia. EIA is an organization that works to build sustainable systems that allow community members to have access to clean water and sanitation. This experience allowed me to participate in assessing, designing and implementing various projects, including drinking water distribution systems, irrigation systems, wastewater treatment, latrines, and bathrooms. While living and working in La Paz, as well as travelling to rural communities around the country, I had the chance to witness how communities live without access to basic necessities and learn how to help and improve their lives. I learned how to both design and even build various systems hands-on. It was an incredible experience for both my life and world-view as well as my environmental engineering career.
Activities?
Leading up to my internship, I was able to work with various Engineers Without Borders teams that work with EIA. I observed their design and process in order to prepare myself for the summer in Bolivia. I worked online with teams from various states in the U.S. and was able to learn about different techniques and perspectives.
What is your dream job?
My dream is to work in different countries that are in need of improved water systems. I would love to design systems that provide necessary potable water, while using the least number of resources and doing the least amount of damage to the environment. It would be incredible to work for an organization dedicated to improving peoples' lives in a sustainable way.
Any advice for prospective students?
Get involved and take advantage of all that UW has to offer! The university and this department specifically provides many great opportunities. The clubs, facilities and activities are only some of the things I suggest getting involved in. The faculty and administration are always there for support and I advise reaching out whenever you need help, advice or support of any kind!