Meet the chair: Professor Laura Lowes

September 5, 2017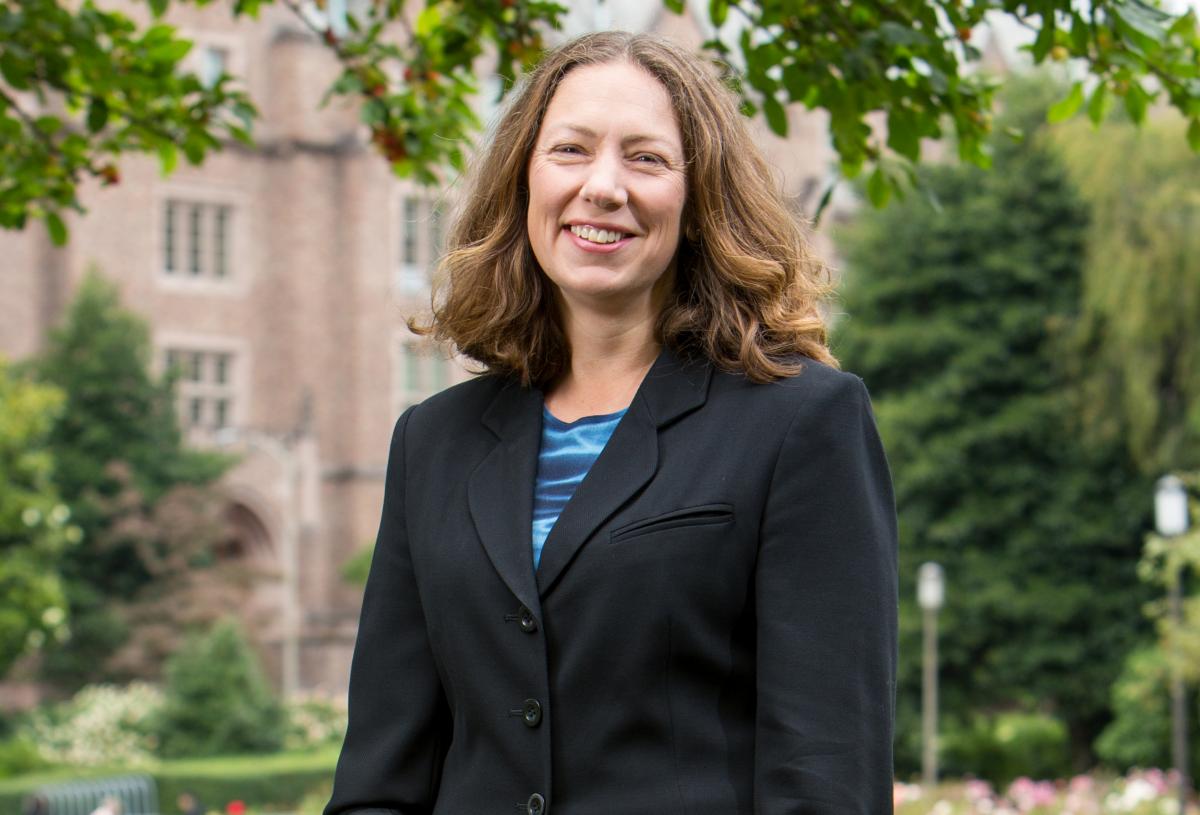 CEE chair and professor Laura Lowes
It may be a new role, but incoming department chair Laura Lowes is no newcomer to the UW CEE department. After completing her undergraduate degree here and serving as a faculty member for the past 17 years, Lowes knows the department well.
"I had an incredibly good experience here as an undergrad," said Lowes, who is the William M. and Marilyn M. Conner Professor. "I want to know that today's undergrads are getting as much out of their experience as I did."
With a five-year appointment that begins September 1, Lowes succeeds former chair and professor Greg Miller. She is the first female chair in the department's 119-year history.
Being the first female chair is exciting from the perspective of better representing the growing number of female students and faculty in the department, said Lowes, who hopes to grow the diversity of all underrepresented groups in the department.
"It's good for our students to see professors, principal engineers, department chairs, business owners and university presidents who look like them. It confirms that they can achieve their career goals and find others who share their experiences when they get there," Lowes said.
Growing up near Tacoma, Wash., Lowes was exposed to the world of academia at a young age by her father, a geology professor at Pacific Lutheran University. With an early interest in architecture, Lowes eventually decided to pursue civil engineering because it was a better fit for her skill set.
"I was interested in designing buildings, but was better at math and physics than artistic design," Lowes said. "So I came into civil engineering from a structures perspective."
After completing her bachelor's degree at UW CEE, Lowes earned master's and Ph.D. degrees at the University of California, Berkeley. She joined the faculty at Stanford University for a short time before returning to UW CEE.
During her tenure, Lowes plans to build on the success of the department. Immediate goals include successfully implementing the department's new bachelor's degree in Environmental Engineering, ensuring a smooth transition to the new Direct to College admission process for incoming freshman students, and supporting the many research centers in the department. She also hopes to get prospective students excited about civil and environmental engineering by emphasizing the critical nature of the field.
"I want to highlight how important civil and environmental engineering is to everyday life in the Puget Sound, Washington state and beyond," Lowes said. "And raise the profile of what our faculty and students do for transportation, clean air, clean water and community resilience to natural hazards."
Although she will take a break from teaching during her first year as chair, Lowes will continue her research, which employs computational modeling to investigate the behavior and design of reinforced concrete structures for earthquake loading. Lowes' recent projects have focused on developing structural modeling tools and recommendations for use by practicing engineers and advancing the design of reinforced concrete walls, which are the earthquake load resisting system used in most of the high-rise buildings in Seattle and elsewhere on the West Coast.
Lowes is currently involved in the management of three National Science Foundation funded research centers, which are part of a larger $50 million Natural Hazards Engineering Research Infrastructure (NHERI) initiative. With the objective of enhancing the resiliency of buildings and other infrastructure during natural disasters, a network of shared research centers were established at universities across the nation in 2016.
The three centers that Lowes is involved in are the UW CEE-based Post-Disaster Rapid Response Research Center, which will provide equipment and tools to enable the collection of high-quality data in the aftermath of natural hazard events; the Cyberinfrastructure Center, where a Web-based data repository, called DesignSafe-CI, will allow various natural hazard research teams to share and archive experimental and simulation data; and the Computational Modeling and Simulation Center, for which Lowes serves as co-PI, which will advance natural hazards simulation.
Outside of work, Lowes spends time with her husband, two daughters ages 6 and 9, and two "exceptionally irritating" Dachshunds. She enjoys skiing in the winter, camping in the summer, and hiking with her father and children. And you might see her this fall at a Husky football game- she is a season ticket holder.