Brooke Fisher
Photos by Dennis Wise / University of Washington
Video by Kiyomi Taguchi / University of Washington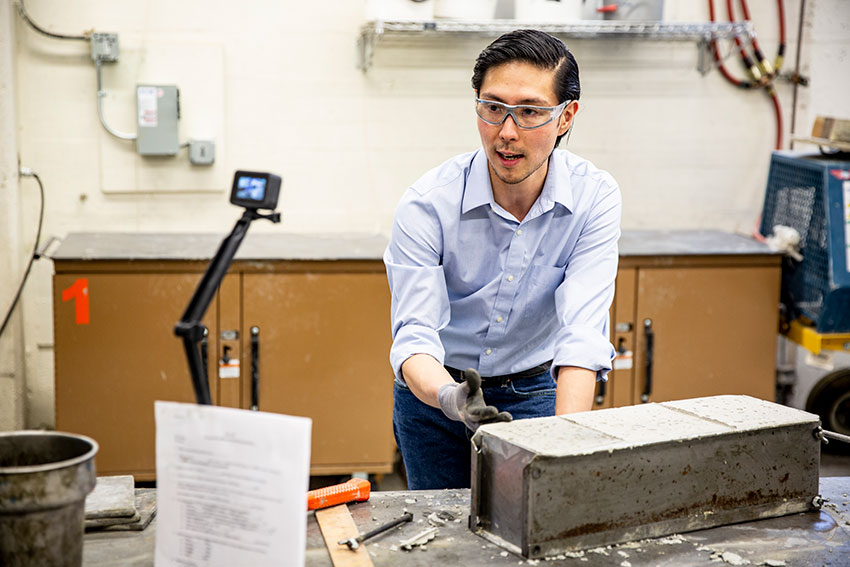 This spring, lecturer Julian Yamaura was presented with a new type of engineering challenge — moving hands-on labs online due to COVID-19. He knew he'd have to get especially creative, as mixing concrete is about as hands-on as it gets.
"A lot of our students are the ones who might not be actually mixing concrete, but supervising the process [in their future careers], so I figured this might be a great opportunity for the students to supervise me and tell me how to do it right," says Yamaura, who is the Tom and Marilyn Draeger/The Beavers Charitable Trust Lecturer.
During the 10-week construction materials course, undergraduates must complete seven major labs to learn about the properties and behavior of common construction materials, from concrete to steel to wood.
Prior to weekly online lab sessions, Yamaura creates videos of himself completing lab exercises. He films each exercise twice — the first time he shows the students the correct method and the second time he does something a little different.
"I sprinkle in some errors here and there," says Yamaura.
This allows the more than 70 students enrolled in the course to discuss mistakes they've noticed in the videos — and how to correct them — during the online lab sessions. The lab videos also provide the students with a tangible takeaway — data, which they analyze for lab reports.
"The fact that our instructor intentionally adds mistakes is very helpful for us students to identify how we might have done some parts wrong in lab had we been there in-person, and how to watch out for those mistakes in the future," says CEE junior Kyla Pritzl.
"When I first heard labs were going to be held online, I had no idea how they were going to work. But online learning has actually been better than I thought."
– CEE junior Alexandra Schadler
Student perspective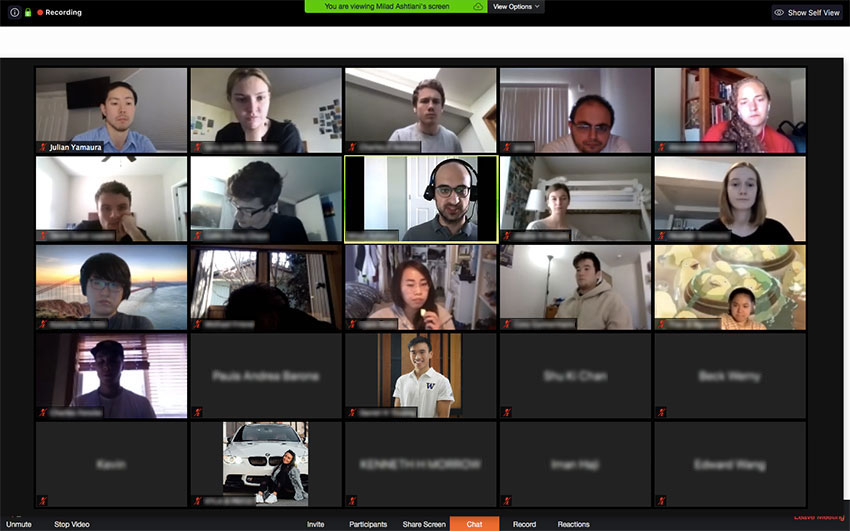 When she learned that spring quarter courses were being moved online, CEE junior Alexandra Schadler was disappointed. The construction materials course would be her first hands-on lab in the department and she had heard "how fun it was to make concrete in a wheelbarrow."
Spring quarter goes online
In the Department of Civil & Environmental Engineering, the following number of courses and students transitioned online for spring quarter:
Courses: 25 undergraduate and 20 graduate courses were held online.
Students: 422 undergraduate and 362 graduate students were enrolled in online courses.
"I felt like I was going to miss out on a really important experience," Schadler says. "When I first heard labs were going to be held online, I had no idea how they were going to work. But online learning has actually been better than I thought."
Although it's hard for the UW track and cross country team athlete to sit in front of a computer all day, Schadler says her instructors have managed to keep classes engaging. The Zoom meeting platform also helps, she says, as seeing her instructor and classmates online makes her feel like she is part of a class setting.
"I originally thought I was going to be easily distracted, but this has not been the case," Schadler says. "The material I am learning is also really fun, so that has kept me engaged and interested."
Despite not being able to make concrete herself, Schadler says she was able to gain a good understanding from the videos and online class discussion.
"The lab videos were fun to watch and I feel like I have a clear understanding of what is going on," Schadler says. "Discussing the labs in smaller online breakout groups also helped me re-consolidate the information since I wasn't able to physically do the experiment myself."
Faculty viewpoint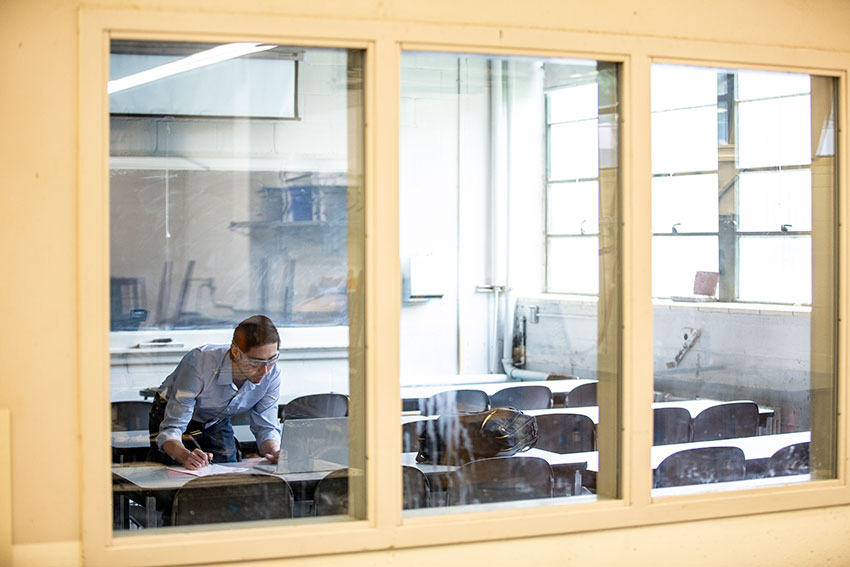 When Yamaura first learned that he would need to transition the construction materials course to an online format, he wasn't worried about the twice-weekly lectures— but he was concerned about the quality of instruction for lab sessions.
"I worried how I could make a lab meaningful in the way that it would be in an in-person lab session," Yamaura says.
In addition to engaging the students with entertaining lab videos, Yamaura also asks them to participate in online discussions.
"To be honest, I feel like they've been more interactive in the online setting rather than in-person," Yamaura says. "The amount of thought they are putting into it is great; we are getting a lot of great interactions."
Together with his teaching team comprised of lab instructor Heather Simmons, teaching assistant Milad Ashtiani and grader Brandon Lou, Yamaura plans to continue to fine-tune the online course throughout the quarter, to make it even more engaging for students. Having taught the course on campus for several years, he is embracing the opportunity to try out some new online teaching strategies.
"This quarter has definitely been dynamic; we are constantly thinking of better ways to interact with students, and we are learning from them, too," Yamaura says. "There is a lot more feedback going on with the whole team and that's been pretty cool."
A rite of passage… eventually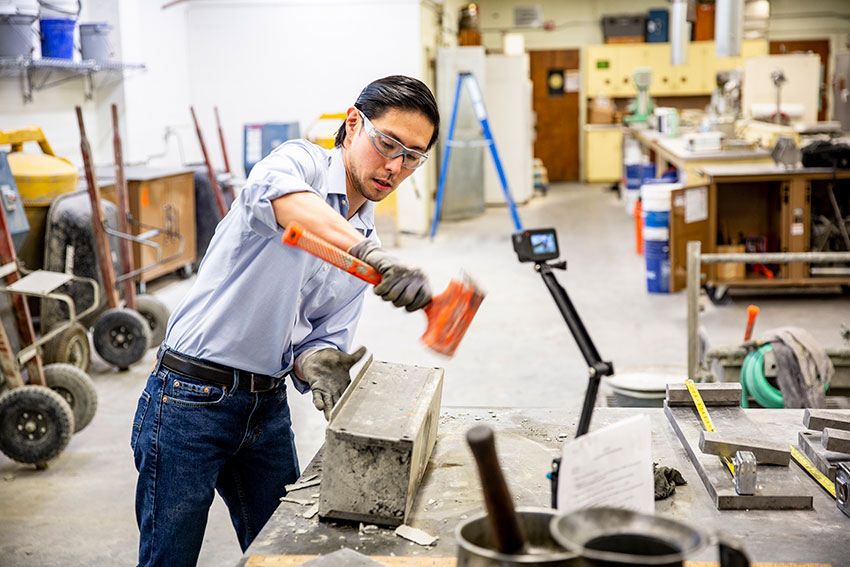 One question that Yamaura often fields from students is if they can make concrete when they return to campus — this time with their own hands.
"Making concrete cylinder samples is a rite-of-passage as a civil engineering student," says Pritzl. "Once classes are back on campus, I hope to make it into the lab. I have a very strong desire to make concrete!"
As soon as students are allowed to meet again on campus, Yamaura says he will invite them into the lab and guide them through the concrete-making process.
"I gave them an analogy for teaching music," Yamaura says. "It's one thing to teach someone how to read music and where to put their hands on the guitar, but unless they actually do it, it can be tricky to master."
Originally published June 22, 2020