Tyler Oshiro
Environmental Engineering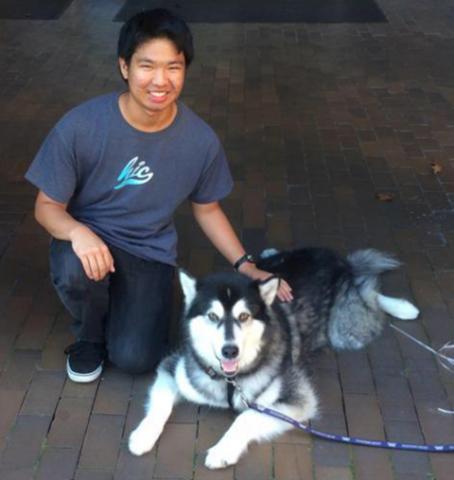 Undergraduate junior Tyler Oshiro with the Husky mascot, Dubs.
How did you first become interested in engineering?
I've always found unconventional ways to solve problems. Sometimes all you need to fix something is some cardboard and duct tape. After finishing a science fair project where I studied stream water health, I knew my dream job was environmental engineering. I could combine my inventive mind with my desire to help maintain our precious water resources.
What UW CEE program are you currently enrolled in?
The new Bachelor of Science in Environmental Engineering (BSEnvE) degree program.
Why did you choose UW Civil & Environmental Engineering?
After my first visit to Seattle, I knew that I would love to live here. I also wanted to attend a school with as many resources and diversity as possible. So naturally, I wanted to be a Husky. However, what really set UW CEE above the other programs I applied to was my Direct Freshman Admission to the department. I knew that I was wanted here and that I had tremendous support before I even set foot on campus.
What do you enjoy most about the program?
There are so many clubs and activities to get involved in outside of the classroom. CEE students are constantly working to plan company tours, compete in national competitions, and volunteer in the community. The professors and advising office are always finding internship opportunities, research projects, and networking events. In addition to a great academic program, you also have countless other ways to enrich your college experience.
What aspect of the field are you particularly interested in?
I'm interested in anything water related: wastewater, water quality, stormwater, drinking water, you name it. I want to make sure that we will always have access to clean water without destroying the planet in the process.
If you've been involved in research, what have you worked on?
This past year I worked with professor David Stensel and Ph.D. candidate Bryce Figdore on using aerobic granular sludge for recovering nutrients from wastewater. My roles were to help take water quality measurements like pH and dissolved oxygen, and to prepare feed stocks used to grow granules in our lab reactors. The goal is to use granular sludge on a large scale to help reduce the space needed in a treatment plant and to improve the quality of treated wastewater.
What types of internships have you had?
As a summer intern in Brown and Caldwell's Honolulu office, I mainly worked on wastewater and recycled water planning projects. I used GIS to map potential locations for satellite treatment plants on Maui and performed calculations for irrigation demands and water balances. I was also able to gain experience in pump design, database creation, underground injection control (UIC) monitoring, and even got to tour several wastewater treatment plants to see firsthand how each component operates.
What other activities on campus are you involved in?
I'm an officer for the American Water Resources Association UW chapter, which connects students with professionals in the field of water management, conservation and engineering. I'm also a member of the UW Hawaii Club and a Dawg Daze leader, where I can help students feel welcome in our UW community.
What do you hope to do after graduation?
I plan to attend graduate school to earn a master's degree in environmental engineering. Then I want to work at an engineering firm, possibly in Washington or back home in Hawaii, to eventually become a professional engineer.
Any advice for prospective students who are considering UW CEE?
CEE is such a broad field with many different opportunities, so don't feel like you have to know exactly what you want to study before entering the program. Even though I am focused on the water quality and environmental aspect of civil engineering, I still enjoyed learning about forces on beams, green roadway design, and how the 520 floating bridge manages to stay afloat. Just approach CEE with an open mind and the breadth of the program will surely lead you down a path you can make a career out of.