Amy Moore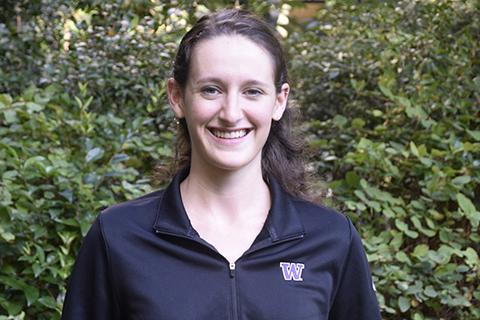 How did you first become interested in engineering?
In school I was always good at math and science, but did not enjoy doing those just to do them. I wanted to be able to apply my math and science skills to something tangible and so engineering felt like the natural choice.
Why did you choose UW Civil & Environmental Engineering?
I chose Civil Engineering because infrastructure has always fascinated me and I wanted to help improve people's lives by being involved with the infrastructure that they may or may not notice, but which they will certainly appreciate.
What do you enjoy most about the program?
The thing that has struck me most about UW CEE is that all the professors really care about the students. Many other programs at this school leave you to your own devices, but my professors care about whether or not I learn, and are always willing to answer questions or explain something further. There is also a sense of comradery among the students – starting with the track system in junior year, you become very close with your classmates, and everyone is willing to help each other out.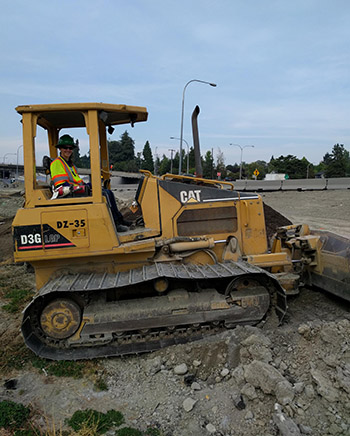 Senior Amy Moore operates a bulldozer during an internship at Flatiron Construction, where she worked as a field engineer on the new 520 West Approach Bridge North, located just south of Husky Stadium.
What aspect of the field are you particularly interested in?
I am pursuing a general civil degree, but hope to go into construction after graduation.
What research have you worked on?
Last year, I assisted professor Steve Muench with his research about sustainable highway construction. Specifically, I was writing about how traffic control plans can help with sustainability through reducing traffic and keeping workers safe.
What types of internships have you had?
I worked at King County Metro for a year as an intern in their design & construction section. Mostly I designed bus stop improvements, like putting in a shelter or bench. I was also involved in some larger design charrettes for conceptual design of the light rail station at NE 145th Street. This was a great introduction to how complex every aspect of design can be.
More recently, I have been interning with Flatiron Construction as a field engineer on the new 520 West Approach Bridge North. While I have been involved in a wide variety of tasks, some things I have done include critical pick reviews, weekly as-built drawings of the pedestrian hand-rail and managing concrete pours. I was also given the opportunity to operate a bulldozer during some weekend work, which has given me a whole new respect for equipment operators!
What other activities on campus are you involved in?
I am the financial lead for the Concrete Canoe Team. I am in charge of sponsor outreach, as well as assisting with the design process of the team. I am also the membership chair of UW ASCE, which allows me to meet a lot of the people in the department.
What do you hope to do after graduation?
I hope to work as a field engineer for a general contractor after graduation, eventually working my way up to project engineer and then project manager. I am excited to get field experience right out of school.
Any advice for prospective students who are considering UW CEE?
Get involved! By joining a club, not only will it look good on your application, but you will also make connections within the department and get a better understanding of what civil engineering is all about.