By Brooke Fisher
November 19, 2018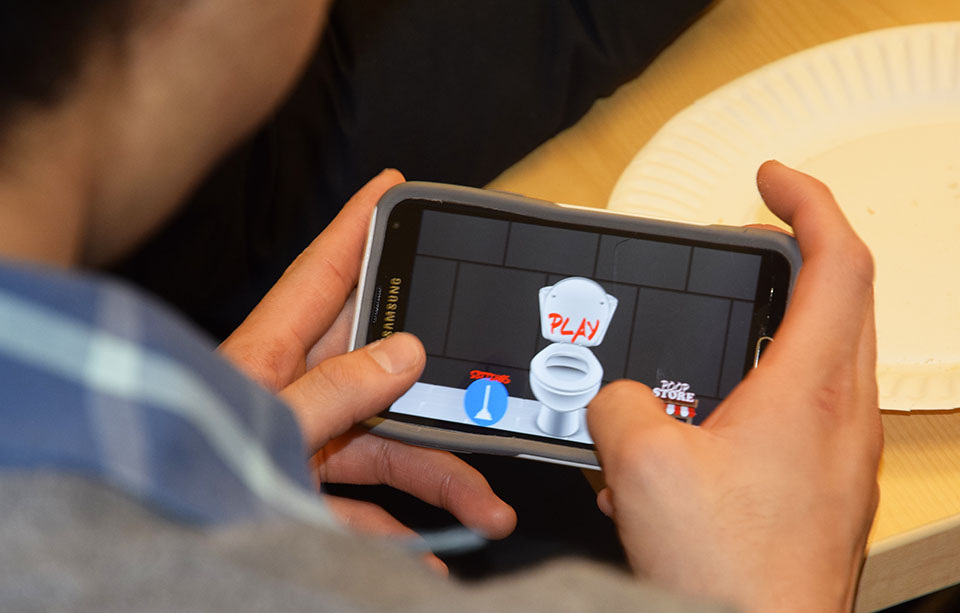 A CEE undergraduate student plays "LoosePoops" during an app testing event on November 15.
Most people are familiar with bathroom humor. But they likely haven't heard of educational bathroom humor.
With the goal of educating the public about sanitation issues around the world, a group of UW CEE students led by assistant professor Jessica Kaminsky created an app called LoosePoops. Intended for both children and adults, the app is free and available to download on both iOS and Android.
"There aren't any other apps that teach about global sanitation through gameplay," Kaminsky said. "We designed it so people are learning as they are playing."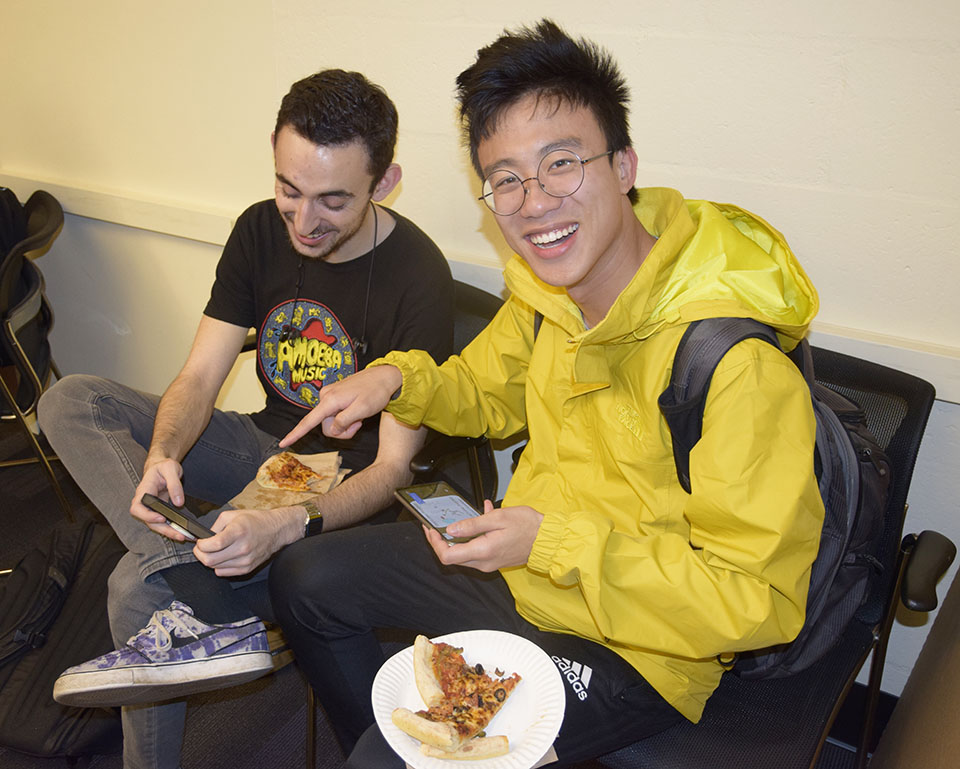 CEE students Matan Bilavsky and Victor Mach, from left, have fun while playing "LoosePoops" for the first time.
Loosely modeled after the popular game Fruit Ninja, where players slice fruit using a touch screen controlled blade, LoosePoops players slice poop emoji in order to advance through different levels. Each level features educational subject matter on topics such as wastewater treatment, fecal-oral contamination routes, latrine design and population growth and sanitation.
In a level that highlights urban sanitation issues, for example, the game calls attention to the 2.6 billion people who do not have access to basic sanitation of any kind. In urban slums, people may have no choice but to use plastic bags for waste disposal. Without toilets or garbage collection, these are often literally thrown away, much to the peril of people passing by.
"These are called flying toilets," Kaminsky said. "There is a level in the game where you protect pedestrians from getting hit by these. Many of the people we tested the game with here in Seattle didn't quite believe this is a thing – but, it is."
The game concept originated last year in CEE 420, a course taught by Kaminsky that focuses on engineering with developing communities. Kaminsky decided to incorporate game design into the class curriculum after watching her young son play climate change games developed by Atmospheric Sciences associate professor Dargam Frierson's EarthGames.
"I decided that there needed to be PoopGames as well as EarthGames," said Kaminsky. "And, the folks at EarthGames were ready and willing to collaborate."
During the course, students worked in teams to develop game concepts. At the end of the quarter, they pitched their games to one another and voted on their favorite, which was the concept for LoosePoops. After the course ended, Kaminsky worked with a game developer to produce the game.
"Though the message and intent of the game is subtle, the player can quickly understand the importance of correctly disposing waste," said Alvin Nguyen. "Hopefully, this game will teach the importance of urban sanitation as developing countries and communities are still working toward improving waste disposal."
The student team includes students Alvin Nguyen and Greg Malcom and alumni Katherine Quach (BSCE '18), Emmy Anzalone (BSCE '18) and Molly O'Keefe (BSCE '18).