Our main offices are located in Suite 201 of More Hall, in the south central area of campus.
Physical Address:
3760 E. Stevens Way NE
Seattle, WA 98195
More Hall on Google Maps
More Hall Campus Map
Some faculty offices and labs are located in Wilcox Hall, Wilson Ceramics Lab and Harris Hydraulics Lab.
Directions
UW Commuter Services provides the following directions to the University of Washington.
PaybyPhone parking for Guests
UW pay by phone parking information: You can now pay for parking in certain UW lots with a few taps on your phone. A list of campus machine locations: https://https://transportation.uw.edu/maps/self-serve-parking
Arranged Parking: To receive a code for parking please reach out to Jon Emard for authorization. This code is for parking at lots N20 & N21 only.
General parking information : https://www.washington.edu/park/visitor
Transportation alternatives
Commuting Options: UW Transportation Services provides the Commute Concierge to help you find the transportation option that best fits your needs.
Bus and Light Rail: Visit Metro's trip planner and use HUB as your destination (the Husky Union Building is a block north of More Hall).
Bicycle: The Burke-Gilman Trail runs right through UW on the east and south sides of campus, providing several access points to the campus. Bike racks are located in several areas around the buildings. State code prohibits parking bicycles anywhere inside state buildings and bikes parked in CEE buildings will be immediately removed.
About More Hall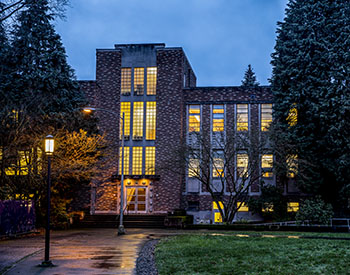 More Hall was built for the Civil Engineering Department in 1946. Hastened by WWII's engineering needs, the design for the Civil Engineering Department was developed by Bebb & Jones. It expressed the modern architectural philosophy of function over form and incorporated lighting from large windows to convey the feeling of spaciousness. During 1993-96 a remodel of the infrastructure of More Hall occurred. Structural and geotechnical research laboratories were remodeled to accommodate new equipment and to improve the use of the existing space. Research facilities continue to be upgraded to meet present needs.