May 19, 2017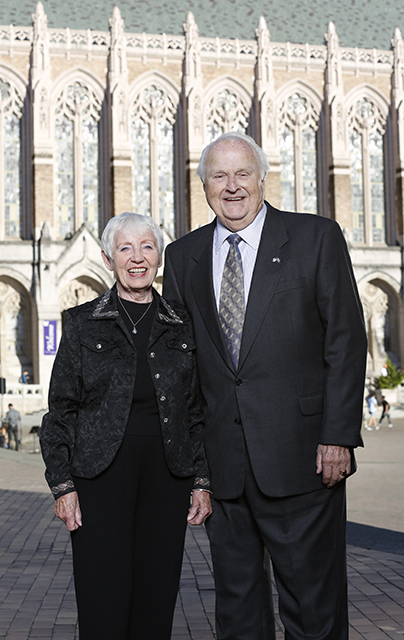 Allan Osberg and his wife, Inger, attend the UW Gala in 2016.
When Allan Osberg, BSCE '45, commits to something, he always follows through. He learned the value of keeping his word at a young age, from his father.
"A handshake was a contract with him," Osberg said. "I learned that from him and it always put me in good stead, being able to be a person of my word."
The ability to follow through on commitments has served Osberg well over the years, leading to both professional and philanthropic achievements. In recognition of his strong commitment to community service, Osberg was honored with a 2017 Diamond Award for Distinguished Service. The College of Engineering's Diamond Awards honor outstanding alumni and friends who have made significant contributions to the engineering field.
Osberg has supported a variety of organizations over the years. Dedicated to higher education, he served as a trustee of the UW President's Club, a member of the UW Foundation Board of Directors and also served on the College of Engineering's former Development Committee and Creating Futures Campaign Committee. Together with Inger, his wife of 63 years, Osberg established an endowed professorship and a graduate fellowship.
The couple also supports numerous other organizations, including the Woodland Park Zoo, Mountains to Sound Greenway Trust and the Nordic Heritage Museum, where Osberg was heavily involved in advocating for a new facility, which will open in 2018. Osberg has also been active in the Associate General Contractors of America, serving as president of the local chapter in 1965 and again in 1974, following the merger of the Seattle-Northwest and Mountain- Pacific Chapters.
Born and raised in Seattle, Osberg had an early interest in engineering. While earning his bachelor's degree in civil engineering at UW, Osberg was inducted into three honor societies: Tau Beta Pi, Sigma Xi and Phi Beta Kappa. He then completed a master's degree in civil engineering at Harvard, specializing in soil mechanics.
"I was always interested in engineering, even back in grade school," Osberg said. "Surveying and things like that always interested me."
After graduate school, Osberg returned to Seattle and joined the family business, Osberg Construction Company. Osberg's father, who immigrated to the United States in 1915, founded the company in the 1930s. The company focused primarily on public works and military related heavy construction projects. During Osberg's time with the company, he oversaw the completion of several major projects in the Northwest and Alaska. Notable projects include straightening the Sammamish River between Redmond and Lake Washington, reconstructing segments of the North Cross-State Highway (also known as State Route 20) and building the Yukon River Bridge for the Alyeska pipeline in Alaska.
In more recent years, the focus of the business has shifted from active construction to maintaining investments and properties. At 92-years-old, Osberg still goes into the office daily and the business is still family run. Osberg serves as the president of the company, his brother is vice president and his nephew is the secretary/treasurer.
Honors that Osberg has received over the years include the President's Medal while attending UW, the Mountain-Pacific Chapter's Contractor of the Year Award in 1970, induction into the UW Construction Hall of Fame in 1998 and a 2007 AGC Lifetime Achievement Award. In 2007, Osberg and his wife were recognized as Laureates of UW.
View the Video
Watch the video about Allan Osberg that was presented at the Diamond Awards Ceremony on May 19.