Yousif Almaaroof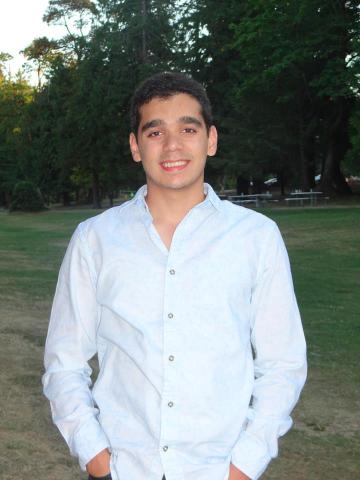 Where are you from?
I am from Baghdad, Iraq. I lived there for 12 years before I moved to Jordan. I finished high school there, then moved to the United States. I studied for two years at Highline College before I transferred to the University of Washington.
How did you first become interested in engineering?
I am very skillful at critical thinking and problem solving. In my high school, I always preferred to understand what was taught instead of memorizing it. Engineering requires a lot of critical thinking and problem solving away from memorizing texts and definitions. I knew that engineering was a field that fit my qualifications and skills, and it was a path that I would succeed at.
Before coming to the United States, I was regularly going to a construction site in Baghdad, Iraq. I was helping with small tasks, like cleaning the site, mixing concrete, or preparing bricks. During that time, I was observing the construction process. I liked the wide variety of engineers working together to finish the project by the deadline and how they followed every single detail to make sure the project did not exceed its budget. I found that civil engineering depends a lot on the communication between team members. It also requires quick thinking between the group to solve problems and issues that need to be solved quickly. I liked the blend of engineering, communication and business that civil engineering has. It was obvious to me that working as a civil engineer would involve a lot of excitement and new challenges.
Why did you choose UW Civil & Environmental Engineering?
The UW CEE department offers a lot of opportunities. They have many research opportunities and some clubs to join. It is the best university in the state and one of the best in the United States. All the different activities in the department allowed me to develop my skills.
What did you enjoy most about the program?
The thing I liked most about the program was the different fields I could get involved in. Civil engineering is unique in this aspect because it has many fields. It includes structural, construction, transportation, geotechnical and environmental engineering. This gave me a chance to get involved in different things.
If you were involved in research as a student, what did you work on?
I was a structural lab assistant in the CEE department's Structural Research Lab. I worked as a member of a research team to construct special concentrically braced frames. I built concrete blocks for testing purposes, tested concrete samples and constructed braced frames.
What other activities on campus were you involved in?
I was part of the UW Steel Bridge Team. We designed a bridge after discussing many different ideas, then we fabricated it. We participated in the ASCE Steel Bridge Competition. During my junior year, I worked heavily on the construction of the bridge, where I had to work with the team to solve many problems during the construction phase. In my senior year, I was the design and analysis lead. I worked with the team to come up with a good design and analyze the design for different load combinations using SAP2000.
Where are you now working? Please describe your job.
I am working as a construction engineer at Parsons. Parsons provides construction, management and engineering support throughout the world. My work is divided between office and fieldwork where I facilitate and help in existing projects and help in preparing and applying for future projects.
How did your UW CEE degree prepare you for your career?
The UW CEE department provided me with the necessary knowledge and skills to get into the construction engineering world. The classes are thought provoking and very informative, although they are challenging and time-consuming sometimes. There are many opportunities to engage in clubs and do research work. My work in the structural lab and the UW Steel Bridge Team strengthened my engineering knowledge, teamwork and communication skills, which are necessary for a successful engineering career.
Any advice for prospective students who are considering UW CEE?
Civil engineering students need to know what the market needs and how to fulfill that. They need to think about themselves as professionals, not students. They have to get themselves into the market by meeting with other civil engineers and companies. They need to know what set of skills the hiring managers need for their companies and try to acquire them. The skills include, but are not limited to, good communication skills, leadership skills and experience with multiple software.