December 5, 2022
Students attend Summer Field Institute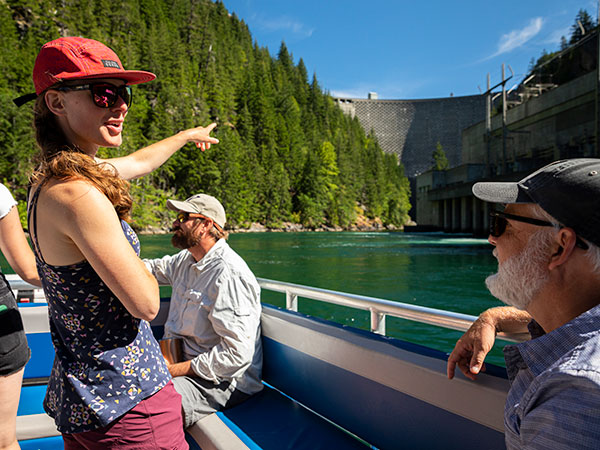 Future Rivers, the Freshwater Initiative's graduate student training program that launched in 2020, provides innovative training that prepares students to address complex freshwater issues locally and around the globe. This past August, students and faculty attended the first Summer Field Institute, which had been postponed due to COVID-19. They spent a week in the North Cascades of Washington state learning about the Federal Energy Regulatory Commission (FERC) relicensing process for the Skagit River Hydroelectric Project. Guest speakers shared their perspectives on the complexities of the hydroelectric project, discussing various aspects of what the river offers, from energy to habitat to recreation. Students also toured the tri-dam complex and broader watershed by foot and boat. Based on what they learned, the students are developing a story map, which they plan to eventually share with community members to help communicate perspectives regarding the hydroelectric project. The Freshwater Initiative is a collaboration between the College of Engineering and College of the Environment. In attendance were CEE graduate students Hordur Helgason, Hannah Besso and Robin Ruhm, as well as faculty Jessica Lundquist, David Butman and Bart Nijssen.
Urban Freight Lab hosts meeting in Silicon Valley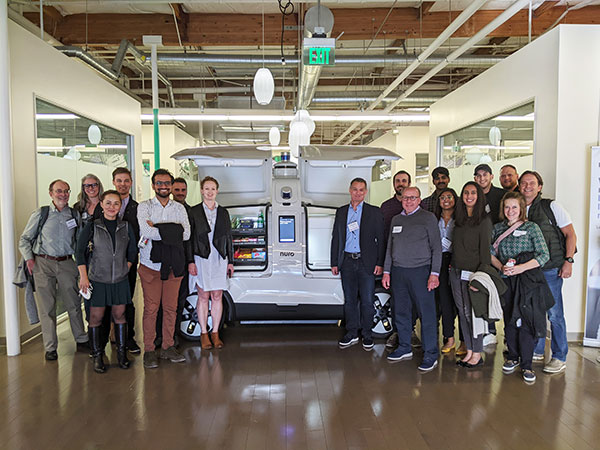 The Supply Chain Transportation & Logistics' Urban Freight Lab (UFL) hosted their quarterly meeting of members and partners at Playground Global in Palo Alto, California. Offering start-up support as a venture capital firm, tech incubator and engineering lab, Playground is home to UFL members Lacuna Technologies and BrightDrop. About 30 UFL members gathered to learn about the latest trends in digital transformation, new tools to improve urban freight efficiency, real-time curb space management, last-mile operations, and transforming logistics. Live demos were provided by two start-ups: Nauto, an AI-technology company advancing safer driving, and Agility Robotics, which is working to enhance robotic mobility. The group also toured the headquarters of autonomous delivery company, Nuro, and saw a demo of the zero-occupancy autonomous vehicle in development for local goods delivery. Guest speakers included Warren Logan (City of Oakland Mayor's Office) and Marie Maxham (Lacuna Technologies) who spoke about implementing digital policy and infrastructure in the public realm; Darryl Forbes (UPS), Jaime Cannon (Terreno Realty Corporation) and Lior Adorian (WARP) who shared about digital tools to enhance operational efficiency from an industry point of view; Tom Maxner (Urban Freight Lab) on the impacts of curb use allocation on curb performance; and Shushman Choudhury (Lacuna Technologies) about real-time curb management strategies and technologies.
PacTrans hosts regional transportation conference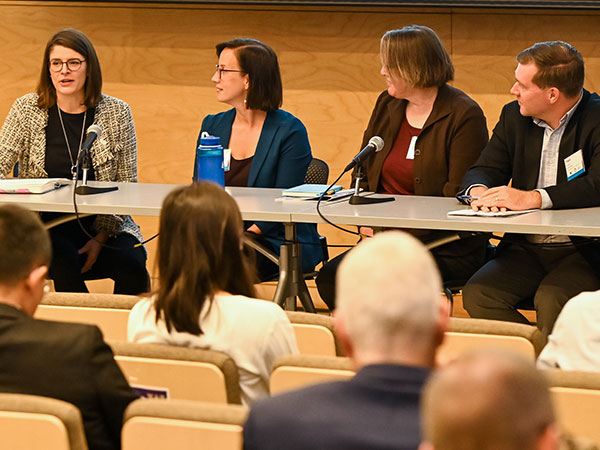 After two years of virtual conferences, Pacific Northwest Transportation Consortium (PacTrans) hosted an in-person conference in late October in collaboration with the Center for Safety Equity in Transportation and the UW Mobility Innovation Center. The annual Region 10 Transportation Conference brought together transportation professionals from public agencies, private industry and academia to learn about critical research needs, build relationships with potential collaborators and showcase practical mobility solutions. The one-day conference featured a welcome video from Rick Larsen, U.S. representative for Washington's second congressional district; a keynote address from Dan Sperling, professor of civil and environmental engineering at the University of California, Davis; and a panel session on the Infrastructure Investment and Jobs Act. Speakers included Megan Cotton from the Washington State Department of Transportation, Travis Brouwer from the Oregon Department of Transportation, Brandy DeLange from the Association of Washington Cities and Margaret Pridmore from the Idaho Transportation Department. Technical sessions covered topics including connected and autonomous vehicles, artificial intelligence, rural and tribal safety, supply chain challenges, workforce development, and technology transfer. Researchers funded by PacTrans also had an opportunity to showcase their research through a poster session. Conference sponsors included Verizon, the Washington State Department of Transportation, AIWaysion and Concord Engineering.
RAPID researchers test new technology at Hurricane Ian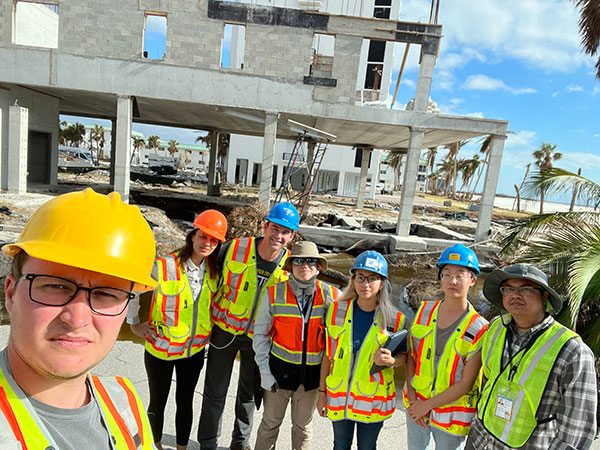 Even before Hurricane Ian made landfall in late September, Natural Hazards Reconnaissance Facility (known as RAPID) researchers were already busy gathering data in Florida, as part of a mission to collect before-and-after data of the natural disaster event. Based on a projection of where the hurricane was expected to land, the researchers conducted drone surveys to capture images that would enable them to map neighborhoods and coastlines. Following the hurricane, which landed further south than originally projected, RAPID Operations Specialist Jaqueline Zdebski spent a week surveying the damage using a new piece of technology: a fixed wing drone equipped with five cameras, which was loaned to RAPID for the surveying project by Frontier Precision. In comparison, drones that the center typically uses have one or two cameras. Using the new drone system, which can be used to derive centimeter-level accurate measurements, Zdebski conducted 16 drone flights, collecting a total of 208,000 images. The data will be used to develop 3D models of the damaged portions of three barrier islands near Fort Myers: Fort Myers Beach Island, Sanibel Island and San Carlos Island. "It totally changes the game for spatial coverage and being able to develop 3D models at this scale is unreal," says Professor Jeffrey Berman, RAPID operations director. "No one has done anything like this at this scale — data like this is invaluable for understanding natural hazard impacts."