By Brooke Fisher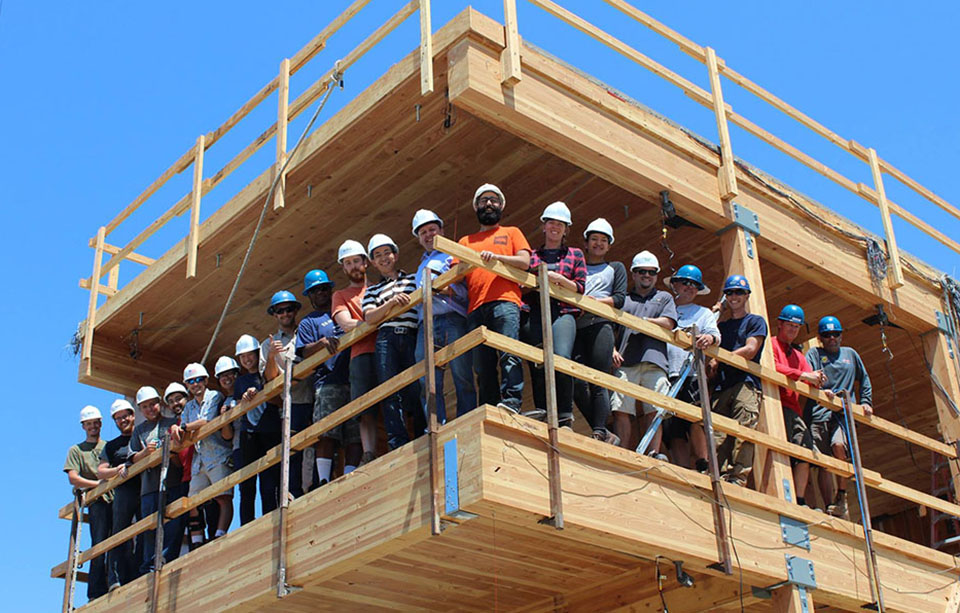 The research team, including PIs, students, staff and construction workers who helped design, build and test the structure. Photo credit: Shiling Pei.
---
It can be good to shake things up, especially when it comes to building better earthquake resilient buildings. A team of researchers is now one step closer to proving that high rises crafted from a new type of sustainable timber, paired with a rocking wall system, are seismically resilient. This may one day soon inform the next generation of buildings constructed in earthquake zones.
Researchers from across the country, including associate professor Jeffrey Berman and CEE graduate student Sarah Wichman, found no significant damage after a two-story structure underwent 14 earthquake simulations, including the 1979 Imperial Valley earthquake, the 1994 Northridge earthquake and the 1989 Loma Prieta earthquake.
"Even after all the tests, no significant damage was detected in the structure," Wichman said. "Only some very minor crushing at the base of the walls was found."
The testing was conducted in mid-July at the world's largest earthquake simulator, located at the University of California San Diego's Natural Hazards Engineering Research Infrastructure Center.

Video credit: University of California San Diego earthquake simulation facility.
A New Type of Timber
A sustainable timber product, called cross-laminated timber (CLT), was used to build the two-story structure the researchers tested. Developed in the 1990s, CLT is relatively new to the building scene. Although widely used in Europe, it is slow to gain adoption in the U.S.
Comprised of multiple layers of lumber stacked in alternating directions, CLT is considerably stronger than timber used in conventional wood frame structures. When compared to widely used construction materials such as concrete and steel, CLT has the added benefit of removing carbon dioxide from the atmosphere through the production of trees. Concrete, conversely, is known for being one of the worst sources of carbon emission due to the large amount of energy it takes to produce.
Proponents of CLT hope that utilizing sustainable timber will also help support local timber production, in turn boosting rural economies.
"Seattle and Portland are natural targets because of their sustainable timber industries," Berman said. "There is a real interest in using building technologies in urban areas that prop up rural economies."
Although wood may not appear to be as fire resilient as concrete, CLT panels perform well during fire resiliency tests. The thick wooden panels burn slowly from the outside at a predictable rate while the protected inside layers maintain structural strength.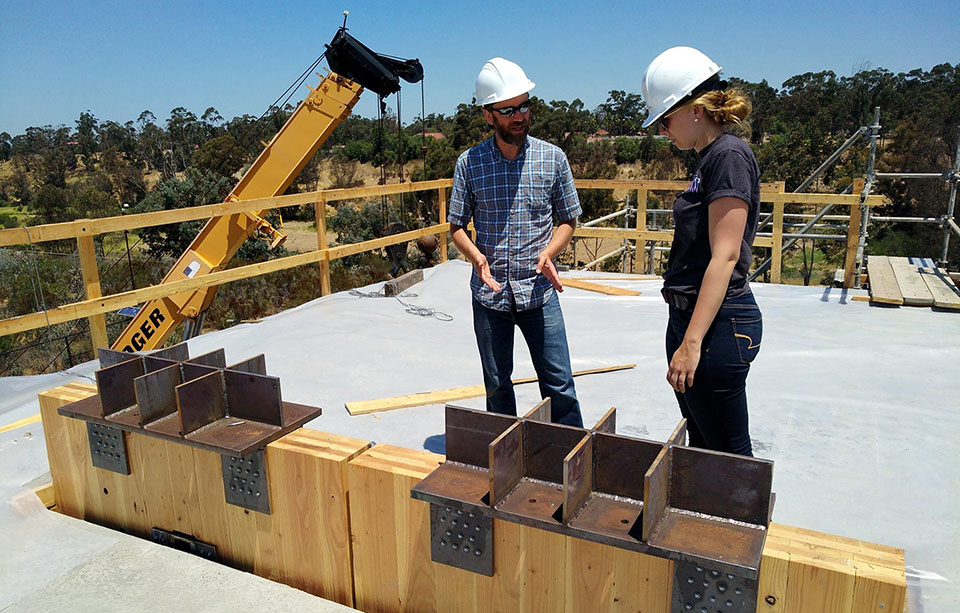 On the roof of the two-story structure, associate professor Jeffrey Berman and graduate student Sarah Wichman discuss the installation process for the walls, post-tensioning bars and connections. Photo credit: Shiling Pei.
Rocking Wall System
In addition to testing a new type of building material, the researchers simultaneously performed the first large-scale shake table test of a rocking wall system.
Much as the name implies, rocking wall systems allow walls to rock back and forth during an earthquake. Instead of preventing buildings from moving, they enable structures to be more flexible and move with the ground. To achieve this, vertical walls are connected to a steel footing using post-tensioned rods, which allows the building to snap back into its original position following an earthquake.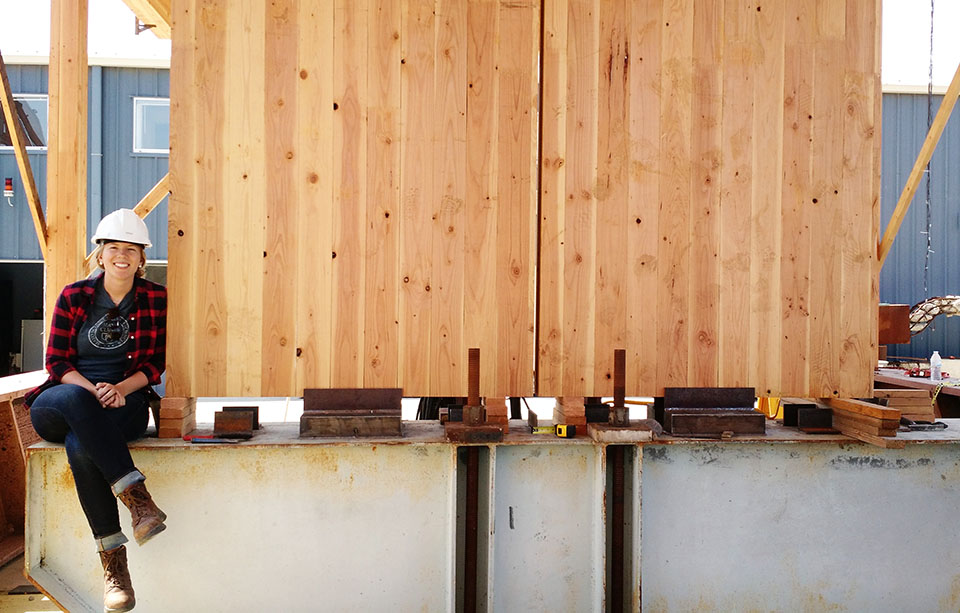 CEE graduate student Sarah Wichman next to one of two sets of rocking wall systems after the walls were initially lowered into the structure. Photo credit: Sarah Wichman.
"Rocking walls are meant to be damage free," Berman said. "The idea is to have the building right itself after an earthquake."
Rocking wall systems could one day replace buildings constructed from steel and concrete, many of which are considered earthquake resilient although failures have occurred during recent earthquakes.
"After an earthquake, many buildings often end up off-centered so elevators no longer work and doors are unable to open," said Wichman, who oversaw the design, installation and evaluation of the CLT rocking walls for the test. "With the rocking walls, the building can be in operation right after the earthquake."
Early Implementation
While plans for future testing are already on the horizon for 2020, when a 10-story building will be evaluated by the researchers, a handful of contractors and builders are eager to implement the new building method.
Designs for several buildings in Portland, Ore., are currently underway. One such building, called Framework, will soon be the tallest wood skyscraper in the U.S., as well as the first CLT rocking wall system in the country. Construction of the 12-story building, for which Berman served as a peer reviewer, starts in fall 2017.
In order to meet design codes, the engineering firm conducted independent structural testing for their system. To make the process easier and more streamlined for future projects, the researchers hope to create and implement design standards for tall timber structures.
A handful of other timber buildings are already in existence, including Brock Commons at the University of British Columbia, which is the tallest mass timber building in the world. At a local level, the Bullitt Center in Seattle is the greenest commercial building in the world, although it is composed of concrete and steel in addition to wood.
A Collaborative Effort
Funded by National Science Foundation grants that collectively total more than $1 million, the four-year project is a collective effort between university researchers and engineering firms. Research institutions include the University of California San Diego, Colorado School of Mines, Washington State University, Lehigh University, University of Nevada Reno, KPFF Consulting Engineers and WoodWorks.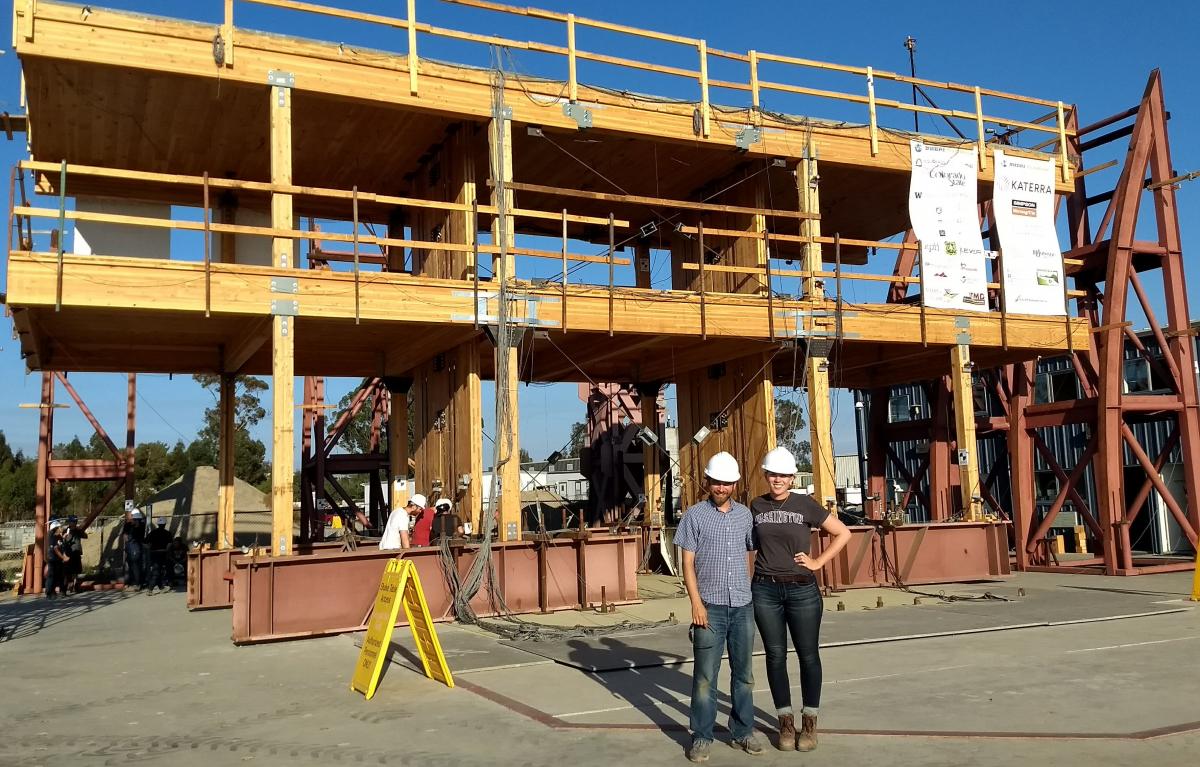 Associate professor Jeffrey Berman and CEE graduate student Sarah Wichman in front of the two-story structure.

Photo credit: Shiling Pei.
Originally published August 4, 2017