October 31, 2017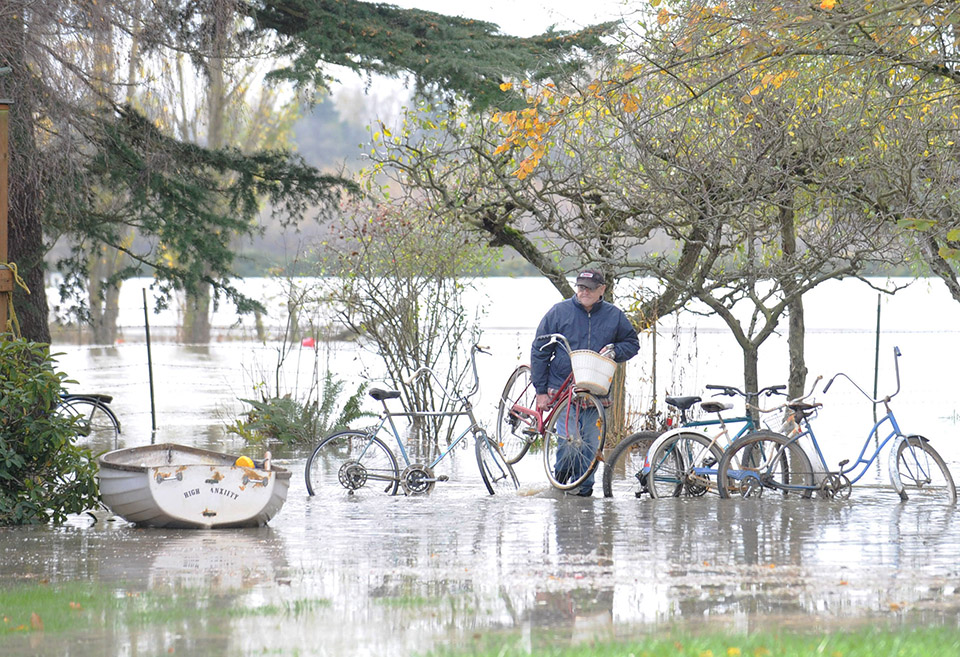 By enhancing the sharing of water-related data, researchers hope to facilitate a better understanding of floods in coastal Washington watersheds. During a November 2015 flood of the Skagit River near Sedro-Woolley, Wash., resident Greg Platt moves bicycles to higher ground. Photo credit: Skagit Valley Herald.

From hurricanes and flooding to droughts, sharing water-related data allows researchers to better analyze extreme weather events and water scarcity. To facilitate enhanced sharing of information, a team of researchers has received a $4 million National Science Foundation grant to continue the development of an online collaborative environment called HydroShare.
The UW HydroShare research team is overseen by senior research scientist Christina Bandaragoda and associate professor Bart Nijssen. The project will be led by faculty at Utah State University and includes a team of researchers from ten other universities and institutions in the United States.
| | |
| --- | --- |
| | |
| Christina Bandaragoda | Bart Nijssen |
The grant funds enhancements to HydroShare, which was first deployed in 2015 and is used by more than 1,500 researchers and students to share hydrologic data and models with the goal to solve water-related problems more efficiently. By encouraging researchers to share data they collected or modeled in a study, HydroShare goes beyond sharing research findings in scientific publications.
"We want people to have access to the best tools and data, so they can use it to work on the most critical water problems," Bandaragoda said. "Imagine a system where it's easier to collaborate across institutions on a project."
The researchers hope a better-integrated system will help address both global and local water-related issues, from the health of Pacific salmon to water access for communities in Africa. Researchers are currently in the process of using HydroShare to share flooding and precipitation data from Hurricane Harvey and Hurricane Irma to allow the broader research community to study the extreme weather events. They anticipate their recent efforts will expand to include Hurricane Maria.
The UW research team will focus on enhancing the user experience of HydroShare. Through a unique partnership with the Olin College of Engineering in Massachusetts, capstone program students will help inform the user-centered design. Researchers will also advance the modeling functionality for hypothesis testing and will work to integrate flooding, landslide and sediment modeling data obtained through a recent NSF PREEVENTS program grant. Researchers also plan to facilitate broader use of the online program by integrating ongoing water research programs into the user interface, particularly science programs in the Skagit and Nooksack watersheds, which experience frequent flooding.
Water researchers are invited to share and reproduce water and earth surface research studies on HydroShare, where they can collaborate and join the Freshwater Group initiated by UW freshwater researchers.