By Brooke Fisher
November 30, 2017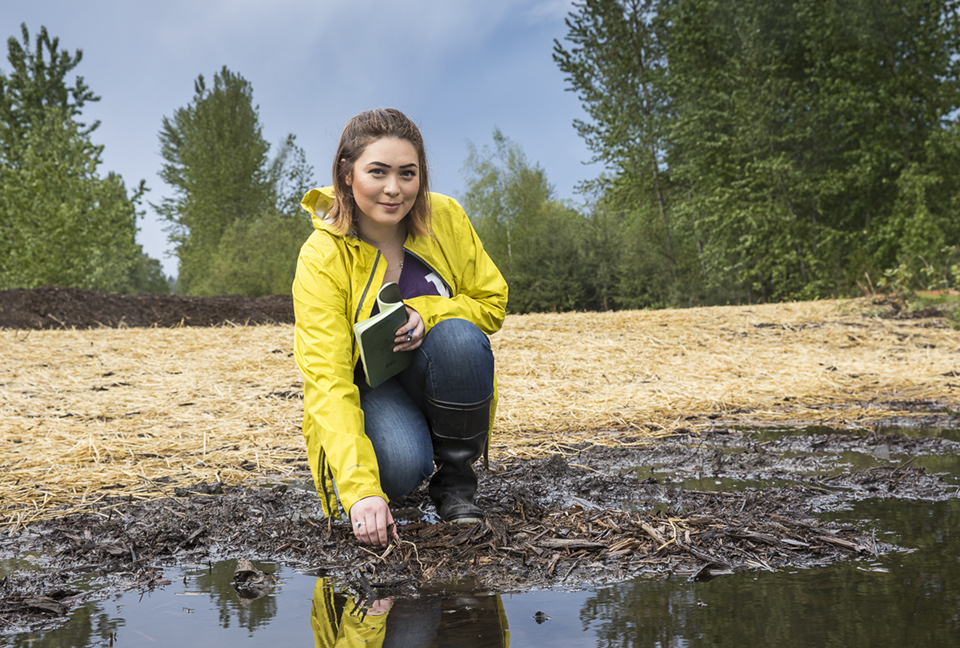 CEE student Tammy Teal, who is preparing to graduate. Photo credit: Mark Stone / University of Washington.
CEE senior Tammy Teal is ready to have an impact on the world – similar to the one that scholarships have had on her education.
With two quarters left of school, Teal is excited to put her engineering skills into practice. She is passionate about working on environmental issues such as access to clean water. Teal also hopes to improve infrastructure in developing countries, particularly the rural village in Cambodia, called Kampong Cham, where her family is from. The village lacks electricity and clean, running water.
"I daydream about traveling to developing communities to help design and construct infrastructure for transportation, living and accessing clean water," Teal said. "I want to use my CEE degree to help provide infrastructure to communities, like my father's, that need it most."
Despite such clear career ambitions, Teal was unsure how she would fund college. Growing up in a large family with nine siblings, Teal's parents were not in a position to help her financially. Her father, a refugee from Cambodia who fled the Khmer Rouge, suffers from post-traumatic stress disorder. And her mother, who was diagnosed with multiple sclerosis 20 years ago, is unable to work.
Determined not to let her family's finances stop her from pursuing a college degree, Teal applied for and received multiple scholarships and grants, including the Washington State Opportunity Scholarship and Undergraduate Education Access Fund in Civil and Environmental Engineering, which is funded by generous donors. Teal will soon be the second member of her family to graduate from college.
"Scholarships have tremendously impacted my education," Teal said. "Finances have always burdened my family and financial assistance toward college has been absent."
In addition to financial support, Teal also benefitted from the two-year Washington STate Academic RedShirt (STARS) program at UW. The program offers a specialized curriculum for economically disadvantaged students, allowing them to catch up to their peers before applying to specific engineering departments.
As Teal begins to think about life after college, she is grateful for all the help she's received along the way. For her, it is motivation to use her degree to help solve critical problems in the world and ultimately have a positive impact.
Make an Impact
To support students from underrepresented and diverse backgrounds like Tammy Teal, please consider donating to the Undergraduate Education Access Fund in Civil and Environmental Engineering. To learn more, please contact assistant director of advancement Janeka Rector at 206-543-8879 or janekar@uw.edu.