March 8, 2018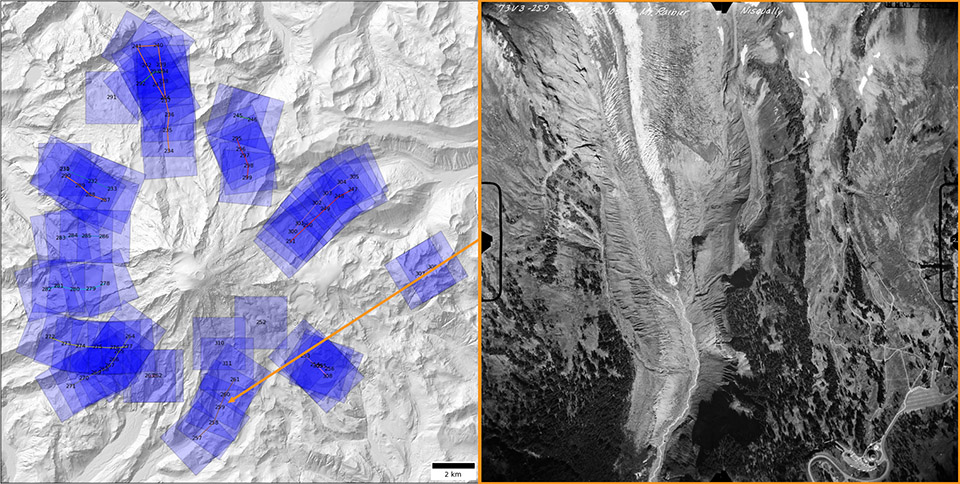 Outlines of historical aerial photos taken in 1973 of Mount Rainier (left) and a sample 1973 photograph of the Nisqually Glacier and Paradise area (right).
It's certainly timely, given the problem at hand and the research proposal. In order to better understand regional climate change, water resources and natural hazards, a team of researchers led by CEE assistant professor David Shean plans to build a digital glacier time machine.
CEE assistant professor David Shean
The project is one of three across campus to receive a 2018 UW Innovation Award. The program funds innovative ideas that have the potential to "break open new territory in a field." For the interdisciplinary project, Shean will work with two UW Earth & Space Sciences faculty members: assistant professor Knut Christianson and research assistant professor Michelle Koutnik and United States Geological Survey (USGS) partner Erin Whorton.
The idea to develop a digital glacier time machine surfaced as a new approach to document and understand the effects of climate change in the Pacific Northwest. Glaciers serve as important freshwater reservoirs that supply water during warm, dry summer months, and understanding ice loss will enable better management of the nation's water resources.
"The big questions are how the glaciers respond over long time scales, how they have evolved with regional climate variability, and whether the ice loss is accelerating," Shean said.
Glaciers in the United States have historically been measured by placing stakes in the snow and ice, a method used by USGS since the late 1950s to evaluate benchmark glaciers, or by analyzing photographs taken from satellites and airplanes. While useful, neither method provides a detailed quantitative record of glacier mass loss on a regional scale.
"There is a lot of really great data available for the past decade, and some lower quality snapshots from 40-60 years ago" Shean said. "We can use those records to quantify cumulative long-term glacier change, but we don't know how that change evolved during that time period."
The researchers aim to fill in the missing pieces by resurrecting two historical data sets: aerial photographs collected by the USGS from the 1960s to 1990s and declassified spy satellite imagery acquired during the late 1960s to 1970s. They will develop automated, open-source, cloud-based software to generate detailed 3-D models of glacier surfaces using the images. The researchers will also collect field measurements utilizing drones, laser scanners and radars to further document selected glaciers in the Pacific Northwest. The observations will be used to calibrate and validate ice flow models that will improve our understanding of glacier response times, and in turn, provide better projections of future ice loss. While Pacific Northwest glaciers are the initial focus, the researchers intend for the tools to be capable of analyzing glaciers around the world.
The researchers also plan to apply the innovative approach to evaluate the mountain landscapes near the glaciers. Recent glacier retreat often leads to newly unstable slopes that can produce landslides. This mechanism can introduce "pulses" of sediment in river systems, and the historical observations will help inform a separate CEE faculty led research project to improve flood and landslide prediction.

"For the first time, we will be able to precisely track how the sediment is moving from the upland source regions near glaciers to the lowland areas where people live," Shean said.