Brooke Fisher
March 27, 2018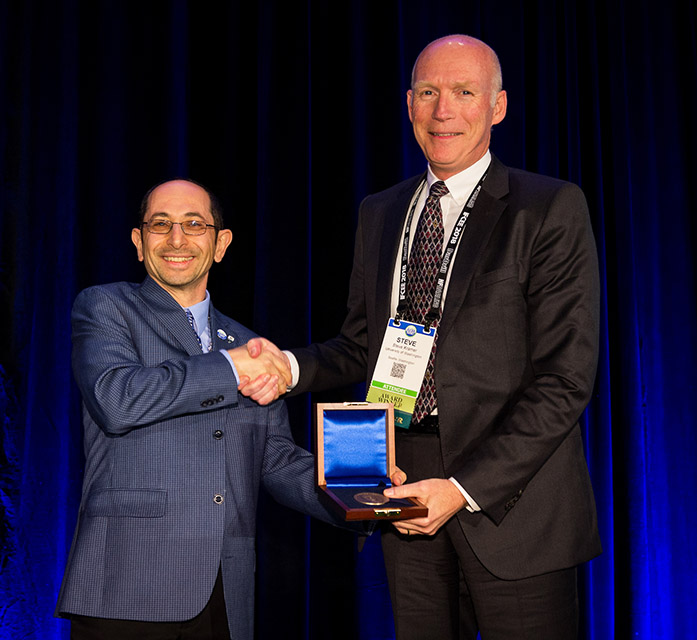 Professor Steve Kramer receives the H. Bolton Seed medal from ASCE Geo-Institute President Youssef Hashash.
To be associated with the father of geotechnical earthquake engineering is an honor. And it's one that professor Steve Kramer recently experienced. In early March, Kramer was presented with the 2018 H. Bolton Seed Medal, bestowed by the American Society of Civil Engineers in recognition of outstanding career accomplishments in geotechnical engineering.
"I'm very honored to have been chosen, particularly when I look at the list of past recipients," Kramer said.
The award recognizes Kramer's contributions to geotechnical earthquake engineering, particularly his research advancements in the areas of liquefaction, seismic slope stability and dynamic soil behavior. He is the author of Geotechnical Earthquake Engineering, the first book written on the subject, which is widely recognized as raising the practice of earthquake engineering around the world. Kramer has been the recipient of several previous awards from ASCE including two Norman Medals, a total exceeded by only one other geotechnical engineer since it was initiated in 1874.
The selection committee also noted Kramer's leadership with the Pacific Earthquake Engineering Research (PEER) Center and the Next Generation Liquefaction study. For more than a decade, Kramer served on the original research committee and executive management committee for the PEER Center, a former NSF-funded earthquake engineering research center that continues to operate. During his time with PEER, Kramer was responsible for developing and managing the geotechnical aspects of the PEER research program. Kramer was also recognized for his role in forming the Next Generation Liquefaction (NGL) project, led by the University of California, Los Angeles, which aims to build an openly accessible database of liquefaction case histories that will inform the development of predictive models. In its early stages, the NGL project has secured funding from PEER, the Nuclear Regulatory Commission and the U.S. Bureau of Reclamation.
Kramer accepted the award at the International Foundations Congress & Equipment Expo in Orlando, Fla., on March 9, and delivered the Seed Lecture that same afternoon.