April 25, 2018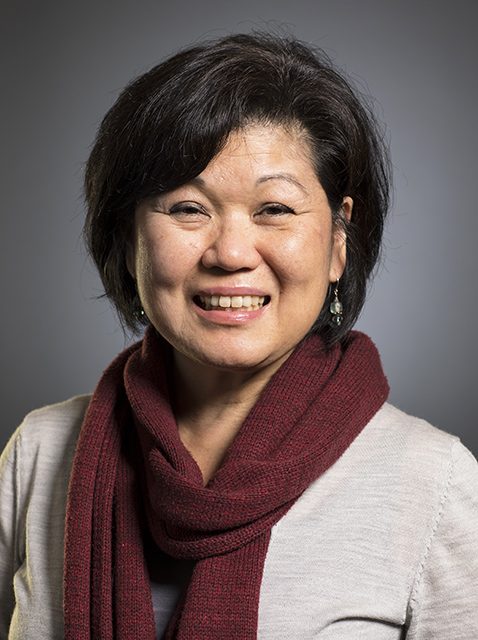 When it comes to advising undergraduates, CEE students are in good hands. And those hands belong to lead academic adviser Mariko Navin. In recognition of her commitment to students, Mariko is honored with the 2018 UW College of Engineering Professional Staff Award.
In her current role, which she has held for 12 years, Mariko advises more than 360 undergraduate students in the department's two bachelor's degree programs. Dedicated to building relationships with individual students, she knows many by name.
"I tend to care about people in general, so I like to do what I can to help people learn, grow and succeed in their endeavors," said Mariko, who has been a UW employee for 22 years. "It's really fun to see how people change or achieve their goals as a result of a little bit of extra help and attention."
Building relationships with students sets the stage for offering additional assistance when needed. It isn't uncommon for Mariko to reach out to a troubled student via phone call or email to ask how they are doing and connect them with resources. Mariko also strives to make sure that students are intellectually stimulated; if she learns of a student who isn't feeling particularly challenged in their classes, she'll go out of her way to connect them with research projects or other activities.
"These relationships help to establish and strengthen the CEE community and morale and are paramount to the CEE student experience," said department chair Laura Lowes in a nomination letter.
This past year, Mariko was instrumental in helping to establish the new Bachelor of Science in Environmental Engineering (BSEnvE) degree program. Throughout the process, which took several years, Mariko diligently assisted with preparing documents, reviewing curriculum offerings, planning information sessions and recruiting students both at UW and at local community colleges. She also worked to secure funding for students to take prerequisite classes during the summer to enable them to join the first program cohort in fall 2017.
"It was a long process from idea conception through degree reality. Throughout this process, Mariko was an optimistic voice, continually committed to creating a quality experience for the students. Drawing on unique perspectives honed from her years of experience in academic advising, she provided a 'voice of the student,'" said former CEE faculty member Heidi Gough in a nomination letter.
Connecting students to employers is something that Mariko has also worked tirelessly to do. She founded the annual CEE Career Fair in 2006, which has now grown into a signature department event featuring 74 companies and 300 students in 2018. To help students develop and refine their resumes and job search skills for the career fair, Mariko also collaborates with advancement team staff to host the annual CEE Career Fair Prep Night.
And, last but not least, Mariko also makes sure that graduation day is special for students. Before Mariko joined the department, the CEE department graduation ceremony consisted of a brunch held in More Hall classrooms. Thanks to her efforts, it is now held in the HUB Ballroom and attracts hundreds of students and family members.
Kudos:
A few excerpts from nomination letters are below:
"Every department needs a Mariko. We are aware of our good fortune in having the real thing. No one has quite figured out what her secret is, but we are all envious of her ability to treat everyone as special."
"Mariko does a great deal to support students outside the classroom. I can recall at least two cases in the past couple of years where she helped students find new housing on short notice when their living arrangements were an obstacle to their studies. She also looks out for students' mental health, making sure that students have access to the care they need."
"Not only does Mariko provide great advice and assistance, she is also incredibly supportive. Whenever I meet with her in a quarter where I feel overwhelmed, or concerned about my path, she knows exactly what to say. Mariko understands that sometimes it is important to slow down and she will ensure that you stay on track. Without Mariko's assistance I doubt I would be where I am today."
"I was interested in Environmental Engineering from my first day at UW, and even though it only became a major this past year, Mariko worked tirelessly with me throughout the years to make sure I would be on track to declare the major as soon as it came into existence. Even when I would change plans from what we had discussed, she was ready to help me make it work. Mariko has always shown me incredible individual attention, as she shows everyone she advises."
"Mariko has easily been the most helpful and influential person on campus to me and I attribute much of my success and satisfaction with my Husky experience to her. She helped make my dream major a reality and I absolutely would not be in this program right now without her years of support and guidance. Perhaps more importantly, she goes above and beyond her required duties and does so with an infectious smile and enthusiasm."
"Once I went to chat with Mariko about things going on in my life and it was one of the most informative chats I have had so far. She talked about how to handle the stress of balancing school and work, how to prepare for job hunting and career path, and giving something to the community back in Nepal with my engineering degree in the future. She gave me a light to walk through the darkness in my career path and I will always be grateful."