Brooke Fisher
Photos by Mark Stone / University of Washington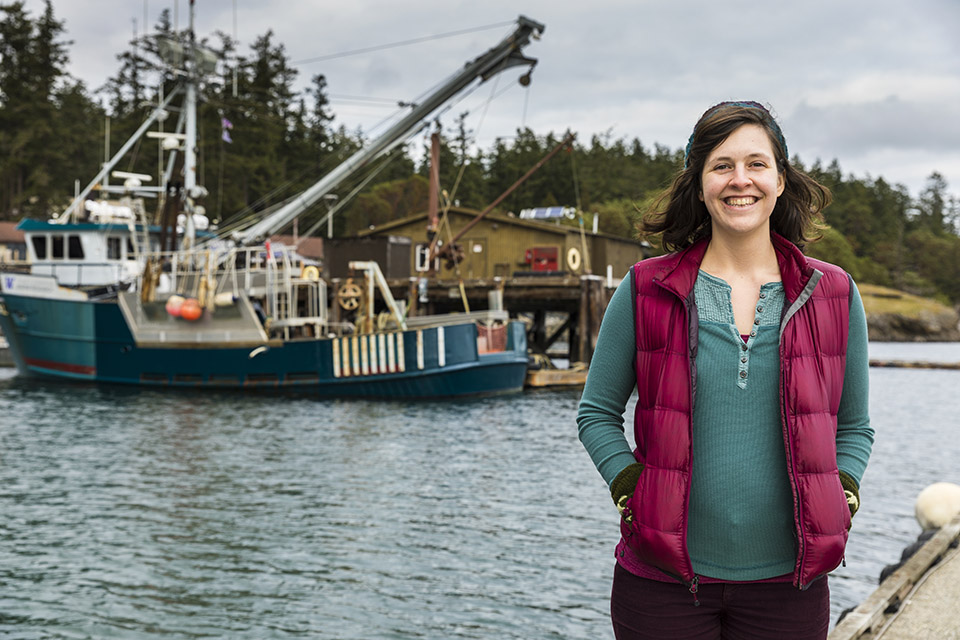 Molly Grear stands on the dock in front of Friday Harbor Labs. The marine research vessel R/V Centennial is in the background.
CEE Ph.D. student studies whales and renewable energy, recognized by Forbes
The majority of people don't spend much time thinking about blubber. But for Ph.D. student Molly Grear, it's the primary focus of her research.
"I set out to answer an environmental question and ended up fascinated by how blubber works," Grear said.
Stretching whale blubber to determine how pliable it is enables Grear to assess how marine mammals, such as killer whales in the Puget Sound, may be impacted by the spinning blades of tidal turbines, an emerging form of renewable energy.
"Molly is among the most motivated and curious students I have come across at UW," said assistant professor Michael Motley, Grear's faculty adviser.
Tidal turbines, which look like underwater windmills, are not widely used in the United States, although they are more common in Europe. The development and commercialization of tidal turbines has been slowed by a number of factors, most notably the potential to harm marine mammals.
In recognition of her work in the energy field, Grear, 28, was named to Forbes magazine's list of the top 30 people under the age of 30 who are working on energy initiatives with the goal of creating a more sustainable future. The magazine profiles "a group of upstarts, judged by our sources and judges, to be among the most promising individuals working across the broad field of anything even tangentially 'energy' related."
"The work I do is charismatic and marine animals are charismatic," Grear humbly said about the award.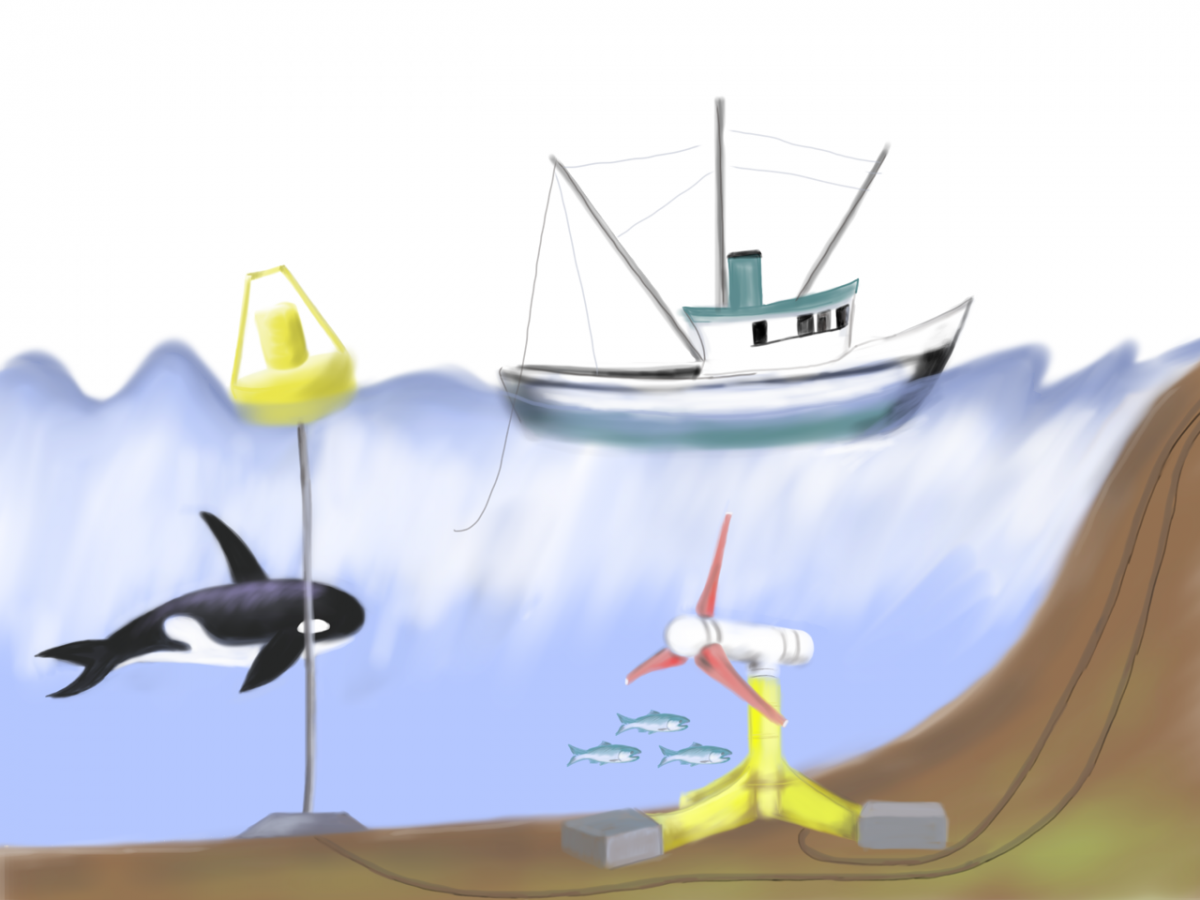 Molly Grear utilizes her artistic side to illustrate her research.
What about the whales? A problem surfaces
While marine renewable energy is gaining interest as a way to combat climate change, the impact on marine wildlife has not been widely studied. In the Seattle area, environmental conservation groups and regulatory agencies began voicing concerns around 2010 that tidal turbines may harm killer whales in Puget Sound. At the time, two turbines were proposed on the east side of Admiralty Inlet, situated between the Olympic Peninsula and Whidbey Island.
Grear began addressing this concern while working as a research assistant for Pacific Northwest National Laboratory after earning her bachelor's degree at Dartmouth College. She spent three years investigating the potential environmental impacts of installing various ocean energy devices. When she decided to pursue a Ph.D., Grear wanted to continue investigating the topic and obtained funding through a National Science Foundation Graduate Research Fellowship.
"Molly is among the most motivated and curious students I have come across at UW," said assistant professor Michael Motley, Grear's faculty adviser. "She came in on day one with a research direction, and because of her NSF graduate research fellowship she has had the freedom to develop and lead a distinct research path that is uniquely her own."
Blubber and blades: Assessing risk
While tidal turbines may have a number of negative impacts on marine mammals, including increased noise, the most commonly discussed issue is blade strike. To determine the potential damage that tidal turbines may cause to marine mammals, Grear investigates two factors: the biomechanical properties of marine mammal skin and blubber and the probability that marine mammals will be in close proximity to tidal turbines.
To evaluate the biomechanical properties of marine mammals, Grear studies their skin and blubber to determine if it is resilient enough to protect them from potential blunt force trauma encountered in a tidal blade collision. Grear has found that resilience is largely determined by the layers of skin and blubber that together create a stronger material that can absorb forces without breaking.
"The multiple layers have different material properties, each with a different function, that can protect the animal better," Grear said.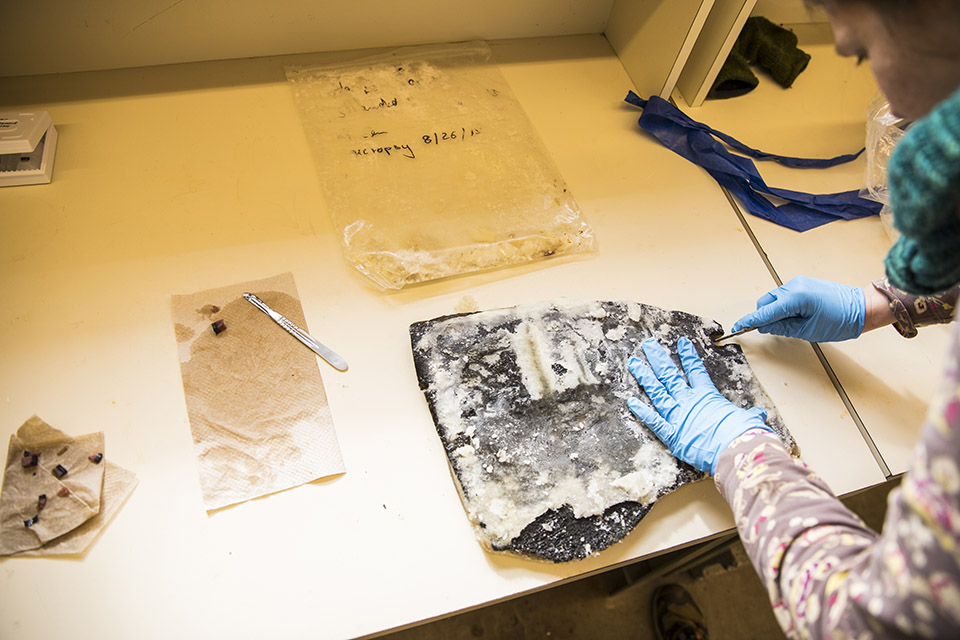 Molly Grear cuts harbor porpoise skin at Friday Harbor Labs.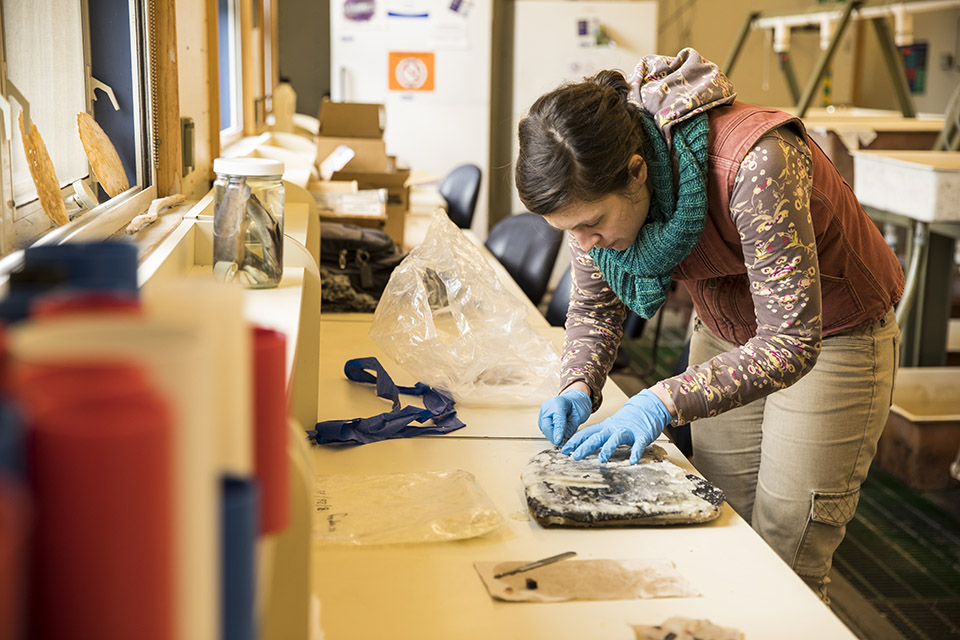 Cutting harbor porpoise skin in a lab at Friday Harbor Labs.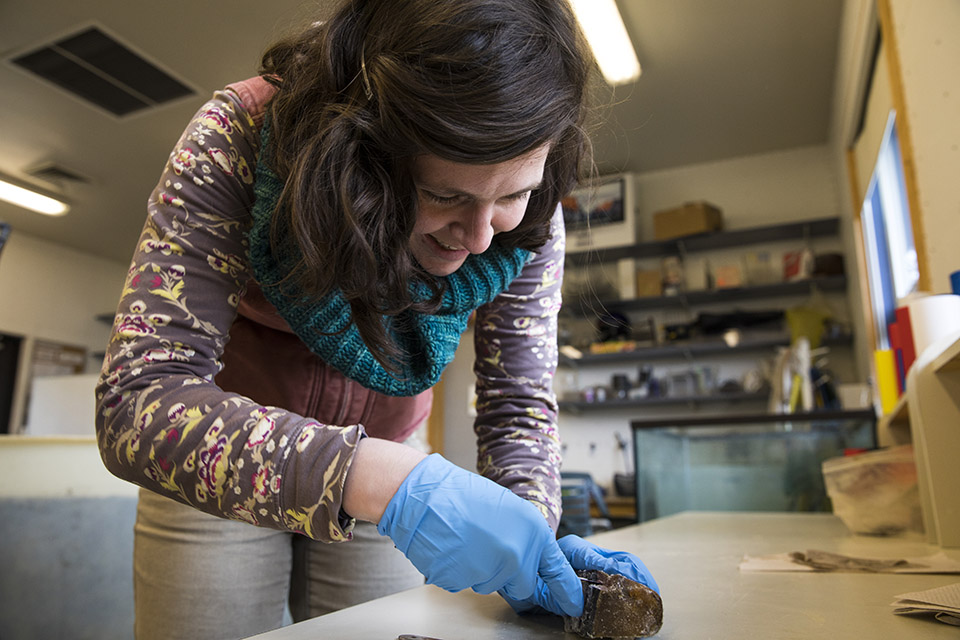 Cutting small samples of killer whale blubber to inspect under a microscope.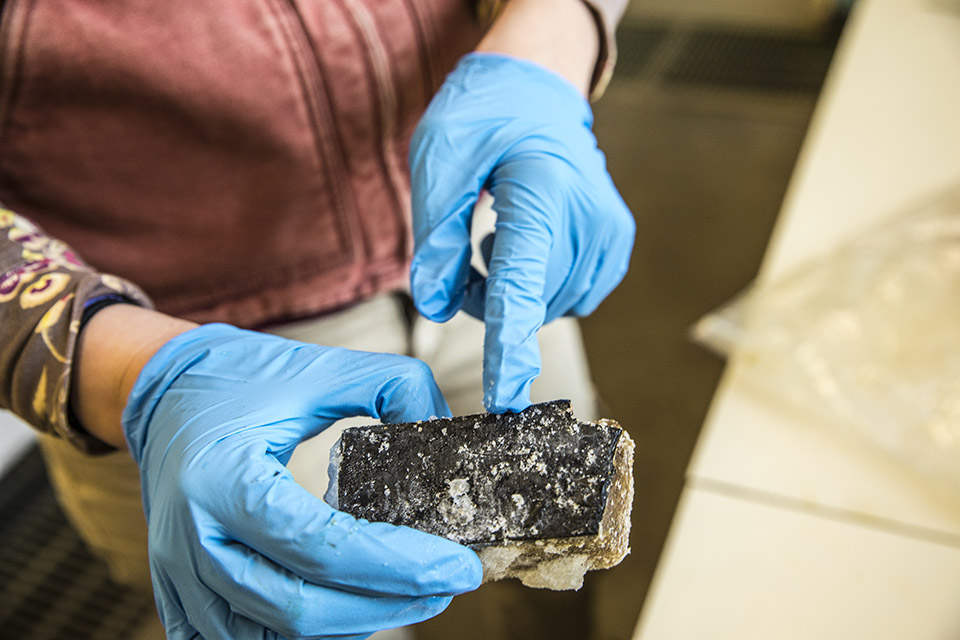 Holding a frozen piece of killer whale tissue, Molly Grear points at the black skin, under which is pink blubber.
After first modeling the forces that a turbine blade might have on a marine mammal, Grear tests tissue resilience using the same methods used to study the material properties of steel and concrete. The data is then combined to create a model showing potential risk.
"In the Structures Lab, people pull big things apart," Grear said. "I do this on a tiny scale machine."
Every few months, Grear travels to Friday Harbor Labs, a marine biology field station located on San Juan Island, where she spends a few days at a time testing tissue samples of various marine mammals, from killer whales to harbor porpoises to harbor seals. During the summer months, she often collects fresh tissue samples at weekly necropsies organized by researchers on the island when marine mammals wash up on the shore.
"The fact that not all collisions cause damage combined with the unlikely event of a collision because the animals are smart and likely to avoid the turbines makes this a risk we can live with," Grear said.
The second factor that Grear evaluates is how close marine mammals may potentially be to a tidal turbine. She models the probability of collision using a variety of existing data such as swimming speed, dive depth, water depth and blade speed.
"This approach shows that overall the likelihood of event is small," Grear said. "This has some downsides, though, in the sense that there is no behavioral component."
Coexistence conclusion
With a better understanding of the nature of marine mammal tissue, coupled with the small likelihood that they would encounter blade strikes, Grear believes that marine mammals and turbines can coexist. Modifying the technology can help counteract some risks, she said, by configuring blades that slow down when animals approach or modifying the shape of turbines so they are less likely to strike marine mammals.
"The fact that not all collisions cause damage combined with the unlikely event of a collision because the animals are smart and likely to avoid the turbines makes this a risk we can live with," Grear said.
To disseminate her findings, Grear has published two peer-reviewed papers, as well as additional conference papers and technical reports.
"Molly's work has focused on improving the understanding of how marine mammals would respond to blade strikes to better inform the marine energy community as they design various prototypes," Motley said.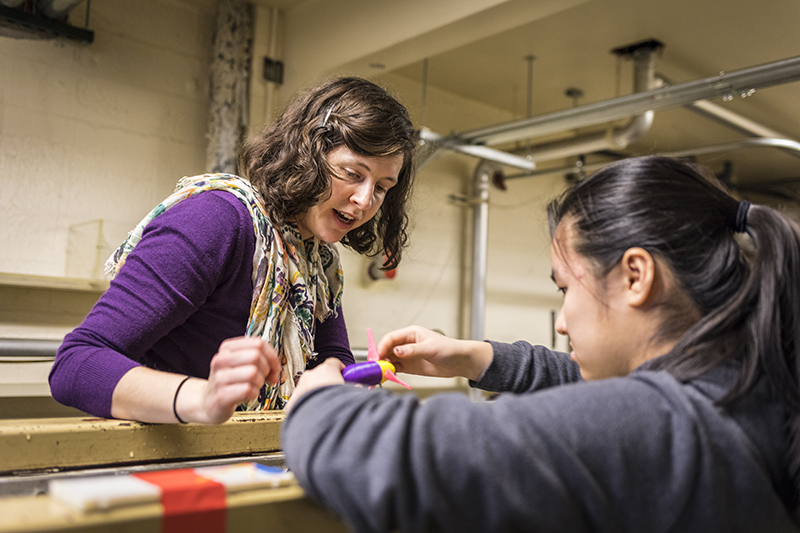 Molly Grear explains how tidal turbines work during a STEM outreach event in Harris Hydraulics Lab.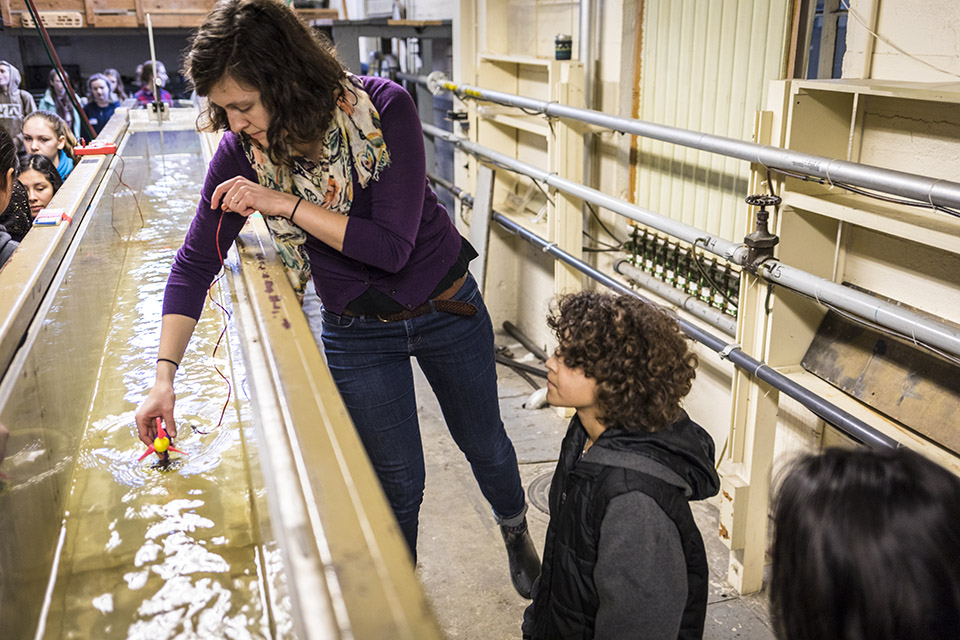 Demonstrating a 3D-printed tidal turbine to a group of middle schoolers in Harris Hydraulics Lab during a STEM outreach event Molly Grear organized.
Putting passion into practice
As Grear closes in on the end of her graduate studies, and prepares to graduate this summer, she is exploring career opportunities. She is open to a variety of positions, including faculty positions, post-docs and even policy fellowships in Washington D.C.
During her graduate studies, Grear developed an interest in teaching and worked with Washington SeaGrant to coordinate K-12 Science, Technology, Engineering and Math outreach for middle school and high school students. She organized renewable energy outreach events on campus, demonstrating tidal turbines at Harris Hydraulics Lab.
"I like that the kids can see what a scientist does," Grear said. "I really enjoy learning about pedagogy and how to get people to learn."
Grear aspires to continue working on marine technology, with a slightly different angle. Her "dream research" is engineering new technology in the ocean that takes advantage of existing biology and how animals interact in their environment. An example is creating shoreline protection comprised of barnacles, which naturally adhere to surfaces.
"Rather than putting something in the ocean and hoping the biology won't bother it, using what is there," Grear said. "That is the big dream. Those types of projects make me excited."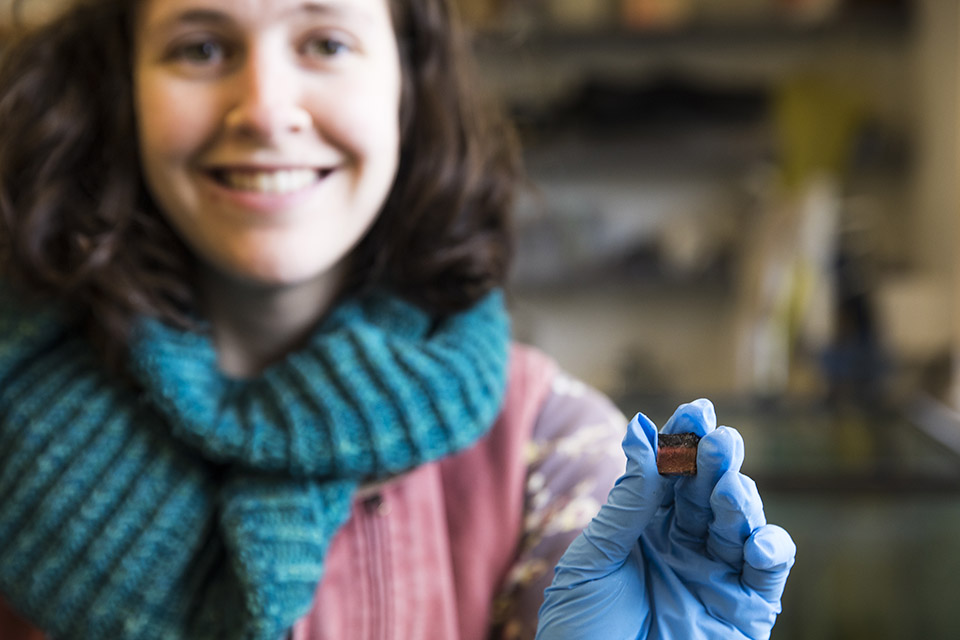 Holding a small section of tissue to be preserved and cut into small sections to observe with a microscope.
Originally published May 8, 2018