Brooke Fisher
Photos by Rebecca Neumann and Leann Andrews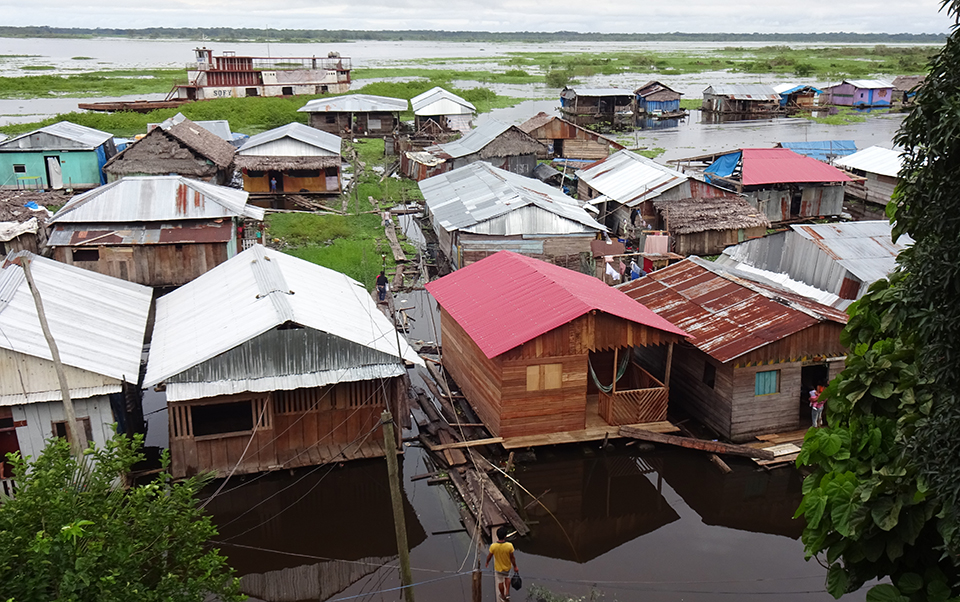 The impoverished floating community of Claverito, which floats for half the year before settling on dry ground again.
UW researchers improve a floating community in the Amazon
It takes a village to save a village. A floating village, that is. Drawing on the expertise of researchers from six different UW departments, an interdisciplinary team of researchers is working to improve the health and living conditions of an impoverished floating community in the Peruvian Amazon.
"The residents have chronic health issues and diseases and we know their bodies are being attacked," said CEE assistant professor Rebecca Neumann.
From cleaning contaminated water to improving food security, the researchers are implementing innovative interventions to enhance both the built and natural environments in the village, called Claverito. They will measure their success based on the "before and after" health of village members and hope to ultimately share what they learn with other struggling communities.
"We will use our experience to develop a replicable implementation model and strategy that could be applied to other insecure housing communities in the future," said professor Joseph Zunt, a neurologist and professor in the departments of neurology and global health, who is one of the project visionaries.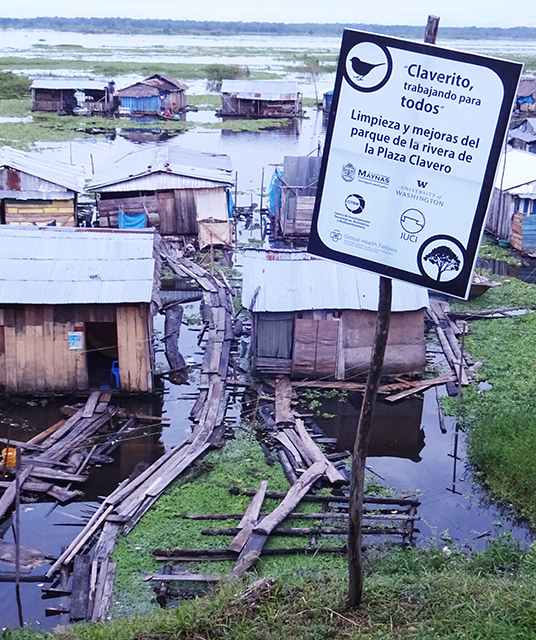 A warning sign above a haphazard walkway leading into the floating community.
A vulnerable village
The 50 houses in Claverito float for about six months each year before resting on dry ground again. Home to about 280 residents, the village is located on the banks of Iquitos, the capital of the Peruvian Amazon. A densely populated city, Iquitos' lack of space is so severe that people live in makeshift houses on the water, forming small informal settlements such as Claverito.
"They don't have anywhere to live, so they build these floating communities which are not recognized by the government," Neumann said.
Not being recognized by the government means that the community does not receive water and sewer services, which compromises the health of community members. The majority of Claverito residents are indigenous people who work in jobs such as fishing, floodplain agriculture and selling goods in the markets and streets.
To understand the needs and desires of the community, and build trust, two lead researchers began visiting the community in 2015. Co-lead and UW alumnus Jorge "Coco" Alarcón, who received an MLA in landscape architecture with a certificate in Global Health, resides in Iquitos where he oversees local project details on a day-to-day basis. The second co-lead is UW Built Environment Ph.D. candidate Leann Andrews, who lived in Iquitos for a year in order to visit the community daily.
"The community is a dream to work with," Andrews said. "We recognize that we're helping to provide services in their community to improve their health, but we are also benefiting from their gift of knowledge and data."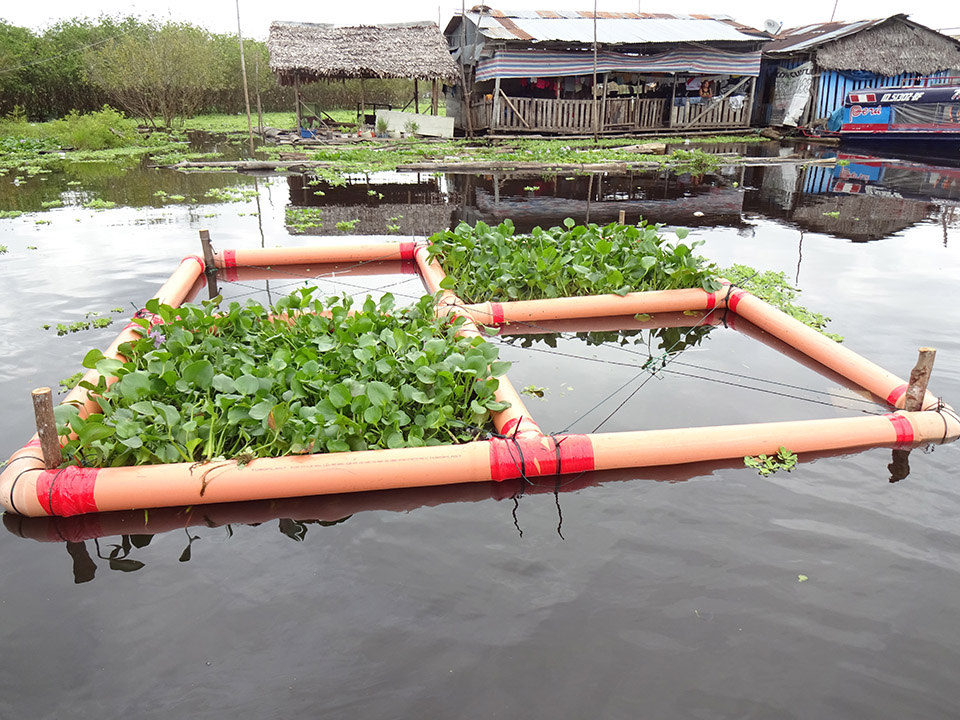 A field test set-up by assistant professor Becca Neumann to evaluate how water hyacinths are currently absorbing water contamination.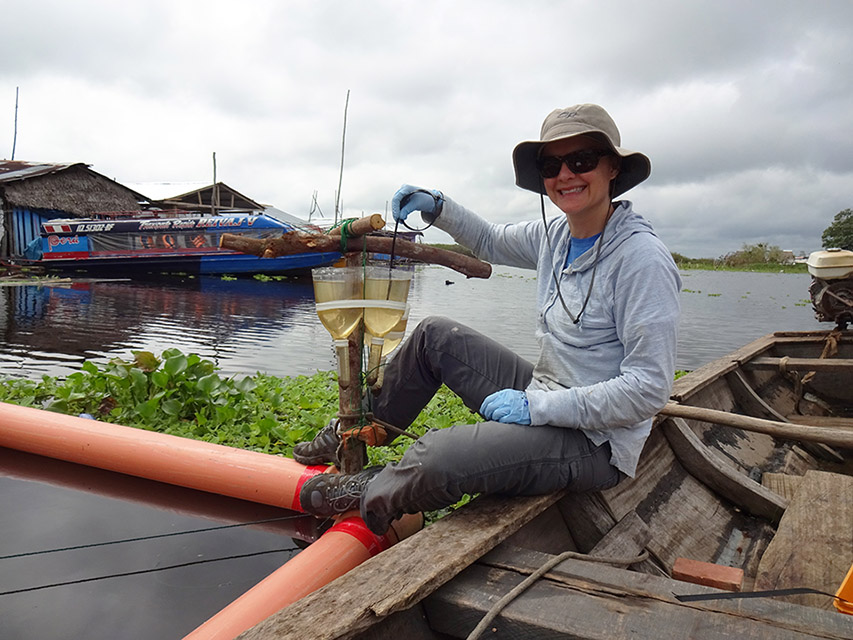 CEE assistant professor Becca Neumann works on her field study.
Cleaning contaminated water
The water surrounding Claverito contains high levels of E. coli. In addition to outhouses draining directly into the water, a larger upstream community also causes additional water contamination. Although the majority of the community does not drink directly from the river, they use it for swimming and washing.
"You see the kids swimming in the polluted water and you know that if you were swimming in the water, you'd be very sick," said Neumann, who is leading the environmental research component of the interdisciplinary project.
To reduce water contamination, Neumann is investigating the use of aquatic vegetation, particularly native water hyacinths, to remove E. coli from the water. To test the feasibility of this solution, Neumann set up a floating experimental plot in February 2018, building off preliminary research by Andrews. Field tests will evaluate how water hyacinths are currently removing E. coli from the water, such as by absorbing it onto the surface of their roots or by creating a protected environment that attracts aquatic animals like zooplankton that eat E. coli.
"If we find that these plants successfully remove E. coli, we could harness that in a built intervention," Neumann said. "For example, we could create a space where people could interact with the water, such as a swimming area for the kids."
Before departing Claverito, Neumann trained a local researcher to continue taking ongoing measurements until the water recedes and houses once again settle on dry ground.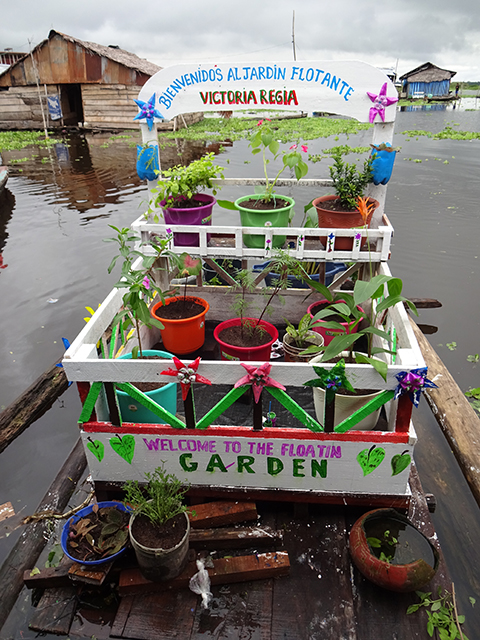 Floating gardens were created to increase food security.
Floating gardens and walkways
Getting to and from the houses in Claverito can be difficult. A steep hill leads down to the community and accessing houses entails walking along narrow wooden planks. To improve the built environment and reduce injuries, such as those resulting from falls, the researchers constructed stairs down the steep hill. A walkway is currently under construction, which will span the bottom of the hill and allow equal access to the entire village.
The researchers are also working to increase food security through built environment enhancements. Last year, 26 household floating gardens were added, which grow 36 different species of plants, both medicinal and edible varieties. The gardens boast regional specialties such as the local pepper aji charapita, regional tomato sacha tomate and regional cilantro sacha cilantro. This year, 30 households selected two gardening elements for their homes, ranging from a green wall on the side of their house to potted plants on their porch or in window boxes. A hillside community garden also grows medicinal plants to help cure diarrhea and parasites.
"These projects were seen to improve food insecurity, mental wellbeing, reduction of injuries, and social wellbeing as well as improved access to food and medicinal plants," Andrews said. "But the community still has a long way to go in terms of their health."
Interdisciplinary insight
The interdisciplinary project benefits from the expertise of many, with team members from six different disciplines. The team includes dentists, physicians, nurses, landscape architects, an environmental engineer, microbiome experts and an epidemiologist.
"It is a highly interdisciplinary group, which is relatively rare," Neumann said. "It's been interesting, fun and informative to work with people who are trained in all these different ways and approaches."
One example of how the researchers worked together to better understand the community was when the dental group noticed unexpected wearing of village members' teeth. Thinking it may be caused by metal exposure, they consulted with Neumann who tested the water and discovered that the metal content was low, but the water was acidic. Their hypothesis is that the acidic water, combined with the acidic fruits the village members eat, is causing village members' teeth to deteriorate.
The project also benefits from local collaboration with the Peruvian National Institutes of Health in Iquitos and the Universidad Nacional de la Amazonia Peruana (UNAP), where the researchers are using lab space and equipment and are partnering with UNAP students and professors. In support of the collaborative project, a Memorandum of Understanding was signed between the UW and UNAP.
"We have an equal amount of Peruvians as we do UW folks," Andrews said. "This, paired with the local knowledge of the community, is a rare exchange of knowledge and ideas."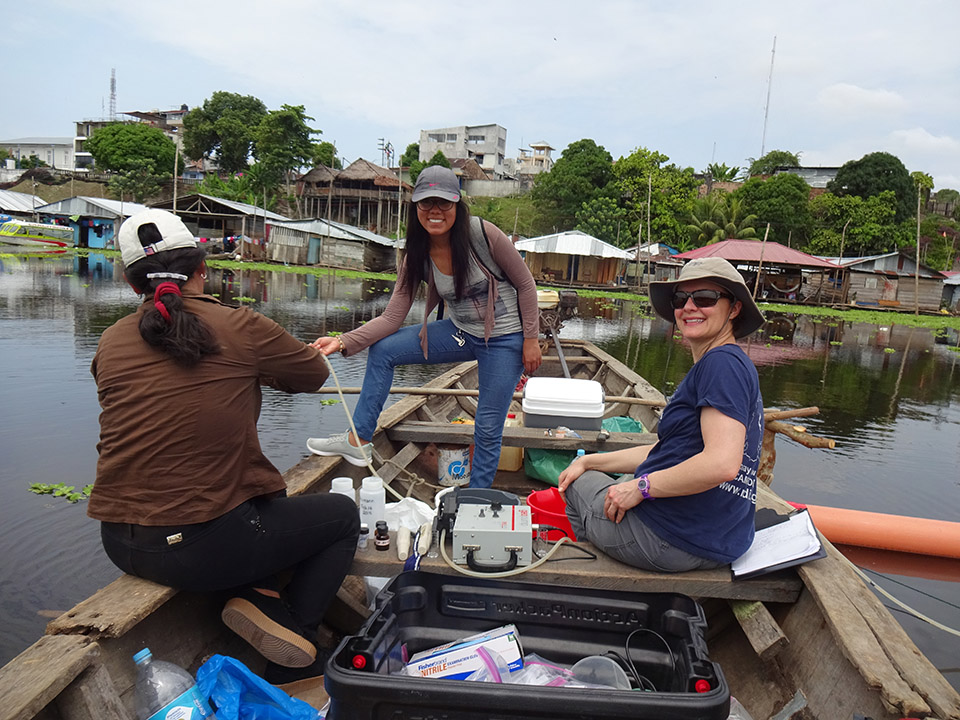 Assistant professor Becca Neumann (right) collaborates with researchers in Peru.
A healthy assessment
The health of residents will be used to measure the success of the project, particularly residents' exposure to harmful bacteria, parasites and metals.
To gather baseline data, researchers from global health, dentistry and nursing disciplines visited residents at their homes in early 2018 to collect DNA, blood and fecal samples and measure blood pressure. They also distributed a questionnaire to gather information about mental health, food insecurity and environmental exposure. To assess the "before and after" health of the village, the health metrics tests will be repeated once additional enhancements are completed.
Alongside traditional measures of health, the researchers also plan to assess the complex ecosystem of bacteria located in the guts and mouths of residents, as well as in their water, pathways and homes. With emerging research indicating that poor gut health can contribute to diseases, the researchers hope to gain insight into how the microbiome is influenced by the built and natural environments.
"Research into the oral, gastrointestinal and environmental microbiomes is still incomplete," Zunt said. "Our proposed research will allow us to examine the interaction of microbiomes within specific environments, individuals and families."
While the researchers plan to continue their research into the near future, the long-term sustainability of the project is dependent on securing additional funding. The InterACTION Labs project was previously supported by the UW Global Innovation Fund and a Population Health Initiative Grant.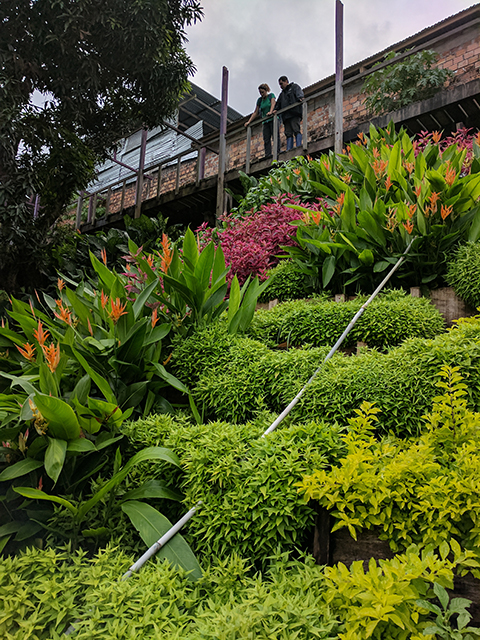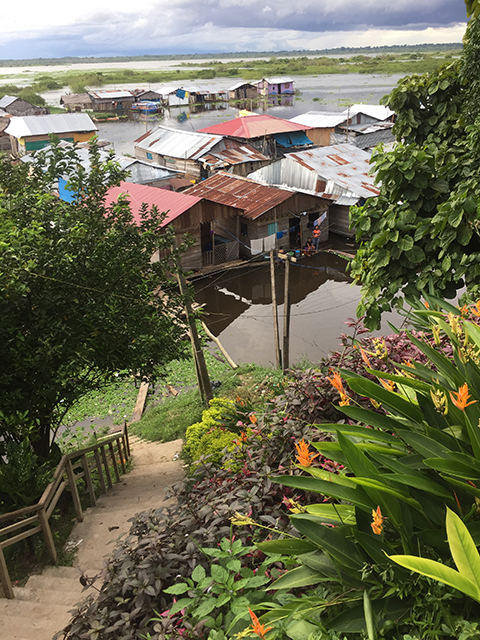 Built interventions include a hillside garden (left) and new pathway leading into the village (right).
Originally published June 26, 2018