By Brooke Fisher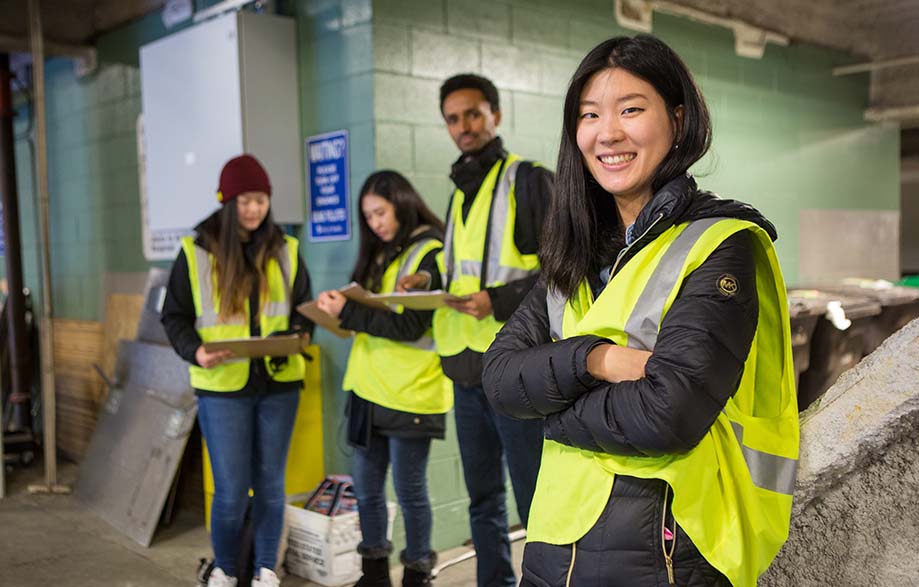 The Urban Freight Lab data collection team, led by Ph.D. student Haena Kim, conducted a pilot study at Seattle Municipal Tower in April.
Smart locker system drastically reduces delivery time
Delivery drivers spend more than half of their time doing anything but actually delivering packages. Waiting for elevators, tracking down customers and obtaining signatures are just a few tasks that take up a considerable amount of their time- up to 73% to be exact.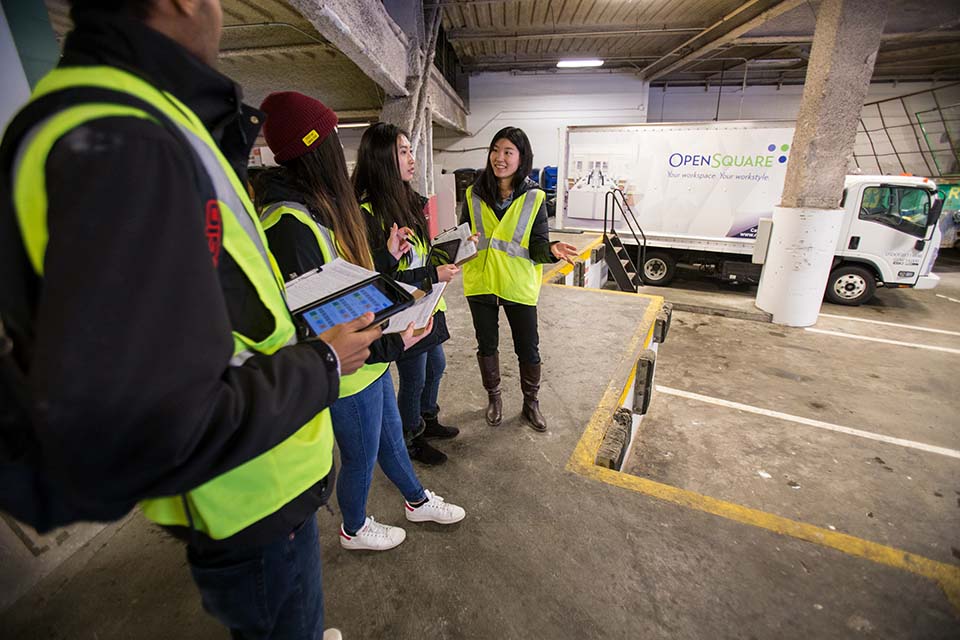 Waiting for deliveries at the Seattle Municipal Tower loading bay.
Inefficient processes inside buildings increases the amount of time that delivery vehicles are parked on city streets, which contributes to traffic congestion. Currently the fourth most congested city in the country, Seattle faces new demands for unloading space on streets, particularly with the rise of ecommerce. To address this issue, transportation researchers found that a smart locker system, called a common carrier locker, can drastically reduce delivery time.
"We anticipated that if we had a locker system, we would reduce the delivery time," said Ph.D. student Haena Kim, who led the pilot study. "But what we saw was a 78% reduction in time. That's astonishing."
This is the first time in the United States that a common carrier locker strategy is being developed for use on public property. Other locker systems, such as those used by Amazon, are retailer specific. A common carrier locker system would accommodate deliveries from all retailers, thereby creating delivery density.
"Smart lockers create a mini-distribution node, as do concierges and mailrooms, where drivers make one stop to deliver many packages," said Barbara Ivanov, chief operating officer for the Supply Chain Transportation and Logistics Center. "They do their work faster and park for a shorter amount of time, freeing up city load zones for other users."
The Urban Freight Lab researchers are addressing the complicated last leg of urban deliveries, known as the "Final 50 Feet," which is when a delivery driver must locate both parking and customers. The researchers have two overall objectives: to reduce the amount of time trucks are parked and to reduce the number of failed delivery attempts, which can result in 15% fewer delivery trips.
Pilot preparation
Leading up to the pilot study at Seattle Municipal Tower in April, researchers collected data at five different types of buildings: a hotel, an office building, a historical building, a retail center and a residential building in downtown Seattle. At the office building, they found that delivery drivers spend up to 73% of delivery time on tasks such as clearing security, riding elevators and looking for tenants.
"That's why we came up with the common carrier locker idea," Kim said. "All of our research is data-driven. Once we have the data, we can do analysis to learn new things based on the numbers."
With the knowledge that processes inside urban buildings contribute to increased delivery truck dwelling time, the researchers joined forces with the Seattle Department of Transportation (SDOT) to implement the pilot study. The 62-floor city-owned Seattle Municipal Tower was selected as the site, as the city is a project partner.
Pilot take-off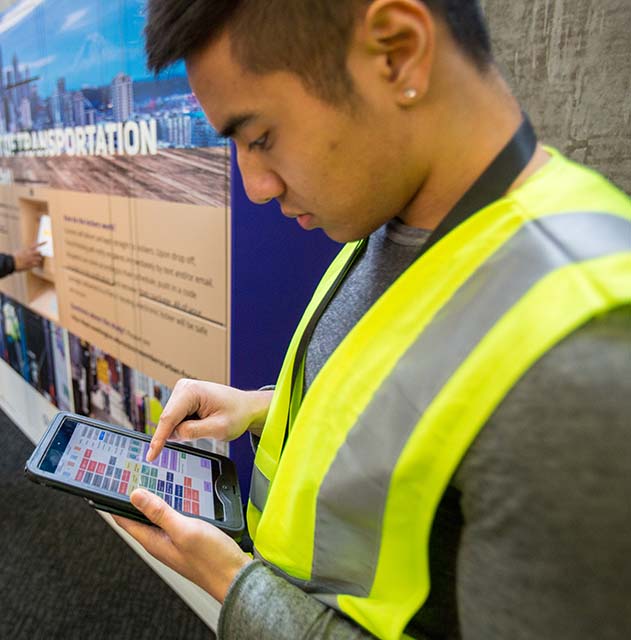 Student data collectors gathered data using a specially designed app created by Kim.
As soon as delivery trucks rolled into the loading bay at Seattle Municipal Tower, student data collectors began gathering data using a specially designed app created by Kim. The first two weeks of the study were spent gathering data prior to introducing the common carrier locker system, in order to measure its success.
During the first two weeks, the researchers found that delivery workers spent 61% of their total delivery time waiting for elevators, looking for customers and obtaining signatures. United Parcel Service (UPS) carriers visited an average of seven different floors to deliver packages, which took 27 minutes on average. Due to residents moving or not being available, the researchers also documented a total of seven packages that failed to be delivered.
Beginning in week three, the common carrier locker system was up and running. Due to the scope of the study, only two carriers utilized the locker system: UPS and United States Postal Service, both of which are project partners. Data collectors measured how much time it took carriers to deliver parcels directly to the locker system, located on the third floor.
"Even if they didn't have packages going into the lockers, many carriers would go check it out," Kim said.
After packages were delivered to the common carrier locker system, recipients were notified by text or email. They could then retrieve packages at their convenience using a code provided in the notification. Prior to the start of the pilot project, 36 test participants were recruited, all of whom worked in the building.
"Once the study got underway and other people saw the lockers, there was additional interest," Kim said.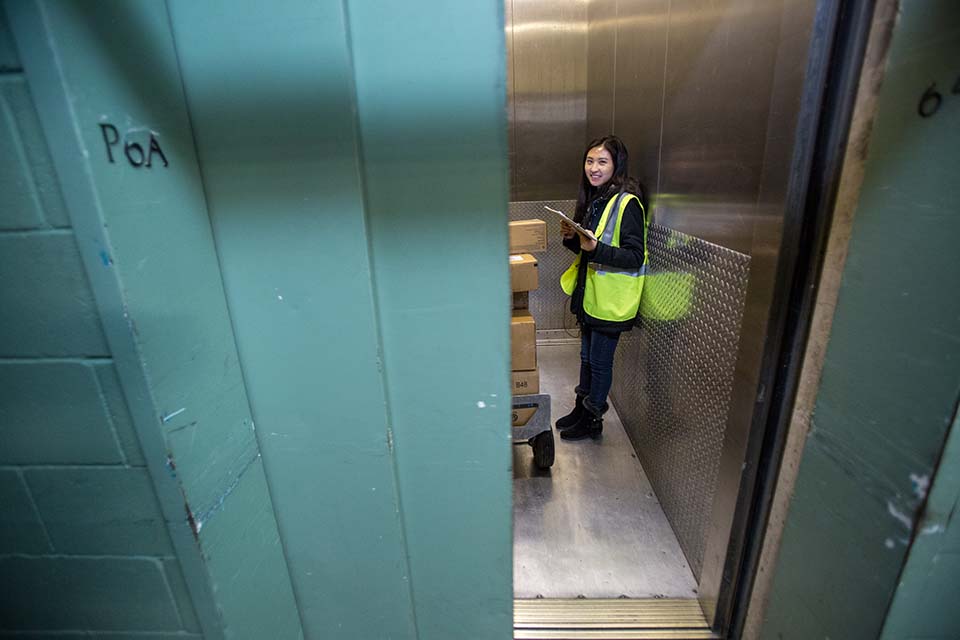 A data collector rides the elevator with a carrier.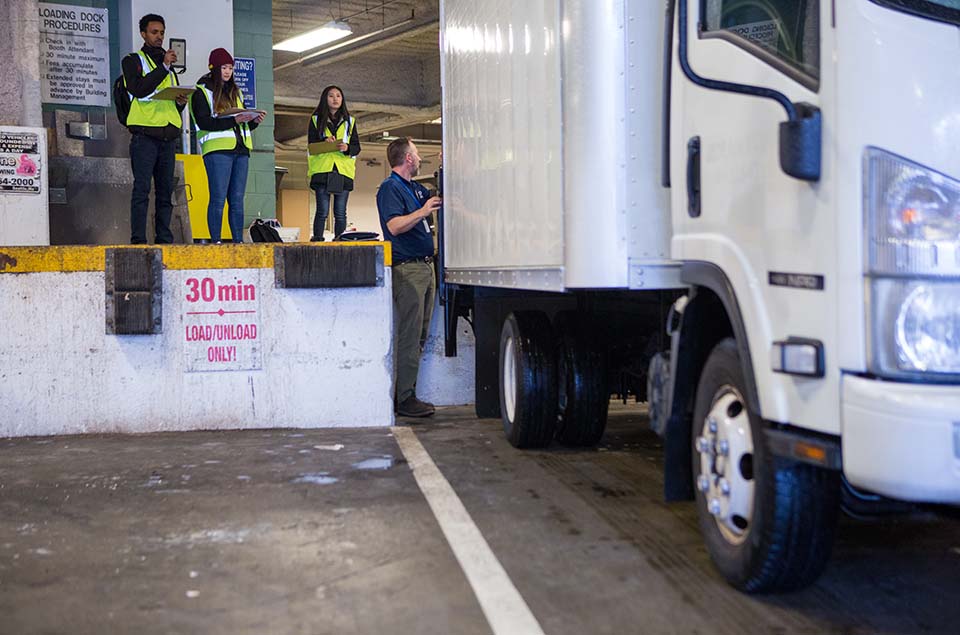 Student data collectors stationed at the loading bay observe freight movement and activities.
Smart locker success
By the end of the four-week pilot study, the researchers gathered data on 586 parcels. They found that the common carrier locker system reduced total delivery time by 78%. The system also reduced the number of failed first delivery attempts to 0%.
"We knew the locker system would reduce the delivery time, but we didn't have the metrics to prove it," Kim said. "Now we know, wow, it's up to a 78% reduction."
Despite the drastic reduction in delivery time, the locker system's primary drawback is that it isn't practical for oversized goods. Locating the locker system closer to the loading bay would have also saved time, although this wasn't possible due to ADA requirements. Delivery drivers therefore had to travel to the third floor, which required taking an elevator and escalator.
Next steps for the researchers include considering another common carrier locker pilot test— this time at up to three Seattle Link Light Rail stations.
"Based on what we learned at the municipal tower, we have the knowledge for what we need to do for the next pilot study," Kim said. "We can expand our experience from this to have an even bigger outcome."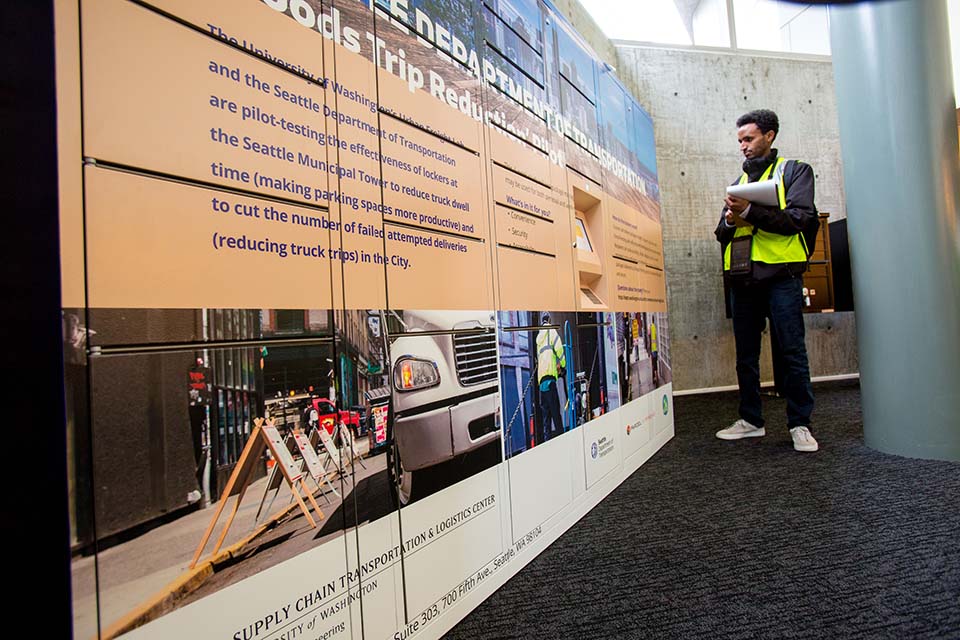 The smart locker system, located on the third floor of Seattle Municipal Tower.
Originally published May 18, 2018