July 9, 2018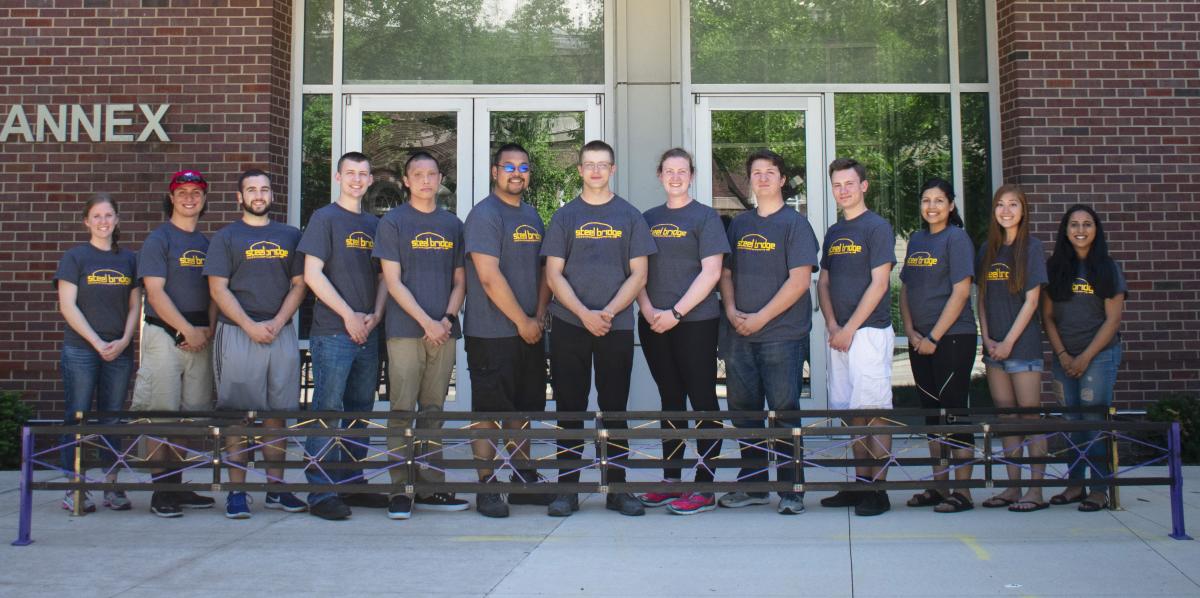 The team at nationals: Katarina Kubiniec, Lawrence Taicz, Joey Lasensky, Cody Filley, Tommy Tang, Philip Yu, Kyle Coit, Martha Quigg, Alex Ilias, Zach Taylor, Melina Soto, Kiri Takanishi, and Kiran Kaur, from left. Photo credit: Marie Arnold

One could presumably expect nothing less than a solid finish from the UW Steel Bridge Team. And they didn't disappoint. Qualifying for nationals for the first time in more than 20 years, the team took 31st place overall.*
"We were very excited to do well enough at regionals to attend nationals," said CEE senior Kyle Coit, incoming team manager.
The team competed at the National Student Steel Bridge Competition (NSSBC), held at the University of Illinois Urbana-Champaign on May 25-26. Forty-two teams competed, including teams from Canada, Mexico and China.
Team members, comprised of students from various engineering disciplines, including mechanical, civil and electrical engineering, competed in six categories. They received the following scores:
Construction Speed - 16th
Lightness - 20th
Display - 21st
Stiffness - 33rd
Economy - 24th
Efficiency - 32nd
Thanks to team sponsors, the majority of the team (14 out of 20 members) was able to travel to Illinois for the competition, including members who will assume leadership roles on the team next year.
"We saw a lot of incredible bridges and out of the box ideas that we hope to use as inspiration moving forward," Coit said.
*Note: UW CEE hosted nationals in 2013 and the team was allowed to enter the competition, although they otherwise would not have qualified.