By Brooke Fisher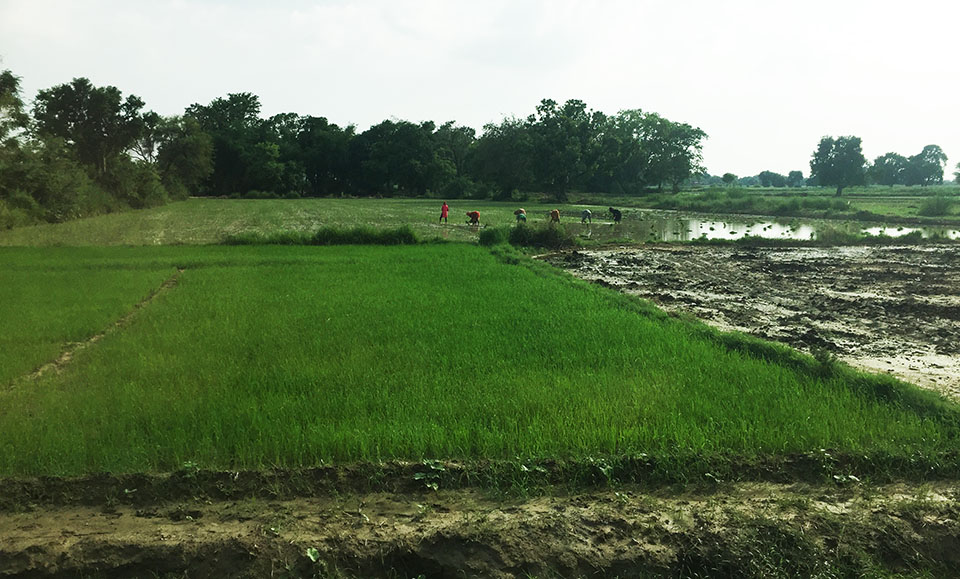 A typical small-plot field in India with high variability in crop type. Paddy is growing in the left plot, the field to the right is being prepared for planting and the back field has already been harvested.
Developing a water advisory system for struggling India farmers
From cucumbers to sunflowers to rice, farmers in India grow an assortment of crops. While variety can be a good thing, many farmers struggle with knowing how much water their crops require. As a result, crops are often over or under watered, which reduces crop yield.
"Marginal farmers in India generate enough to sustain themselves, but not enough to build a savings," said CEE professor Faisal Hossain. "They are extremely vulnerable. If they have a crop failure, it wipes them out."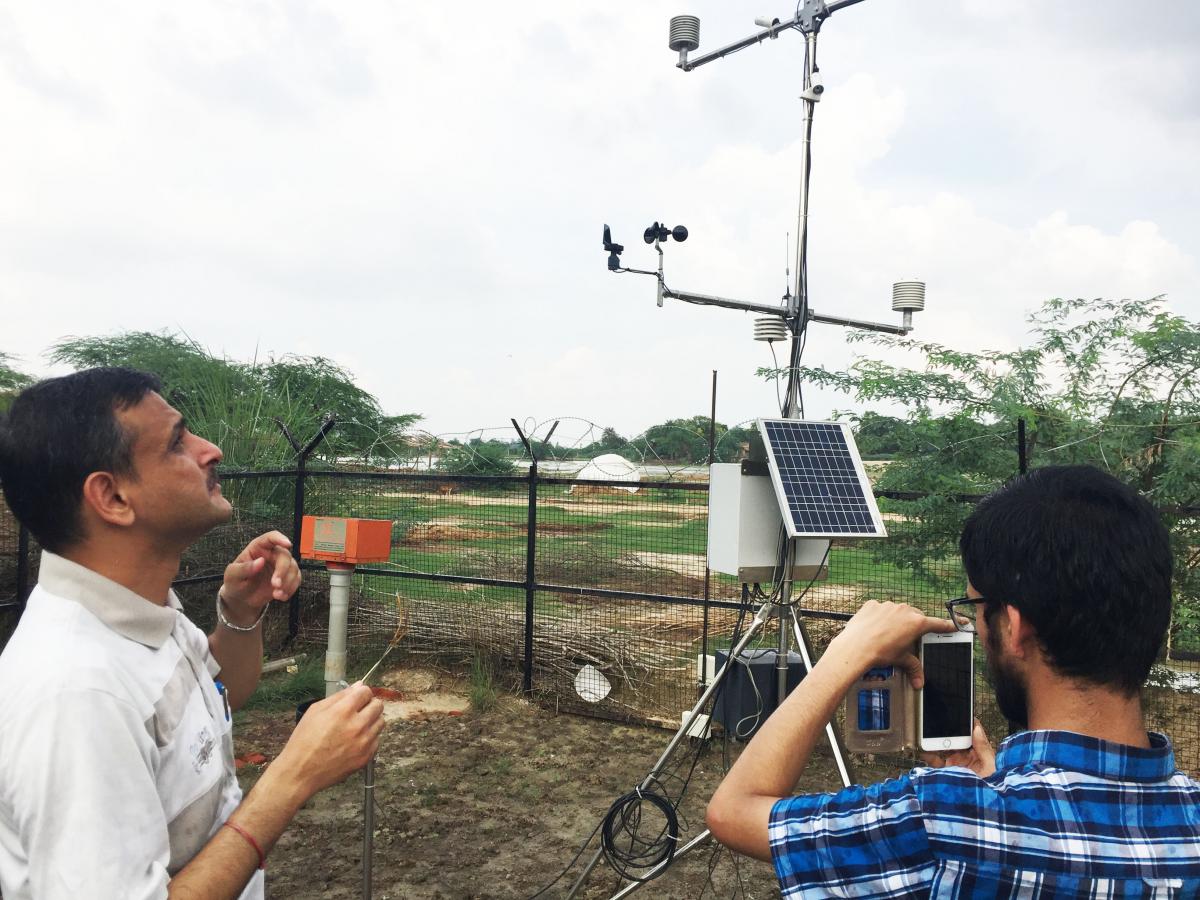 UW student Shahryar Ahmad (right) helps set-up an automatic weather station that measures weather parameters in real time.
An estimated 82% of farmers in India are marginal farmers who own small plots of land, according to the Food and Agriculture Organization of the United Nations. Growing just enough food to feed themselves and their family, the farmers struggle with watering crops due to erratic weather and ineffective irrigation practices. As many farmers depend on groundwater, canal water or rainwater for irrigation, water timing often does not match crop requirements, leading to less than optimal harvests.
Unable to provide for themselves, many of India's 140 million farmers are leaving the profession at an epidemic rate. Concerned by the growing trend, the government in India has set a goal to double farmer income by 2022 through a number of initiatives, from offering loans to help procure good quality seeds to an online trading platform to ensure fair prices.
To address the root of the problem, and empower India's struggling farmers with irrigation information, UW CEE researchers are developing an irrigation advisory system. The technology will provide farmers with precise information regarding how much and when to water their crops, which has the added benefit of conserving water. The UW CEE research team includes CEE professor Faisal Hossain and graduate students Shahryar Ahmad, Nishan Biswas and Asif Mahmood.
"This project can be seen as a primary step toward revolutionizing the way farming is practiced," Ahmad said. "The success of the farmers will pave the way for further exploration in other parts of the world that suffer from inefficient, unadvised and wasteful farming practices."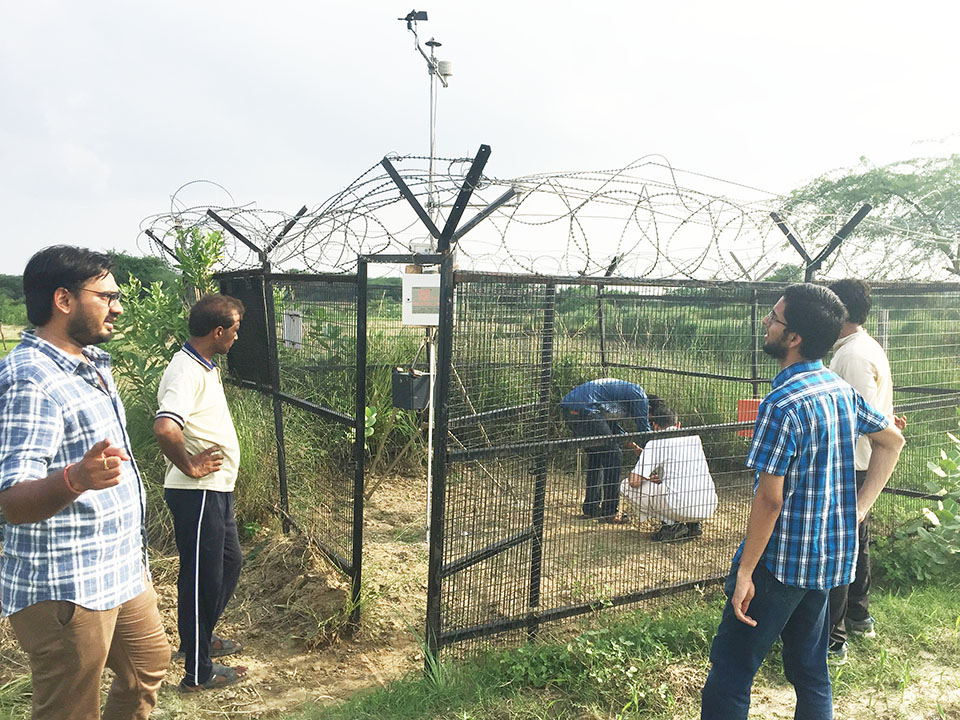 UW researchers, farmers and scientists work together to set-up a PANI system weather station.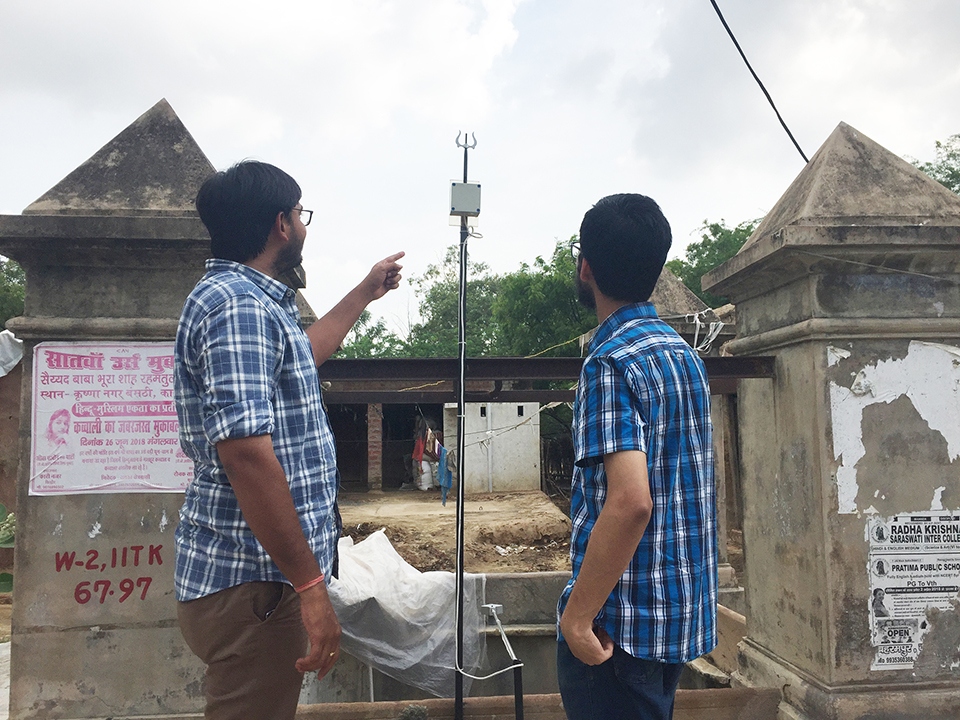 Researchers look at a newly installed groundwater gauge inside a well, which sends data in real-time to a database.
Cultivating a solution
To develop technology that can be widely used by low-income farmers, the researchers knew their solution must be both low-cost and capable of offering irrigation recommendations for a wide variety of small crops.
Beginning in 2017, the researchers began developing the Provision of Advisory for Necessary Irrigation (PANI) system, which builds off a similar system the researchers implemented two years ago in Pakistan that provides 100,000 farmers with irrigation updates using satellite and weather model data. Although the system works well in Pakistan, where a handful of crops dominate large feudal system farms, the technology doesn't meet the needs of the India farmers.
"Unless you are a fairly well-to-do farmer with lots and lots of land, growing the same crop, you couldn't use the system," Hossain said.
The new PANI system, therefore, includes additional technology to produce irrigation advisories on a hyperlocal scale and for a wide variety of crops. The system utilizes inexpensive, low-power ground sensors to collect information specific to each plot of land such as temperature, wind speed and humidity. The data is sent to low-power wide-area network (LPWAN) gateway towers, which act as regional command centers and forward the information to a central database. Populated with free satellite and weather model data, the central database also stores geographic data about plot location and information collected from farmers about seed type and stage of growth. The combined information is used to generate irrigation advisories for each plot of land, which can be sent to farmers via mobile phone.
"So we know, for example, that in the month of May, in a specific town, a specific farmer is growing pulses or lentils or sunflowers," Hossain said. "And we'll know if the crop has just been planted or if it's ready to harvest, because that drives how much water is needed."
The system is low-cost, with an estimated $5 annual fee per farmer for basic irrigation information. As long as the farmer has a cell phone that can receive text messages, they don't need to purchase any equipment. The system is also low-maintenance and operates independently from the electric grid. The LPWAN towers run on modest solar power and the ground sensors are battery operated.
"The current fleet of satellites in space and advancements in atmospheric modeling have resulted in a large amount of publicly available data, which is still not utilized to its full potential, at least by the water resource management community," Ahmad said.
Farmer feedback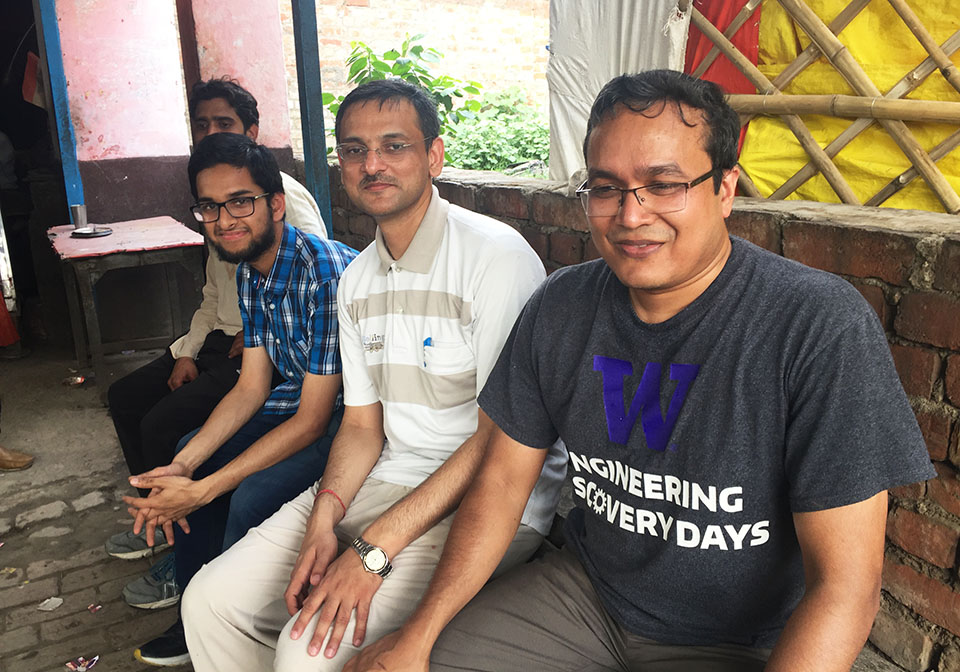 The PANI research team, including UW professor Faisal Hossain, Indian Institute of Technology assistant professor Shivam Tripathi and UW graduate student Shahryar Ahmad, from right.
To evaluate the system, a pilot study will be conducted in northern India this fall, in a region called Kanpur. Two major crops are produced there: wheat in the winter and rice in the summer. Although the prototype will be tested on just two crops, it will eventually be expanded. During their first site visit in July 2018, the researchers installed ground sensors, set up the LPWAN network and met farmers. About 140 farmers will be involved in testing the system during the pilot study.
"The farmers were willing to cooperate with us once they were assured of a fruitful outcome of this project for their crops," Ahmad said.
Although starting small, Hossain hopes to scale the model up throughout India to help the more than 50 million marginal farmers. To achieve this, the researchers are working on a business model with project partners Kritsnam Technologies, Geokno and the Indian Institute of Technology (IIT)-Kanpur. The project is supported by the World Bank.
"This fits well with what the Indian government is trying to do," Hossain said. "Their prime minister said that by 2022, they want farmer income to be doubled."
Watch the video
Learn more about the PANI system by watching a video.
Originally published August 28, 2018