By Brooke Fisher
December 7, 2018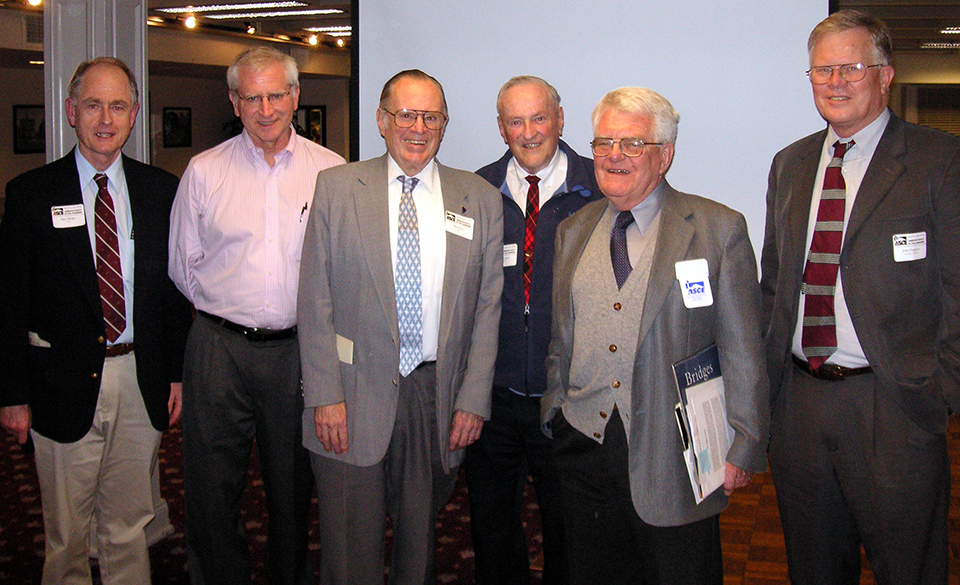 CEE faculty members Stephen Burges, Scott Rutherford, Ron Nece, Joe Colcord, Colin Brown and John Ferguson, from left, at the ASCE Seattle Section Meeting in January 2006.
Many words describe the late professor emeritus Ronald Nece: humble, witty, a punster and lover of baseball. But the word that surfaces most often is teacher— and for good reason.
"My dad was first and foremost a teacher with an open door policy, an open mind, and a keen grasp of hydraulics and fluid dynamics," Gary Nece said. "When I was in kindergarten, my dad would grade papers while I sat on his lap and he taught me chess."
A valued colleague, mentor and friend to many in the department for more than 30 years, Nece passed away in March 2018 at the age of 91. A highly respected and passionate educator, Nece taught at both the undergraduate and graduate levels. Throughout the years, he received awards for his teaching, including an Outstanding Teaching Award from the UW College of Engineering. In addition to serving as an adviser to students, he also supported student societies through his role as an adviser for the student chapter of the American Society of Civil Engineers (ASCE).
"Two generations of students who took his courses had no need for a course in ethics," said professor emeritus Stephen Burges. "They only had to observe him in action to learn ethical engineering practice. He was an exceptional classroom educator as well as an excellent mentor of graduate student colleagues."
| | |
| --- | --- |
| | |
| Gary Nece and his father, Ron Nece, from left. | Ron Nece and his grandchildren. |
When Nece joined the faculty in 1959, he and the late professor Eugene P. Richey built on the legacy of professor C. W. Harris who earned UW a reputation for expertise in hydraulic engineering. In the early 1960s, Nece and Richey developed research facilities in the newly expanded Harris Hydraulics Laboratory to support a new graduate education and research program in fluid mechanics and hydraulic engineering. Nece served as the founding director of the C.W. Harris Hydraulics Laboratory.
In his research, Nece worked on regional design problems in hydraulics, with a focus on coastal engineering. The professional community benefited enormously from his pioneering work on tidal flushing of marinas, lake flushing and the design of floating breakwaters. In the early 1970s, Nece conducted research and field-testing of the porous breakwater attached to the south side of the original Highway 520 Floating Bridge, together with Richey. The porous breakwater prevented the majority of breaking waves from washing over the bridge and minimized the number of bridge closures.
Nece "loved" going into the field to watch fluids in motion, said his son. On a father-son outing, they even hunted for the source waters of the Columbia River.
"My dad and I took a trip to B.C. in 2014 in hopes of finding the source waters of the Columbia River," Gary Nece said. "We believe we found it next to a golf course north of the town of Cranbrook B.C."
Nece also assumed leadership roles with ASCE. He chaired the Hydraulics Division Executive Committee at a critical time when the quality of the flagship journal was in question, helping to reestablish the Journal of the Hydraulics Division as the premiere journal in the field. He also served as president of ASCE's Seattle Section.
After retiring in 1996, Nece worked for more than two years for the U.S. Army Corps of Engineers, Seattle District, as a technical expert on Columbia River dams and coastal problems. He also mentored young engineers in the office. Together with his wife, Mary, he kept busy attending Husky football games and traveling the world, touching all continents including Antarctica. An excellent photographer with a collection of more than 20,000 pictures, Nece also enjoyed frequenting senior centers to share presentations of photographs he had taken around the world.
Born and raised in Seattle, Nece earned his bachelor's degree in civil engineering from UW in 1949. After receiving a master's degree in Civil Engineering from Lehigh University in 1951, he taught at Rutgers for a few years before earning his Sc.D. degree at Massachusetts Institute of Technology (MIT) in 1959. He was an instructor at both Lehigh and MIT before joining the UW.