April 15, 2019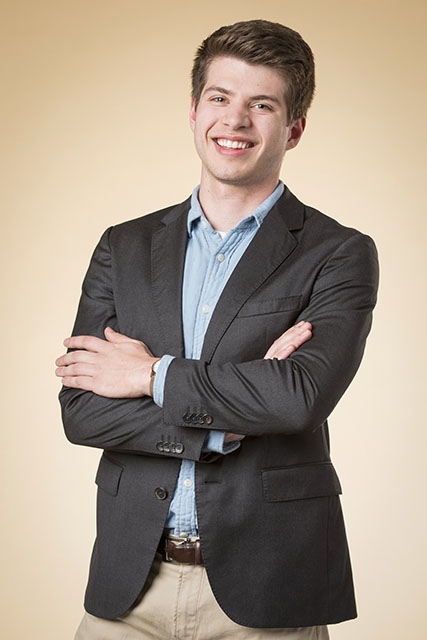 If there's one thing that can be said about UW CEE senior Alex Ratcliff, it's that he hasn't gone unnoticed.
This spring quarter, Ratcliff has received two notable honors. He is one of two students to receive a College of Engineering Dean's Medal for Academic Excellence and he was named a Husky 100 recipient.
Husky 100 Recognition
Every year, 100 undergraduate and graduate students are recognized as Husky 100 recipients for "making the most of their time at UW." For Ratcliff, who has a list of accomplishments from the past four years, the honor is a natural fit.
During his time at UW, Ratcliff applied his skills to the real-world through his involvement in UW Solar, a student-run organization. He has helped bring solar power to three residence halls on campus and is working to increase the sustainability of even more campus buildings before he graduates.
What Ratcliff describes as his "crowning achievement at UW Solar" is the installation of a Building Integrated Photovoltaics (BIPV) system on the new Life Sciences Building. Only the second installation of a BIPV system in the state, the panels provide shade to the building and also generate enough electricity to power the lights on the main floor. To bring this to fruition, Ratcliff coordinated with architects and consulting engineers on the project, as well as secured funding for the project's $300,000 budget.
According to Alex's award nomination, "He exemplifies the spirit and essence of Husky 100 recognition – a dedication to lifelong learning, leadership, achievement, collaboration, service, and community engagement. He gives the impression that all this learning and engagement is part play for him, that he is simply enjoying learning and applying his knowledge to real-life problems. He also has a way of drawing in others to the projects and causes that are important to him. All this makes Alex inspiring."
College of Engineering Dean's Medal
Each year, the College of Engineering awards two seniors with the Dean's Medal for Academic Excellence. The award recognizes outstanding academic achievement, research activities and involvement in campus activities. Ratcliff will accept the award at the College of Engineering Awards Ceremony and reception on May 23.
Enthusiastic about learning, Ratcliff is part of the first cohort of students to graduate with a Bachelor of Science in Environmental Engineering degree, a new program that launched in 2017. As a UW Interdisciplinary Honors student, he helped pave the way for the development of the honors program in environmental engineering.
"It's hard to believe that my time as an undergraduate is coming to a close. I have enjoyed my time at the UW so much and feel like there is so much left to do and to learn. I'm thrilled to be serving the University in a new capacity once I graduate - the firm I work for, PAE Consulting Engineers, has appointed me to be a designer for all future UW projects that we win. I'm so thankful that I can continue to give back to a University that has provided me with so much opportunity, knowledge, and joy," Ratcliff said.