May 6, 2019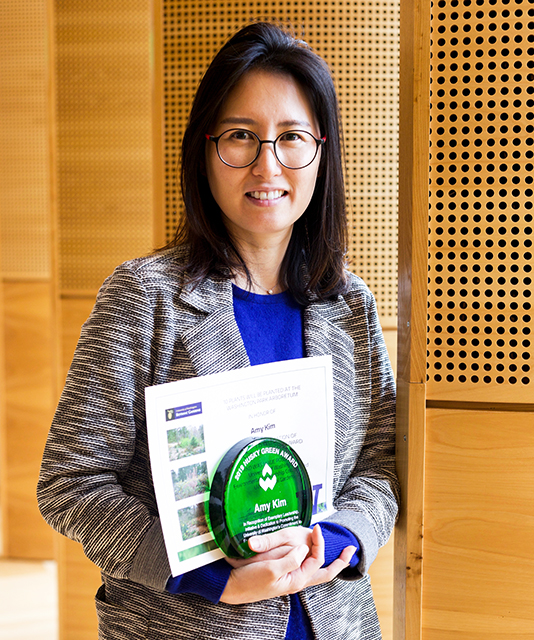 Amid the standing desk, cork floors, step machine and LED lights in assistant professor Amy Kim's office, there is something new: A 2019 Husky Green Award.
For her efforts to create healthy building interiors and optimize workspaces, Kim was honored with a 2019 Husky Green Award in April. The annual awards recognize faculty, staff and students who demonstrate environmental leadership and dedication across all three UW campuses.
In the developed world, people spend up to 90% of their time indoors, says Kim, who believes that healthy buildings are not only good for people and the environment, but also benefit the bottom line.
"We spend practically all our time inside buildings. Buildings, if designed purposefully and well, can provide many benefits," Kim said.
Through both her teaching and research, Kim has been a strong advocate for sustainability both on and off campus. She has worked with the UW Tower for the past five years to implement LED lighting fixtures and LED task lights in building retrofits. The lighting, which saves energy, has been well-received by building occupants. Last year, Kim was also involved in gaining Fitwel Certification for the first government building in Puget Sound: Bellevue City Hall. Fitwel is one of the leading certifiers of healthy buildings in the United States.
"Green building designs elevate the human experience and minimize the natural resources needed to build and operate those buildings," Kim said. "Without green building design considerations, buildings have the potential to become a significant contributor to the climate and energy crisis."
On the teaching side, Kim has developed and taught two courses that provide students with opportunities to get involved in sustainability projects: CEE 429 and CESI 599, which focuses on developing sustainability strategies for buildings. Last year, the class installed solar panels on the rooftop of More Hall.
Learn more