Career connections: 13th annual CEE Career Fair

June 13, 2019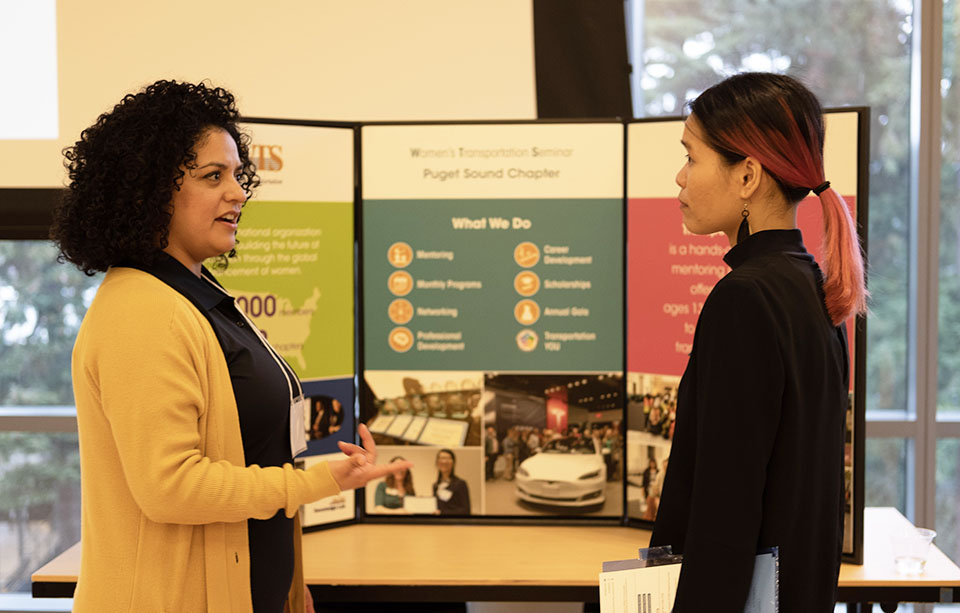 Dream jobs are closer to becoming a reality for many CEE students thanks to the 13th annual CEE Career Fair, which once again connected students with employers.
On the search for internships and upcoming job openings, more than 400 students attended the career fair on January 17, held in the HUB. Students handed out resumes and talked with representatives from 79 participating companies, five more than last year. Several employers traveled from outside the Seattle area to attend.
Founded in 2007, the career fair connects students with employers who are seeking internships and full-time positions. Industry focuses range from general civil engineering to specialty areas such as construction, transportation, geotechnical, structural, water resources/ hydrology/fluid mechanics and environmental engineering. This year, construction saw the biggest sector of employers in attendance.
Leading up to the career fair, students were invited to attend a Career Fair Prep Night, where they received resume tips and interview practice.
"Many employers mentioned how well prepared our students were, and those who have attended year-after-year told me they've really seen improvement in the quality of the engagement of the students with employers," said lead undergraduate adviser Mariko Navin.
Perfect attendance
The following companies have attended the majority of CEE career fairs since 2007:
BergerABAM
Gray & Osborne, Inc.
Hart Crowser, Inc.
Kiewit
KPFF Consulting Engineers
Magnusson Klemencic Associates
Perteet, Inc.
Reid Middleton, Inc.
Stellar support
The following companies have attended at least half of all CEE career fairs since 2007:
DCI Engineers
Degenkolb Engineers
Fehr & Peers Transportation Consultants
Golder Associates Inc.
Harder Mechanical Contractors, Inc.
Harriott Valentine Engineers, Inc
HDR Engineering, Inc.
HNTB Corporation
KBA, Inc.
Manson Construction Co.
Morrison Hershfield Corporation
Murray, Smith & Associates, Inc.
PACE Engineers, Inc.
Parsons Brinckerhoff
Puget Sound Energy
Tacoma Water
Transpo Group
US Army Corps of Engineers Seattle District
US Forest Service
US NAVY
Washington State DOT
WSP | Parsons Brinckerhoff