Remembering Dale Carlson

June 13, 2019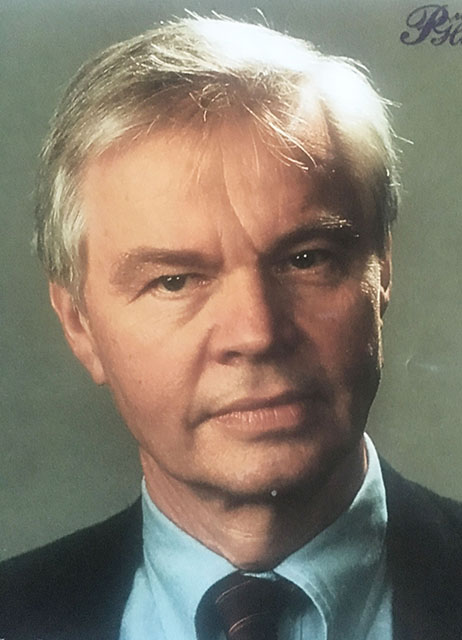 Throughout his career, dean and CEE chair emeritus Dale Carlson worked to improve the quality of the environment. For him, this extended past the natural world and into the everyday lives of people.
Known for his encouragement, kindness and optimistic attitude, Carlson passed away at the age of 94 in February 2019. His vision and ability to engage others were key to his outstanding career and leadership at UW and in the environmental engineering profession.
"Dale had an amazing, unmatched career—he was a giant in our university and environmental engineering field," CEE professor emeritus David Stensel said.
During his career at UW, Carlson accomplished much, including serving as chair of Civil & Environmental Engineering, dean of the College of Engineering and becoming the founding director of the Valle Scholarship and Scandinavian Exchange Program.
Born in Aberdeen, Wash., Carlson earned his undergraduate and master's degrees in civil engineering at UW and a Ph.D. in sanitary engineering at University of Wisconsin- Madison.
A talented teacher, and a favorite among students, Carlson helped launch numerous UW graduates into careers, as well as steer them toward academia. A former student who is now an associate dean at Seattle University, professor Jean Jacoby remembers the pivotal role Carlson played in her professional career. While she was a student at UW, Carlson encouraged her to apply for the Valle Scholarship and Scandinavian Exchange Program and many years later he encouraged her again—this time to pursue a career in academia.
"Dale remained a stalwart advocate and mentor to me during my initial years as a new assistant professor," Jacoby said. "I followed in Dale's footsteps, eventually becoming chair of Seattle University's Department of Civil & Environmental Engineering. I know that my success and happiness pleased Dale immensely and I would not have had this opportunity had it not been for his encouragement and belief in me."
A strong advocate for engineering's role in improving the quality of the environment, Carlson's research helped advance the area of wastewater treatment. His focus was on the disinfection of treated wastewater to protect public health and the development of cost-effective wastewater treatment technologies.
"He gained a highly regarded reputation in our field and helped put UW on the map as one of the best environmental engineering programs as far back as the late 1960s," Stensel said.
Following his appointment as dean, Carlson initiated the Valle Scholarship and Scandinavian Exchange Program, which he continued to administer on a part-time basis after his retirement in 1983. The program continues to support the exchange of graduate students between UW and institutes in Nordic countries.
The exchange program and joint research between countries helped pave the way for increased understanding of environmental engineering in Scandinavia, said professor Arild Eikum, who worked closely with Carlson for 58 years.
"During the early sixties environmental engineering was very weak and in some countries non-existent in many of our educational institutions. Dale influenced our thoughts on environmental solutions in Scandinavia. This was a great contribution to the Scandinavian countries," Eikum said.
After retiring, Carlson joined the faculty of Seattle University and served as chair of the Civil Engineering Department and dean of the School of Science and Engineering.
Married for more than 70 years to Jean, Carlson leaves behind four children, 10 grandchildren and 17 great-grandchildren. Carlson's daughter, Joan Lee, who was a student in one of her father's classes, recalls a fellow student commenting on how her father was the kindest professor they'd ever known.
"That helped me begin to see that who he was at home didn't change when he went to the office, and on later reflection what an impact it must have had on a generation of students to experience extraordinary kindness and competence working in tandem," Lee said.