September 16, 2019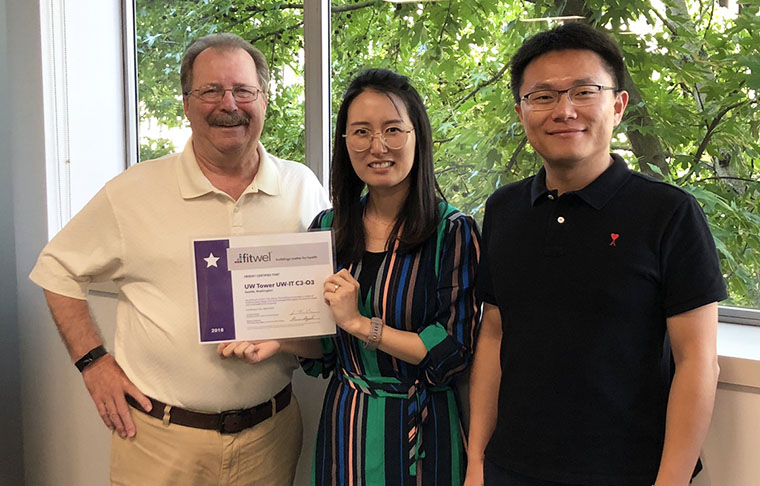 The decision to take the stairs versus the elevator just got a little easier for some of the 2,000 people who work at UW Tower. Artwork in the stairwell and signage directing people to the stairs helps encourage the healthier of the two options.
Newly recognized as a Fitwel certified building—the first university building in the world to gain the recognition, in fact—UW CEE researchers, together with UW Tower staff, have taken strides to create a healthier work environment on two floors of UW Tower.
"The trend we are moving into is not just focusing on the building, but the occupants," says CEE assistant professor Amy Kim, who led the effort with support from the UW Tower Facilities and IT teams. "Fitwel is focused on the occupant's comfort and health. For us as a university, that is a good fit."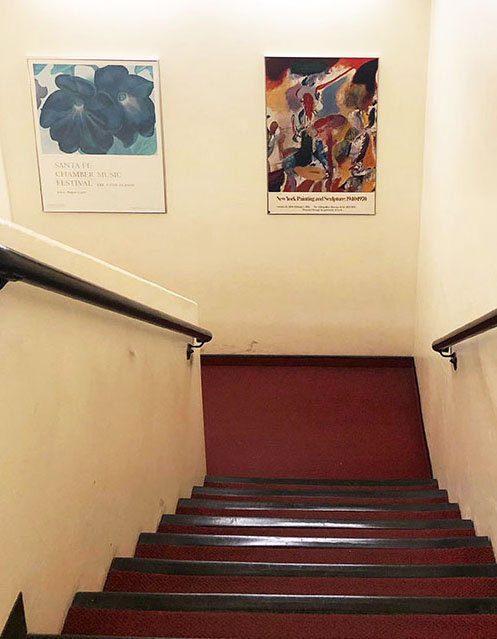 One of the leading certifiers of healthy buildings around the world, Fitwel was developed in recent years by the U.S. Centers for Disease Control and Prevention and U.S. General Services Administration. Unlike other certification programs that focus on the environmental impact of buildings, Fitwel emphasizes occupant wellness. Through thoughtful design and operations within buildings, Fitwel encourages the adoption of more than 60 strategies that encourage healthy behavior by building occupants.
"People spend a lot of time in buildings and healthy buildings promote better indoor environments for people to live, work and enjoy," says Kim, who serves on the UW Green Building Standards Committee. "More importantly, strategies used in healthy buildings can help people develop health-conscious behaviors that translate into healthier lifestyle in general."
The process started in fall 2018, while Kim was teaching a graduate course on healthy building standards. As part of the course, students conducted experiments at UW Tower to assess the building's health. When the class concluded, Kim and post-doc Shuoqi (Stanley) Wang, who are both Fitwel Ambassadors, continued working on the project, guiding UW Tower staff through the certification process. This is the second building they have helped certify, after the first government building in Puget Sound, Bellevue City Hall, gained Fitwel Certification in August 2018.

Earning a one-star rating, several enhancements were made to UW Tower, including adding standing desks for every occupant, collaborative work spaces, hand-washing signs in restrooms, and enhanced emergency response kits. The researchers also added a display advertising amenities within walking distance of UW Tower, from parks to gyms to restaurants. The building already contained several requirements, from views of nature to lactation rooms to a fitness facility.
"Congratulations to the University of Washington for their exemplary efforts in advancing health and achieving Fitwel Certification for the UW Tower," says Reena Agarwal, chief operating officer at the Center for Active Design, which administers the Fitwel program. "UW is the first-ever university to achieve Fitwel Certification, setting a high bar for other higher education institutions to follow."