By Brooke Fisher
Photos by Mark Stone / University of Washington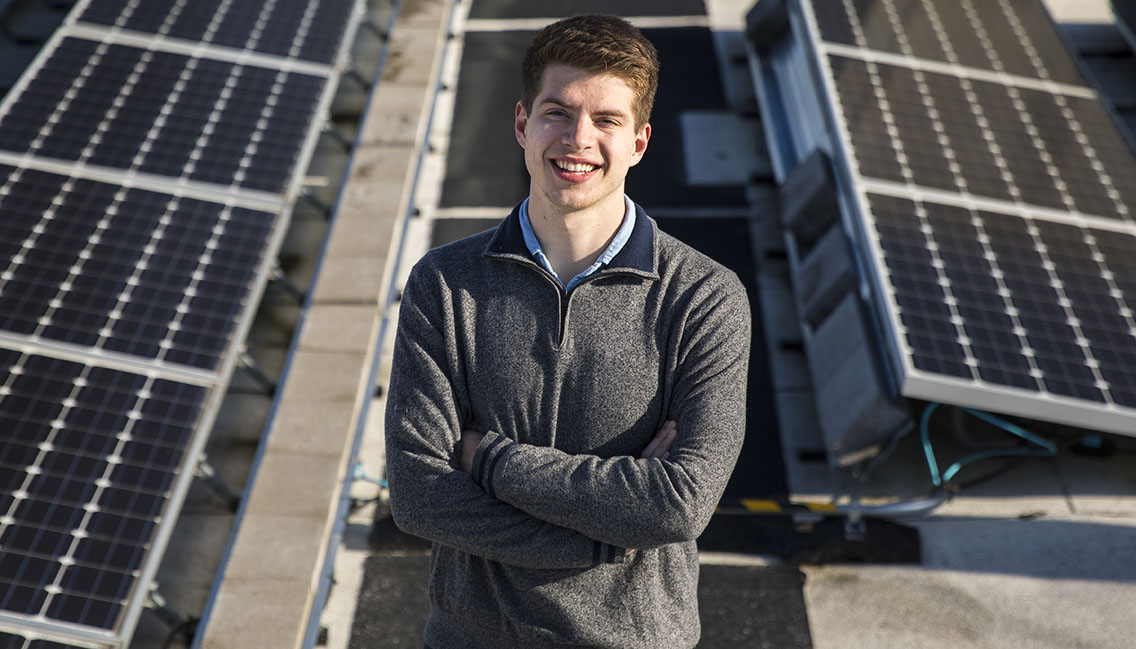 When talking about his work to bring solar power to the University of Washington, Civil & Environmental Engineering senior Alex Ratcliff lights up.
"UW is ranked the fifth most sustainable college in the U.S.," said Ratcliff, who is vice president and a project manager for UW Solar. "I'd like to make it number one or two."
Through his involvement in UW Solar, a student-run organization, Ratcliff has helped bring solar power to three residence halls on campus and has plans to increase the sustainability of even more campus buildings. Overall, UW Solar estimates they have saved the university from producing roughly 270 metric tons of carbon dioxide, equivalent to 30,372 gallons of gasoline, 625 barrels of oil, or 295,000 pounds of coal.
When Ratcliff arrived on campus as a freshman, he wasn't an expert on solar power. His involvement in UW Solar was serendipitous, thanks to a flyer he picked up at a science and engineering fair during his first quarter on campus. Since then, his passion for a more sustainable campus, and world, has continued to grow.
"I think it's the most beneficial thing that could have happened to me," Ratcliff said about his involvement in UW Solar. "Climate change is the greatest threat to human security and health, and I have always wanted to pursue a career that allows me to mitigate or even reverse the effects."
Cultivating solar skills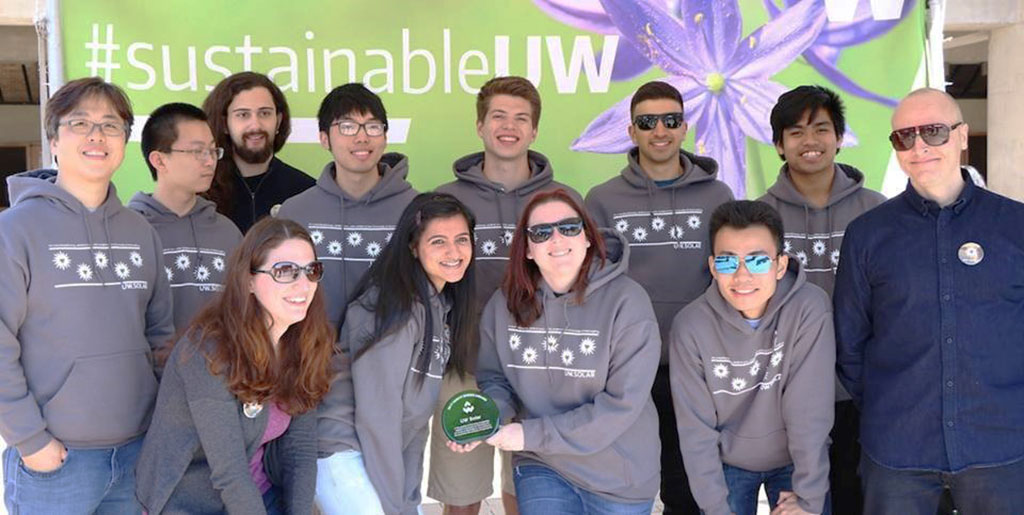 Two evenings per week, Ratcliff joins other members of UW Solar to discuss current and future projects. With about 40 members, students are from various disciplines, from engineering to business to urban planning. Since forming in 2013, members have worked toward sustainable power production on campus in order to reduce the overall carbon footprint of the university.
"Alex has always been an enthusiastic participant and a fast learner, so right away he got involved and he's participated in almost every project since then," said faculty adviser and associate professor Jan Whittington, from the Department of Urban Design and Plan­ning.
When Ratcliff joined UW Solar, he didn't have any solar power expertise other than writing a report on solar power while in high school. Acting as consultants, students learn various skills on the job by working on feasibility studies, reviewing designs, submitting projects for bid, and eventually collaborating with contractors to install solar arrays. To secure funding for new projects, members also spend a considerable amount of time writing grant proposals. With a lead role, Ratcliff spends several hours each week searching for and securing new projects and opportunities for the group, which entails giving presentations and meeting with stakeholders.
"I have a good work ethic because of my work with UW Solar. I've learned countless skills," Ratcliff said. "I am more diligent with my time and rather than watch TV, I work on projects that have real meaning and demonstrated effect."
Bringing solar power to student housing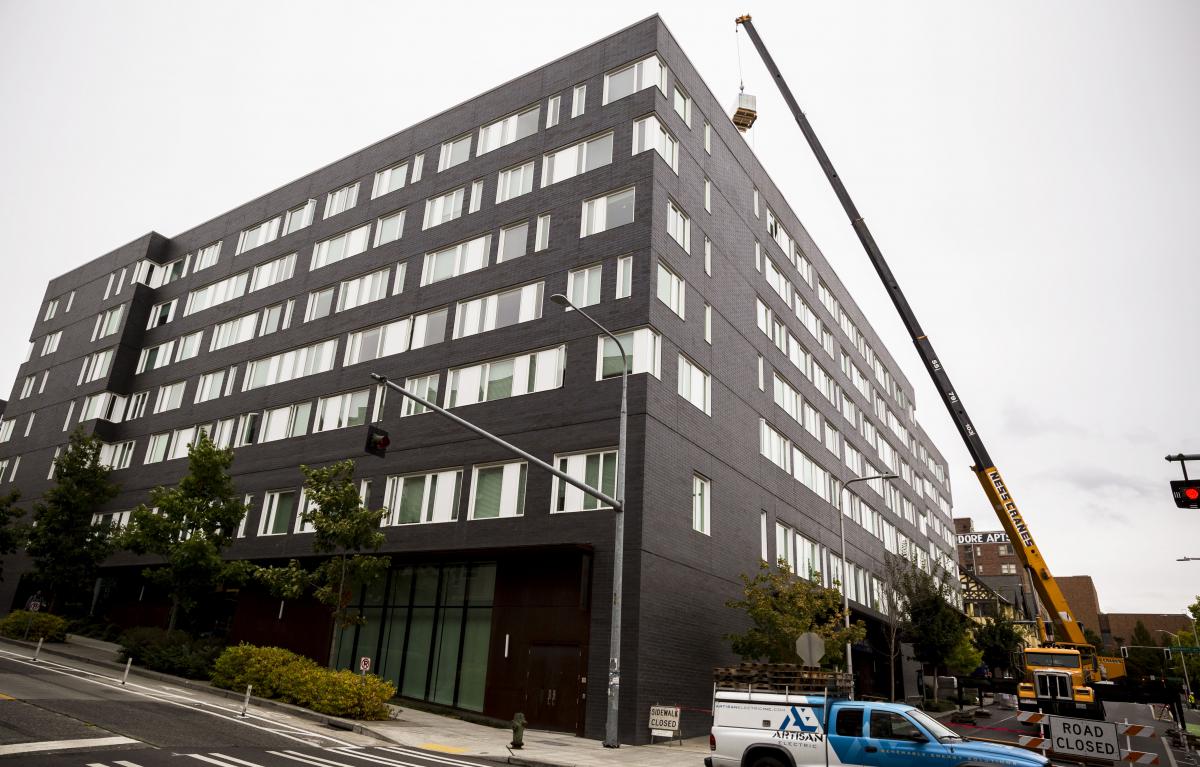 Maple Hall, the first residence hall to be equipped with a solar array on UW's Seattle campus.
Shortly after joining UW Solar, Ratcliff was tasked with overseeing solar installations on three west campus residence halls: Maple, Alder and Elm halls. For Ratcliff, the project was truly close to home.
"I was living in Maple Hall at the time," Ratcliff recalled. "During my second week with UW Solar, I was labeled a project designer. I got to go up on the roof, design the system, see the solar arrays installed and monitor them while I was a freshman."
With other UW Solar members, Ratcliff was involved in every aspect of the project, from completing a feasibility study to securing funding, including $340,000 from the Washington State Department of Commerce and $225,000 from Seattle City Light.
Completed in partnership with the Clean Energy Institute and UW Housing & Food Services in January 2017, the 100 kW photovoltaic system generates approximately 107,537 kWh per year. The system is also being used as a testbed, providing data to UW researchers who are working to develop more efficient solar energy systems.
"It has a massive impact on industry as a whole if we can use our infrastructure here for research," Ratcliff said.
Campus-wide reach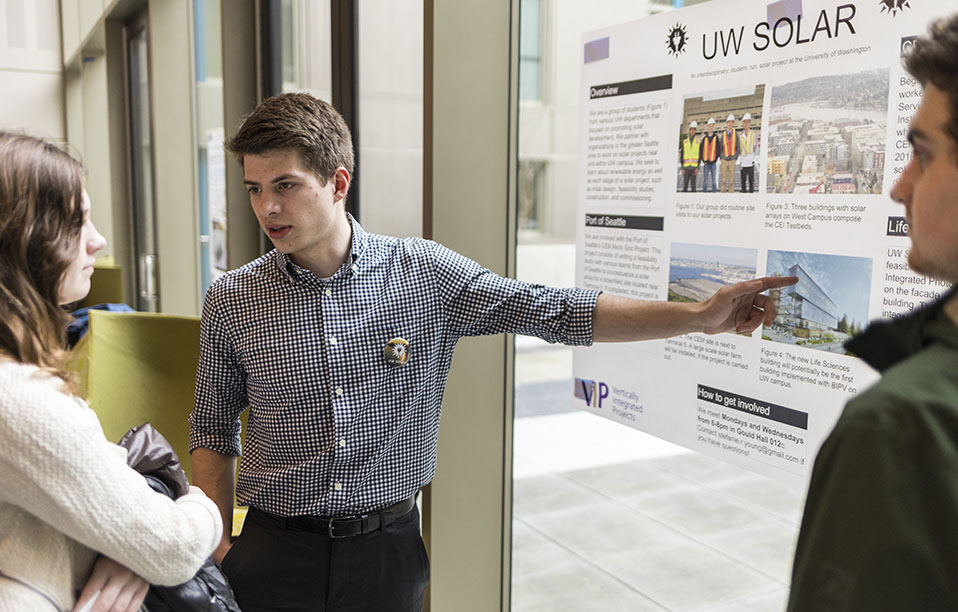 As UW's Seattle campus continues to grow, Ratcliff has also been involved in advocating for sustainable features in new buildings. The new Life Sciences Building, which opened in September 2018, features Building Integrated Photovoltaics (BIPV) panels on the southern façade, which provide shade to the building and also generate enough electricity to power the lights in all the office spaces. This is the second installation of a BIPV system in the state of Washington.
"The shade gain is really monumental and has a huge impact on cooling of the building, so costs go down tremendously," Ratcliff said. "We hope this will be a pioneer for all educational institutions in the country."
Ratcliff also helped design a rooftop solar array for the building, for which funding was recently secured for a full build-out of the system. Construction is anticipated to start this coming summer.
Two campus master plans will also benefit from Ratcliff's expertise. To maximize solar photovoltaic capacity on all buildings across campus, he's helping to develop a 30-year solar energy plan. Ratcliff was also involved in coordinating sustainable features, such as solar battery storage systems and electric car charging stations, for a strategic plan to electrify UW Transportation Services.
His efforts don't stop there. Ratcliff is also working on a feasibility study for solar installations in the UW Greek system, and schematic designs for solar array installations on the new Population Health Building, which is currently under construction, and the new Burke Museum, which opens in fall 2019.
"In his four years with UW Solar, Alex has gone from being one of the students in learning mode to someone who can now tutor other students," Whittington said. "Now in his senior year, he is in complete project management mode."
A bright future
As he nears graduation, Ratcliff is considering his career options. He will be part of the first cohort of students to graduate with a Bachelor of Science in Environmental Engineering degree, a new program that launched in 2017. Not surprisingly, he plans to pursue a career in the sustainable building industry, where he hopes to utilize his skillset to produce net positive buildings that clean and produce more water and energy than they use.
"With solar projects, I can measure and see how many barrels of oil we are offsetting and how much carbon dioxide is not being emitted," Ratcliff said. "I've always wanted to work on something that I can see fulfilled and have a positive impact."

Originally published February 11, 2019