December 2, 2019
Inaugural industry sponsored capstone gives students hands-on experience
While working to develop a new type of notification system for rare roadway disruptions, a team of students had an equally rare opportunity – to gain hands-on industry experience while still in school.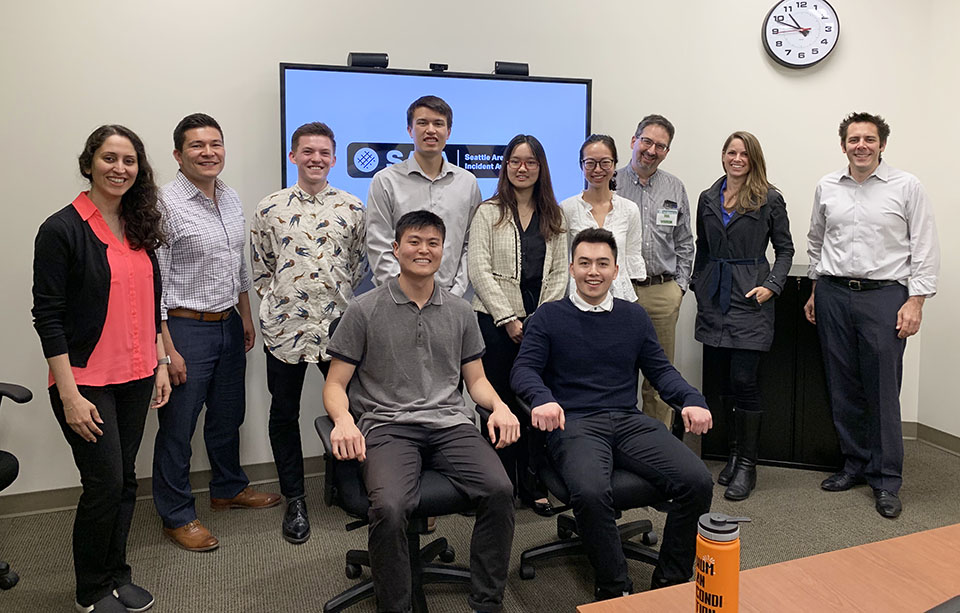 During the first-ever CEE industry sponsored capstone, six interdisciplinary seniors participated in everything from weekly meetings to presentations to concept development and stakeholder buy-in during winter and spring 2019. Sponsored by the Mobility Innovation Center, students received additional mentorship and input from WSDOT, King County Metro and Sound Transit officials.
"Working with industry members was eye-opening, because it gave us an understanding of the region's transportation network and how we could help improve it," says alumnus Steven Tuttle (BSCE '19), who now works at Sound Transit. "We hope that our research will be used to implement a comprehensive incident avoidance system for the Puget Sound region."
The students, who were from CEE, Human Centered Design & Engineering, Computer Science and Communications, were tasked with developing a mobile-based incident notification and navigation system to increase awareness about major traffic incidents and suggest alternate routes and modes of transport. The system would be used during rare road disruptions that shut down major arterials about once per year.
"The idea was to alert people about an incident and make it as easy as possible for them to follow recommendations," Tuttle says. "If someone has to take a bus instead of driving their car, we want to make that transition as easy and seamless as possible."
The students' solution, called Seattle Area Incident Avoidance (SAIA), enables agencies to share incident information and offers suggestions for travelers to either reroute or consider other modes of transport. The prototype also supports roadway users who may need to shift transportation modes by offering mobile ticketing, which allows people to more seamlessly take public transportation if they don't have a bus pass or cash on hand.
"There is currently no system that includes all the elements we included in our final solution," Tuttle says. "We took different aspects of incident alert systems throughout the world and combined them to work best for our region."
At the end of spring quarter, the students presented their final project to stakeholders. King Country Metro is currently considering how the students' work may be implemented in a future incident avoidance system for the Puget Sound region.
"They worked really hard, overcame every obstacle they faced, and at the end delivered a very professional presentation," says Andisheh Ranjbari, research engineer for the SCTL Center, who advised the students together with CEE associate professor Don MacKenzie. "Industry mentors were very happy and even astonished with what the team achieved and the amount of work they completed over the course of two quarters."
Interested in sponsoring an industry capstone?
To provide additional hands-on learning opportunities, the department hopes to expand the number of industry sponsored capstone design projects. If your company is interested in participating, please contact Jill Kaatz (jmd4@uw.edu).