February 4, 2020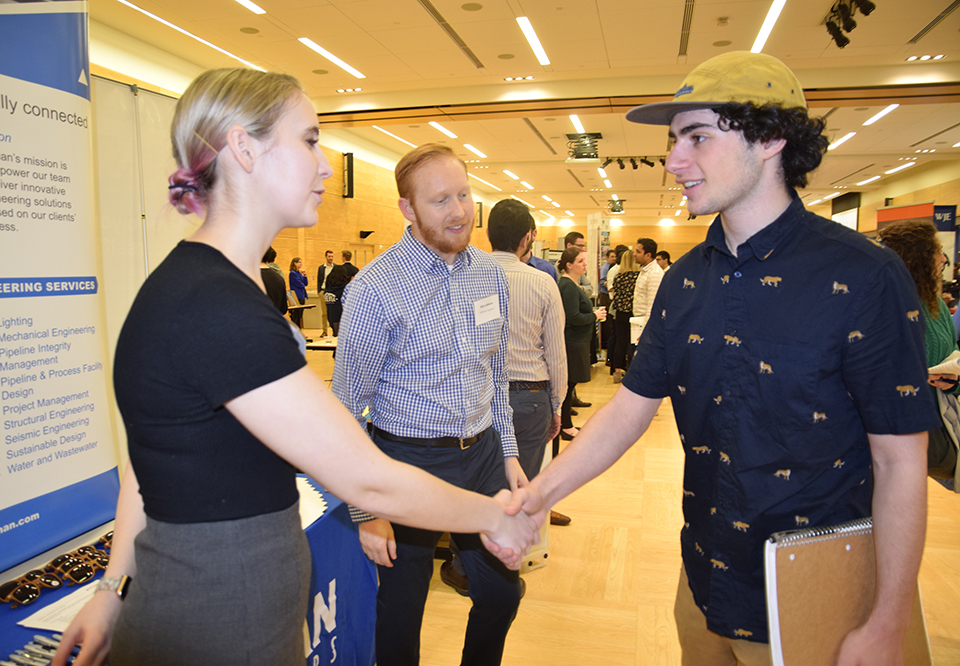 Resumes at the ready, more than 300 CEE students attended the 14th annual CEE Career Fair on January 23. This year's event saw record attendance from industry members.
Representatives from more than 92 companies were on hand to discuss career opportunities and internships with both CEE undergraduate and graduate students. Employer participation increased from the previous year by 15%. Several employers, many of which were new this year, were from outside the Seattle area.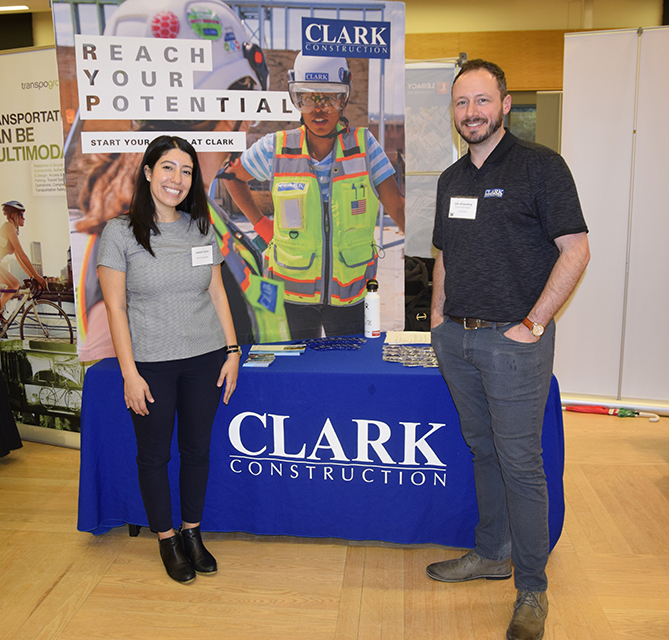 Founded in 2007, the CEE Career Fair connects employers with students who are seeking internships and full-time positions. Industry focuses range from general civil engineering to specialty areas such as construction, transportation, geotechnical, structural, water resources/ hydrology/fluid mechanics and environmental engineering. This year, construction saw the biggest sector of employers in attendance.
Industry representatives, many of whom are CEE alumni, enjoyed a post-fair reception with the department chair and other faculty. Thank you to the many companies and organizations that continue to participate and support the CEE Career Fair.
View the Facebook photo album.
Admirable attendance
The following companies attended in 2020 and have participated in more than half of all CEE career fairs since 2007:
DCI Engineers
Degenkolb Engineers
Fehr & Peers
Gray & Osborne
Harriott Valentine Engineers
Hart Crowser, Inc.
HDR, Inc.
HNTB Corporation
Jacobs
Kiewit
KPFF
Magnusson Klemencic Associates
Manson Construction
PACE Engineers
Parsons
Perteet, Inc.
Reid Middleton
Tacoma Water
Transpo Group
Stellar support
The following companies attended in 2020 and have had near-perfect attendance since their first year:
AECOM
AHBL
American Bridge
Associated Earth Sciences
Blueline
Carollo Engineers
Coffman Engineers
Cornerstone General Contractors
Coughlin Porter Lundeen
Davido Consulting
DOWL
Granite Construction
Kimley-Horn
Landau Associates
Morrison Hershfield
Murraysmith
Otak, Inc.
Shimmick Construction
Skanska
Sound Transit
The Walsh Group
Thornton Tomasetti
WSDOT
WSP