December 10, 2020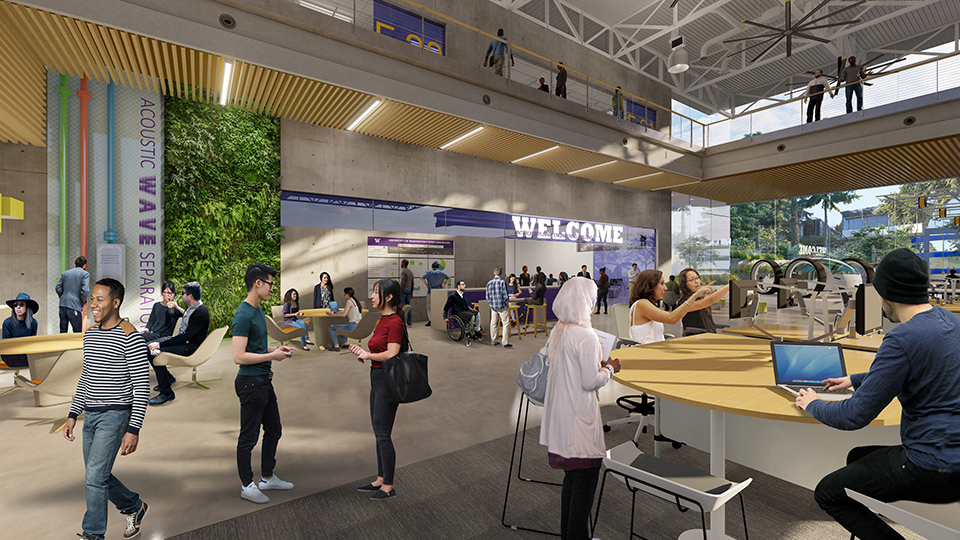 Both college and department-level building plans will enhance the student experience
Despite a growing student body, the building that houses the Civil & Environmental Engineering Department is only growing older. Built in the 1940s, More Hall is tight on space and in need of significant renovations and updates to meet current educational needs.
To address this, both college-wide and department-level initiatives are underway, offering two pathways to achieving a shared goal. Aimed at improving learning facilities for future students, the success of both relies on private support from donors.
A case for capacity
During the past decade, the College of Engineering (COE) has grown significantly to meet increasing demand from students for an engineering education and by industry for qualified engineers. Since 2009, COE has grown more than 65% in total degrees granted annually. However, because there has been less growth in the overall engineering facilities' footprint during this time, COE lacks the amount and type of space necessary for today's interdisciplinary, collaborative engineering education. This is especially true in departments with dated facilities, such as CEE.
Space is also needed to house freshmen and sophomore classes and programs following the launch of Direct-to-College (DTC) admission in 2018. Intended to transform and improve the student experience, DTC admits more than 800 new first-year students into the college each year. Assured placement in one of the 10 engineering departments, students are now able to engage with COE earlier than before. 
A new 'engineering central' building
The UW College of Engineering (COE)'s 10 departments are spread out in buildings across campus. To better facilitate collaboration and interdisciplinary learning opportunities, planning is underway to create an "engineering central" called the Interdisciplinary Engineering Building (IEB). Serving as a hub for all engineering students, the IEB will provide more learning space for CEE students.
Due to unprecedented growth in the COE, the IEB represents the first phase of a 10-year facilities plan. The second phase entails improvements to existing engineering facilities, including eventual upgrades to More Hall, as well as a second new building. Currently in the early stages of design, the project is devised as a public-private partnership.
To meet the estimated project cost of $100 million, COE leadership is working closely with UW Capital Planning to request $45 million in construction funding from the State of Washington. Fundraising for private gifts also kicked off in 2019, with significant pledges from several CEE alumni and supporters. One of the first gifts came from the family of the late Paul Liao (Ph.D. '72), whose wife Mei-Yea and daughters wanted to honor his legacy.
"Contributing to this next chapter for expanding the engineering school provides an incomparable way to honor the legacy of Paul Liao. Throughout his life, he placed a high value on education, considering these as opportunities and starting points for knowledge and innovation. We believe the Interdisciplinary Engineering Building will cultivate collaboration across all engineering disciplines, enhance learning opportunities for students and honor Paul's wish to give back to the UW community," says Liao's daughter, Dahlia Mak, on behalf of the family.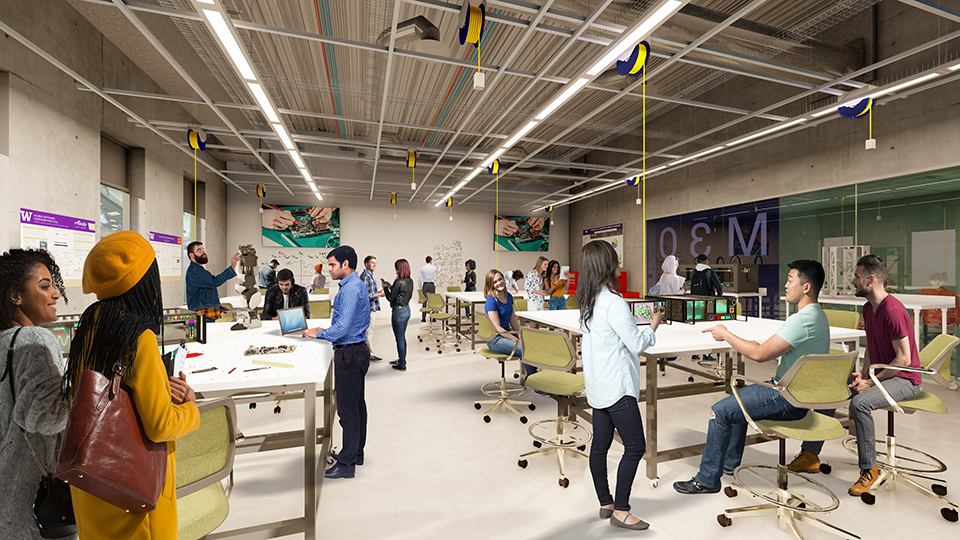 The IEB will be particularly beneficial for departments with space constraints and outdated buildings, such as More Hall. The new IEB space will also be better suited to today's engineering education requirements, facilitating more collaborative hands-on learning with flexible classrooms, research labs, dedicated gathering spaces and areas for student club projects.
As a hub for engineering students, the new building will provide freshmen and sophomores with a greater understanding of the range of engineering disciplines, particularly through the building's design. Since first-year students may not be familiar with the critical work of civil and environmental engineers, Dean Nancy Allbritton feels strongly about promoting the importance of the field. To that end, preliminary ideas include showcasing features of the building that were designed by civil engineers and a wall display that tracks energy usage.
More Hall building upgrades
While the IEB will impact future CEE students, it doesn't lessen the urgent need to modernize More Hall, an aging building that is tight on space and long overdue for upgrades. Current building priorities seek to create an inviting, welcoming space for a more diverse student body as well as enhanced labs and equipment to enable students to better collaborate on projects and complete more hands-on assignments.

Donations to More Hall upgrades can have a big impact. Two years ago, longtime department supporters Marilyn and Tom Draeger (BSCE '68) donated $20,000 to the Environmental Engineering Lab to fund much-needed lab equipment, which is now utilized by juniors in the environmental engineering bachelor's degree program as well as civil engineering students taking introductory environmental engineering courses.
"We wanted to contribute to a cause that would affect the most students," says Marilyn Draeger.
Current building priorities:
CEE seeks donations big and small to improve the following student facilities:
Entrance and lobby: A welcoming entrance for students and visitors, as well as a central gathering space, will make the department more inviting and enable enhanced student interaction outside the classroom. While knocking down walls to create a lobby would mean losing some existing multipurpose space, this would be recaptured in the IEB.
Equitable restrooms: Adequate restrooms in More Hall are long overdue. Although one-third of undergraduate students are female, there are few women's restrooms and no dedicated options for non-binary students.
Computer Lab: Enhancements are needed to make the computer lab more conducive to instruction and to provide workspace for student groups.
Environmental Engineering Lab enhancements: To continue building up the Environmental Engineering Lab for the bachelor's degree program launched in 2017, additional support is needed for space upgrades and instrumentation.
Invest in CEE students
If you are interested in supporting the IEB or making an investment in More Hall upgrades, please reach out to Kaitlin Colleary at kaitcoll@uw.edu.