By Brooke Fisher
June 17, 2021
Urban Freight Lab's sustainable last-mile delivery project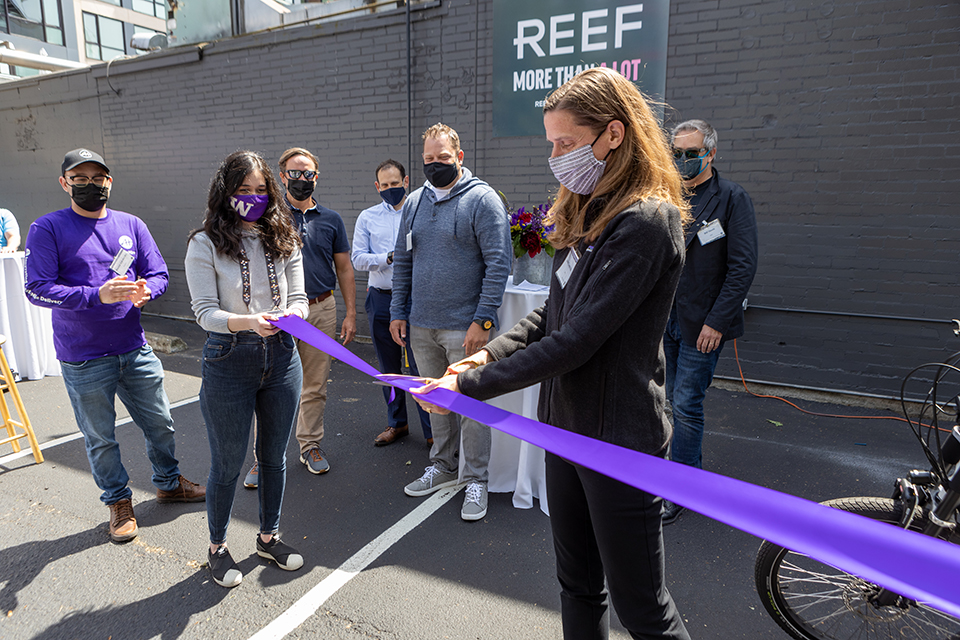 In the Belltown neighborhood of Seattle, the Supply Chain Transportation & Logistics' (SCTL) Urban Freight Lab has launched one of the nation's first zero-emissions delivery pilots that focuses on the "last-mile" — when parcels are moved from a transportation hub to a final destination. The project is a collaboration between the City of Seattle and tech and delivery companies including AxleHire, Coaster Cycles, BrightDrop and REEF.
"In partnership with our members, and the City of Seattle, we are excited to help catalyze a transition to zero-emissions last-mile delivery," says SCTL director and CEE professor Anne Goodchild. "We anticipate the pilot will reduce traffic in Belltown, provide access to safe and convenient goods and services, and allow our partners to test novel, zero-emissions delivery solutions."
The pilot project builds on the center's ongoing work to alleviate traffic congestion by addressing the last leg of urban deliveries, when delivery couriers must locate both parking and customers. In addition to alleviating congestion, improving urban delivery positively impacts sustainability, livability, business efficiency and consumer demand. The new zero-emissions last-mile delivery approach focuses on transporting goods from a transportation hub to a final destination utilizing new technology and green transportation options. At a staging location, pallets are loaded with packages before being connected to a three-wheeled electric bike. A driver then delivers packages to customers via the most efficient routes available.
By utilizing innovative technologies and solutions, the pilot project is designed to make the delivery of goods and services more sustainable, which is in alignment with the City of Seattle's new Transportation Electrification Blueprint that includes the goal of transitioning 30% of goods delivery to zero emissions by 2030.
PacTrans launches doctoral webinar series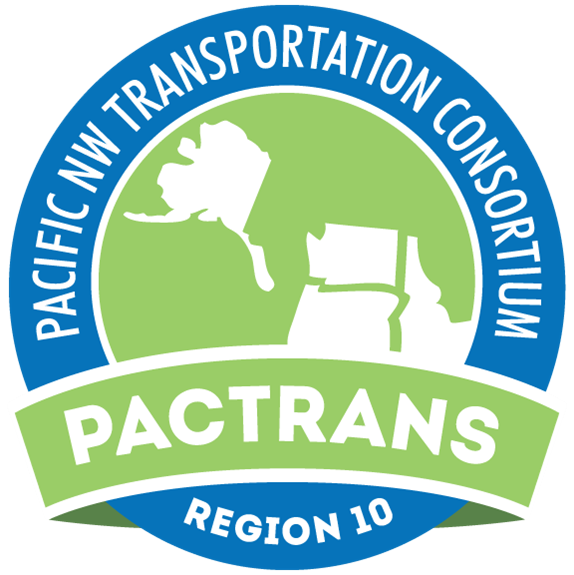 To create a platform for students to present their research to peers, Pacific Northwest Transportation Consortium (PacTrans) launched a new doctoral webinar series this spring. A regional university transportation center that is administered by the U.S. Department of Transportation, PacTrans provides funding to support more than 20 doctoral students at the UW and 48 doctoral students total across five universities in Washington, Idaho, Oregon and Alaska.
"The new webinar series is a vehicle to disseminate and showcase the research done by the students, as well as to encourage exchanges between students within and across the participating universities," says Anne Vernez Moudon, PacTrans' associate director of education and UW Professor Emeritus of Urban Design, who is spearheading the effort. "PacTrans has a strong program of 'tech transfer' to ensure that the work being supported is shared broadly."
The inaugural webinar was presented by Oregon State University doctoral candidate Chen Chen in March. He discussed his research to improve life safety in the Cascadia Subduction Zone by assessing evacuation decisions using a new type of modeling framework.
To oversee and promote upcoming student webinars, a student advisory committee is being established. In addition to students at the consortium universities, Moudon hopes to also feature students at universities who are collaborating on shared research. They plan to organize about six webinars per year, which will be available online at www.depts.washington.edu/pactrans.
RAPID collects post-wildfire data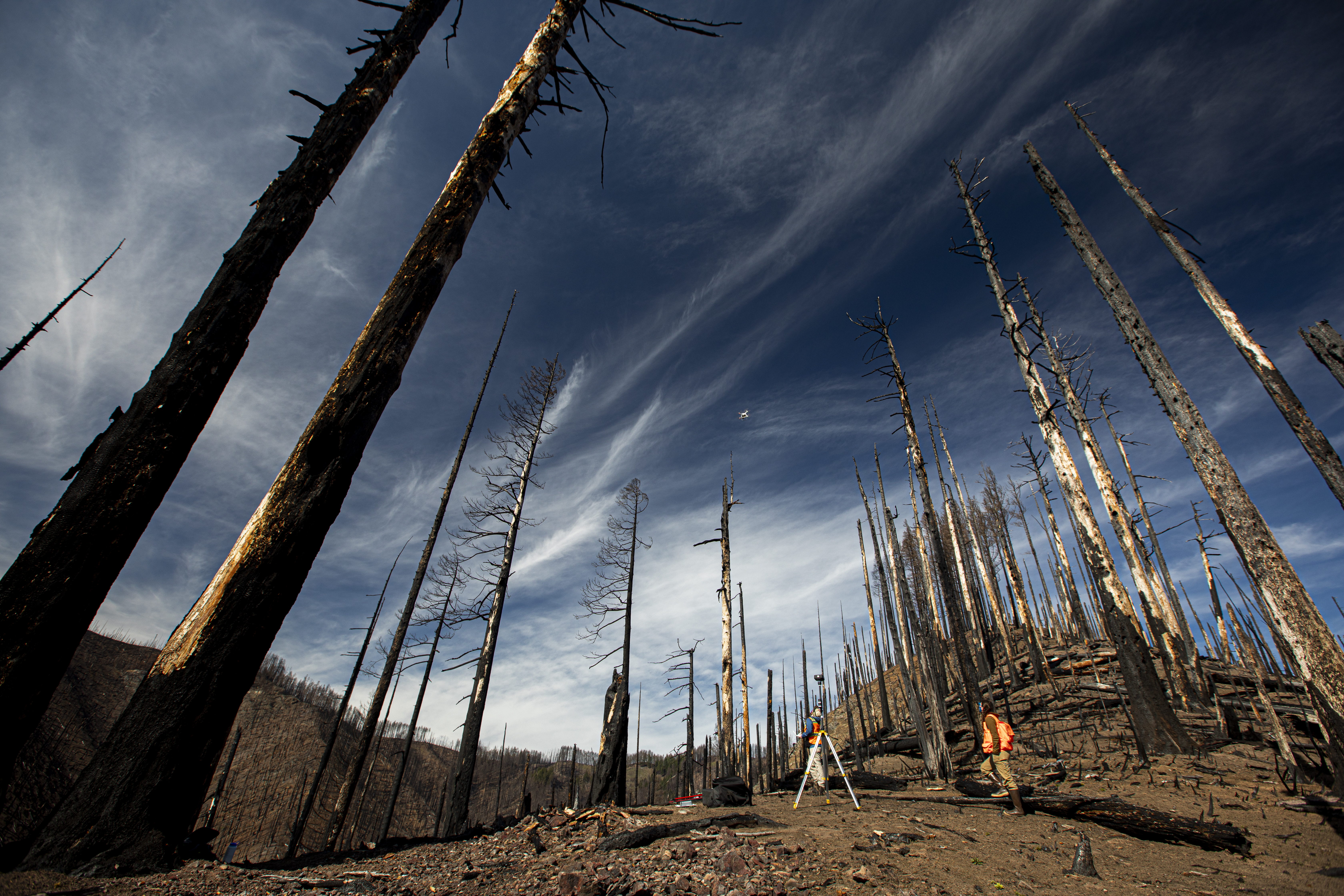 The megafires that turned more than 7 million acres of West Coast land into smoldering rubble last summer left behind something valuable for researchers: perishable data.
"There are long-term lingering effects of these wildfires that we don't fully understand — and which can significantly impact affected communities," says CEE professor Joe Wartman, who directs the Natural Hazards Reconnaissance Facility (known as RAPID), which supports data acquisition in the aftermath of natural disasters.
Following the 2020 megafires, RAPID partnered with researchers on the West Coast to gather perishable data at three wildfire sites in Oregon. The most immediate use of the data will be to better understand a type of landslide called post-fire debris-flow, which has resulted in numerous deaths. This hazard results from chemical changes to soil during extreme burning, which can form an organic coating on the soil that repels water, causing rain to run off rather than be absorbed into the ground. Collecting mud and debris, the runoff can be life-threatening as it rushes downhill.
To improve warning systems, researchers are updating the federal government's models for post-fire slope stability hazards. To document the condition of post-fire hillsides in areas likely to experience debris flow, researchers collected high-resolution aerial imagery and lidar data, which will be used to generate 3D images that show detailed topographic information. This will be used to map post-fire sediment and debris loading of channels and to monitor erosion.
TRAC works on transit tech for underserved groups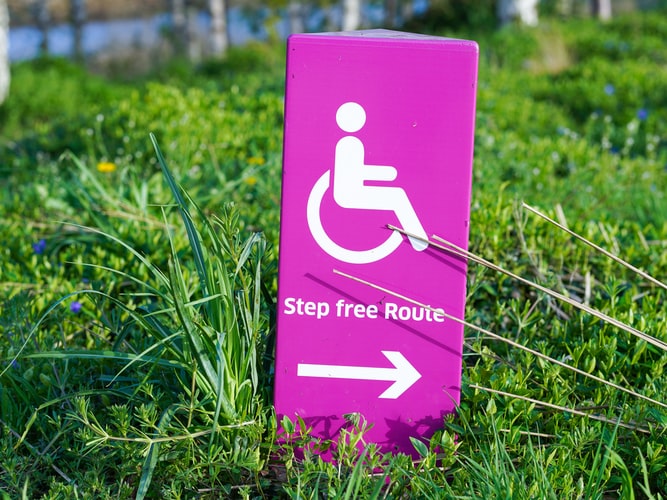 Mobility applications focus on efficiency and finding the shortest paths, leaving out information critical to people with disabilities, older adults and anybody needing more support. Now, the UW is leading a team working toward a solution. Two UW centers, together with Microsoft, Google, Washington Department of Transportation and other public and private partners, are collaborating on the Transportation Data Equity Initiative.
The U.S. Department of Transportation awarded the project $11.45 million in January as part of a program focused on promoting independent mobility for all. The UW centers involved are the CEE-affiliated Washington State Transportation Center, directed by Mark Hallenbeck, and the Taskar Center for Accessible Technology, part of the Paul G. Allen School of Computer Science & Engineering at the UW.

Three demonstration applications will be built as part of the UW-led initiative, addressing the challenges of underserved populations and showing how the data can be used. The Taskar Center's Multimodal AccessMap app will facilitate A-to-B trip planning for people with mobility limitations. The Soundscape app, developed by Microsoft, will enable spontaneous travel for people who are blind and visually impaired. 3-D Digital Twin, developed by San Francisco video game company Unity Technologies, will be a 3-D virtual reality simulation tool that will allow older adults and multilingual travelers to explore, assess and visualize a trip. The applications will be deployed in 2022 in six counties in Washington, Maryland and Oregon.