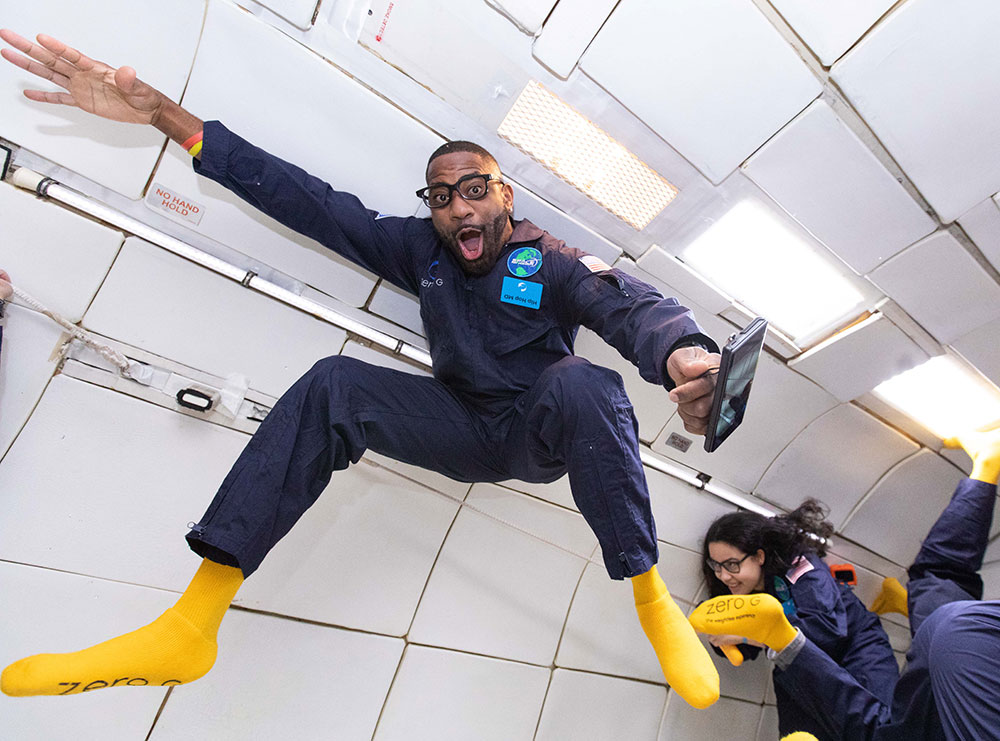 CEE alumnus Maynard Okereke (BSCE '06) has made a name for himself, quite literally. Known as the Hip Hop M.D., Okereke is a science communicator working to make Science, Technology, Engineering and Math (STEM) education accessible to underrepresented youth and more through entertaining programming.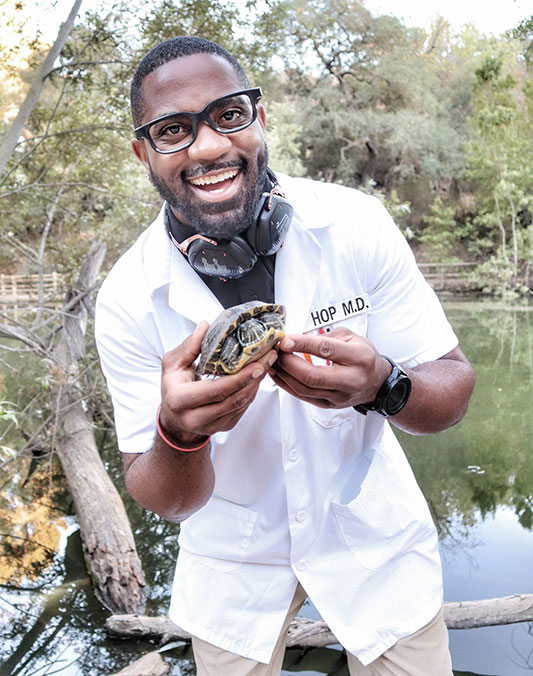 After working as a civil engineer for six years, Okereke decided to pursue his dream of working in entertainment. He moved from Seattle to Los Angeles to begin a career in music and acting, appearing in commercials and independent films. Five years ago, Okereke merged his passion for entertainment with his engineering skillset and founded Hip Hop Science, a platform that allows him to bring STEM education to more diverse audiences by collaborating with schools and other organizations.
Having spent his early years in Cameroon, Africa, Okereke knows first-hand the importance of encouraging diversity in the science field. Here he shares his approach to increasing opportunities for underrepresented youth and how he's tapped into his creative side to do so.
How did the idea for the Hip Hop M.D. come about?
After transitioning from engineering to entertainment work in Los Angeles, I started visiting casting rooms and talent offices and knew I needed to differentiate myself. I wanted to create something that truly shed light on who I was at the core and reflected my personality and humor. The Hip Hop M.D. is a representation of my true character. As both a hip-hop artist and engineer, I always felt I could only show one side or the other. Even my transition to Los Angeles was fueled by wanting to express more of my creative side. The content I created through Hip Hop Science was first sparked by listening to song lyrics and wanting to break down the facts and myths behind the subject. From there, it continued to snowball as I realized how many people were connecting to the content.
What do you do as the Hip Hop M.D.?
I use music, entertainment and comedy as tools to educate minorities and youth on a wide variety of scientific subjects: space, physics, chemistry, biology, engineering and more. The fusion of entertainment and pop culture makes STEM content more relatable to audiences who aren't traditionally exposed to these fields. I work with schools and organizations doing STEM outreach — helping to spark excitement and curiosity. I also work with companies to engage and stimulate a more diverse workforce, speaking on topics that focus on diversity and inclusion. I am able to be a more diverse face in the science field, where minorities are heavily underrepresented.
How has this approach to science education been received?
It's been rewarding seeing schools, universities, institutions and organizations respond positively about how my content has helped educate students in new and profound ways. I've shared informative content with educators on how to make STEM education more exciting in their classroom, and the feedback I've received has been amazing — students have connected with material on a deeper level. I can truly say the work I'm doing has proven incredibly valuable. It's so important to spark curiosity in our youth at an early age.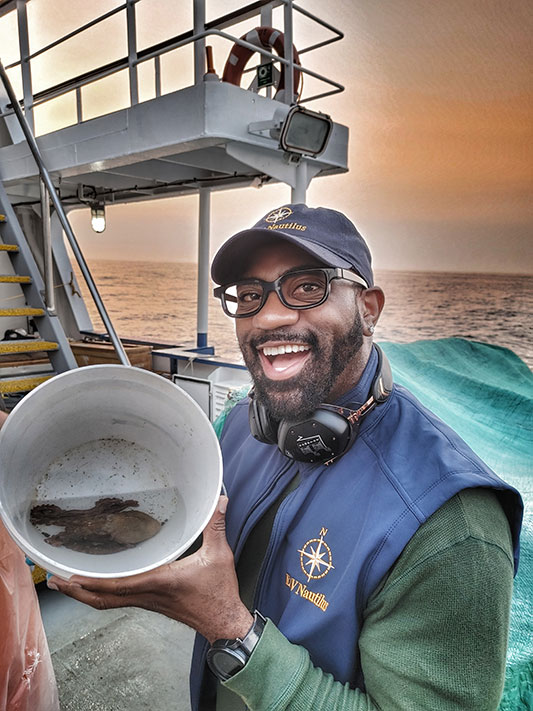 Why is diversity in STEM so important?
The STEM fields have a dramatic impact on humanity, and they are the fields of the future. Everything from medicine and engineering to technology and space science will change the landscape of our globe. It's important that minorities have a voice and presence in these fields, to ensure that our future reflects the diversity that is present in society. Currently, the STEM fields lack minority involvement, and representation is key to stimulate the next generation. Being able to see people who look like you doing incredible work in these professions is empowering, as is knowing there's a place for you at the table. The more diversity we have in these positions, the better equipped we'll be as a society to face future challenges.
What have been some of the biggest highlights so far?
This past year, I had the opportunity to go on a month-long research expedition at sea after being accepted into the Ocean Exploration Trust's Science Communication Fellowship program. The expedition took us to the North Pacific Ocean off the shores of Vancouver Island in British Columbia. The crew on board deployed seismic instruments to help develop early earthquake detection systems and collected biological samples of marine life to evaluate the impact of plastic pollution. As part of the science communication team on board, I provided live off-shore correspondence to schools and universities around the globe, as well as narrated deep sea dives we performed with underwater robots. It had always been my dream to be part of a hands-on research trip with a group of scientists, and this experience was so rewarding and fulfilling.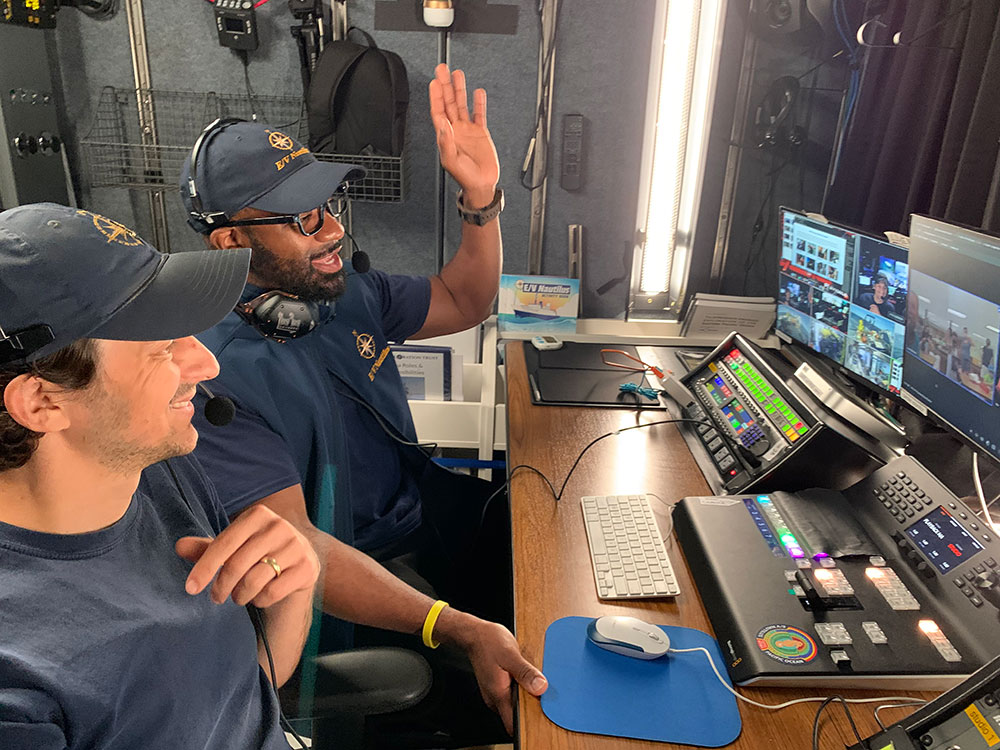 What does the future hold?
To share my love of science with a larger audience, one of my many goals has been to turn the Hip Hop Science platform into a show for a major television or media outlet. Bill Nye, Neil DeGrasse Tyson and Steve Irwin have been longtime idols of mine, and I would absolutely love the opportunity to communicate fun science topics to a mainstream audience.
What can others do to help inspire people of color in STEM?
We can all be advocates for diversity and inclusion. As an ally, you can support minorities at your workplace, or get involved with the education system to mentor or speak with youth. Encouraging minorities to seek leadership positions helps ensure we have a fair and balanced seat at the table. And supporting programs that work with underrepresented or underserved communities is incredibly valuable, as there are so many amazing organizations already spearheading that movement.
Learn more
Keep up with the Hip Hop M.D.'s science explorations.
Originally published November 29, 2021