October 9, 2023
The director of the Washington State Transportation Center influenced roadway systems and transportation engineering locally and nationally.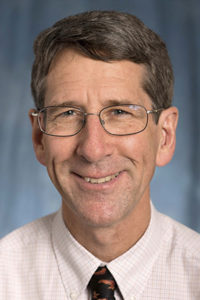 After 39 years at the University of Washington, Mark Hallenbeck retired last month. From 1993 to 2023, Hallenbeck was director of the Washington State Transportation Center (TRAC), an interdisciplinary research agency housed within CEE, where he also worked on hundreds of impactful transportation-related studies.
Hallenbeck was nationally recognized as an expert in several areas of transportation engineering, and many of the systems, programs and guidance he developed have been implemented regionally and nationally. Much of his research involved collecting, summarizing and reporting data that describe the use and performance of transportation systems like roadways, transit service and multimodal networks.
Over the years, he was involved in initial research behind the implementation of Washington state's incident response program, its freeway management system, the truck weigh station bypass program and many other state traveler information applications. Most recently, he worked with multiple agencies in the Pacific Northwest to examine how big data and new technology can improve regional mobility and determine how changing mobility options affect land-use decisions.
Hallenbeck was an affiliate faculty in CEE and the Urban Design and Planning department. A dedicated teacher, he received among the highest student ratings in the College of Engineering. His well-regarded courses in intelligent transportation systems, urban transportation planning, mobile hub design and sustainable transportation were known for being both rigorous and fun.
Hallenbeck was also frequently called on to speak to the press and various professional organizations. As the local media's transportation go-to, he was regarded as an expert who addressed questions and issues with unbiased answers — and irreverently humorous sound bites — in ways that helped the public understand complex transportation issues.
In his often interdisciplinary research, Hallenbeck collaborated with faculty from across the UW, including the Department of Urban Design and Planning, the Paul G. Allen School of Computer Science, the Department of Industrial Systems, the Evans School of Public Policy, the Foster School of Business, the School of Law and the eScience Institute's Data Science for Social Good program. He conducted research for public agencies such as the Washington State Department of Transportation, U.S. Department of Transportation, Federal Highway Administration, National Cooperative Highway Research Program, ITS America, Sound Transit, King County Metro, Puget Sound Regional Council and multiple Washington cities. In addition, he worked with and consulted for numerous public agencies and private companies on projects that impacted transportation around the nation.
He was an Emeritus Member of the Highway Traffic Monitoring Committee of the Transportation Research Board. In 2013, he received the Lifetime Achievement Award from the Washington State Section of the Institute of Transportation Engineers (ITE) for his contributions to improving transportation in the region.
Hallenbeck began with TRAC as a senior research engineer in 1984 and served as associate director from 1991 to 1993. He received his B.S. (1979) and M.S. (1980) in civil engineering from the UW.
He will continue to be affiliated with the CEE department, where he teaches in some of the professional master's programs. Ryan Avery will serve as the UW-TRAC interim director until a new directory has been found.