Martha Quigg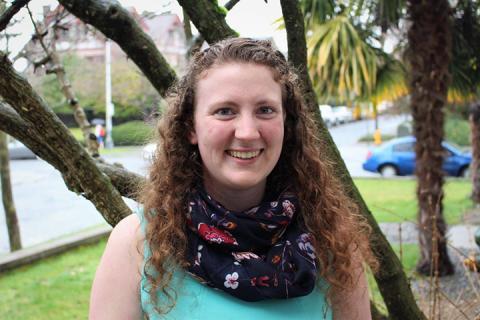 CEE senior Martha Quigg.
How did you first become interested in engineering?
As a child, I wanted to be an inventor – coming up with new ways to make tasks easier was my favorite. In high school, I realized the most practical way to make that dream happen was through engineering.
What UW CEE program are you currently enrolled in?
My senior year will include classes from all the branches of CEE, though I am most interested in construction.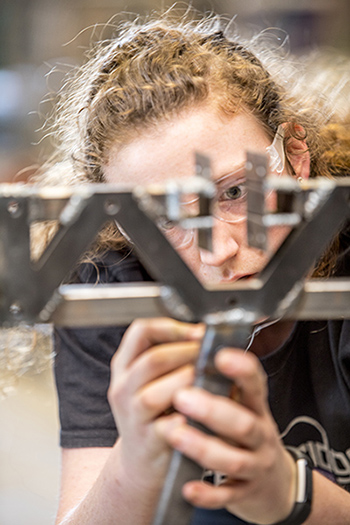 Martha Quigg works on the steel bridge in preparation for the 2017 ASCE/AISC Student Steel Bridge Competition- PCN Regionals at Boise State University.
Why did you choose UW Civil & Environmental Engineering?
I chose UW CEE because of the extensive amount of post-graduation career paths and my involvement on the Steel Bridge Team. When I joined the club as a sophomore, I had no idea how it would change my academic and professional trajectory. Because of it, I was introduced to this departmental family and knew I belonged.
What do you enjoy most about the program?
The investment of professors in their student's personal and academic growth and collaborative atmosphere among my peers.
If you've been involved in research, what have you worked on?
I haven't been involved with research, but at my work this past summer I was an intern project engineer and got to observe the challenges of commercial buildings. Being out in the field making observations, doing quality control and walking with the inspectors were my favorite!
What other activities on campus are you involved in?
The Steel Bridge Team – we build a model bridge out of, you guessed it, steel. It's about 20 feet long and takes a load of 2,500 pounds. Each spring we compete at the regional competition with other nearby universities; our goal is to make it to nationals this year. Joining Steel Bridge allowed me to thrive in hands-on skill development, practice leadership in peer-coached manufacturing, and encouraged me to contribute my skills and passions to improve the team. In the 2016 season, I was the first woman in UW's history to be a member of the Build Team (those who race to assemble the bridge at competition). Now, I'm the team's project manager and am working with our leadership team and general members to make UW's best bridge of the decade! We are open to all majors and years; if you're interested, please contact uwsteelbridge@gmail.com!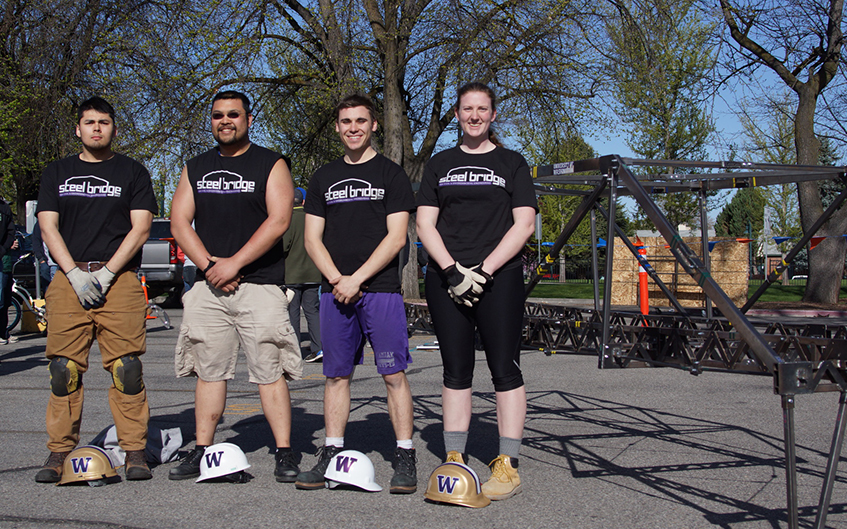 Martha Quigg with the 2017 build team.
What do you hope to do after graduation?
I plan to work as an assistant project engineer for a local company for a few years, then get involved with humanitarian-based work. A couple organizations I'm looking into are Habitat for Humanity, Construction for Change, and Engineers Mission International.
Any advice for prospective students who are considering UW CEE?
Get involved! I know everyone says this, but seriously. Do it. The relationships you form while joining the ASCE chapter, Steel Bridge or Concrete Canoe, meeting with a peer mentor, or getting involved with research will give you a taste of what the department is like. You'll learn new things while also seeing if the program fits in with what you're hoping to get out of it.