PhD Student
"Civil engineering was the perfect blend of my interests due to its ability to combine building design with construction. But beyond this, civil and environmental engineering are two disciplines that are instrumental in reducing the impacts of climate change."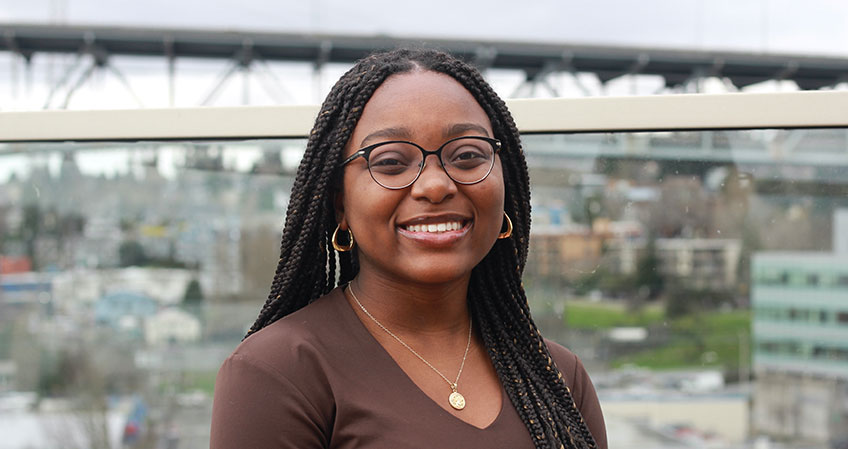 Student name:
Nathalie Thelemaque
Degree:
Ph.D. in Civil Engineering (Construction, Energy and Sustainable Infrastructure track)
Hometown:
Coral Springs, Florida
How did you become interested in engineering?
I've always been interested in the design of buildings and bridges and understanding the driving forces behind the functionality of everyday items. I was also fortunate to attend STEM summer programs throughout my adolescence and turned my love for math and science into something more physical: engineering.
Why CEE?
Civil engineering was the perfect blend of my interests due to its ability to combine building design with construction. But beyond this, civil and environmental engineering are two disciplines that are instrumental in reducing the impacts of climate change. As a former Florida resident who was made aware of the effects of rising temperatures and sea levels, I quickly realized that CEE was a field where I could help develop critical solutions.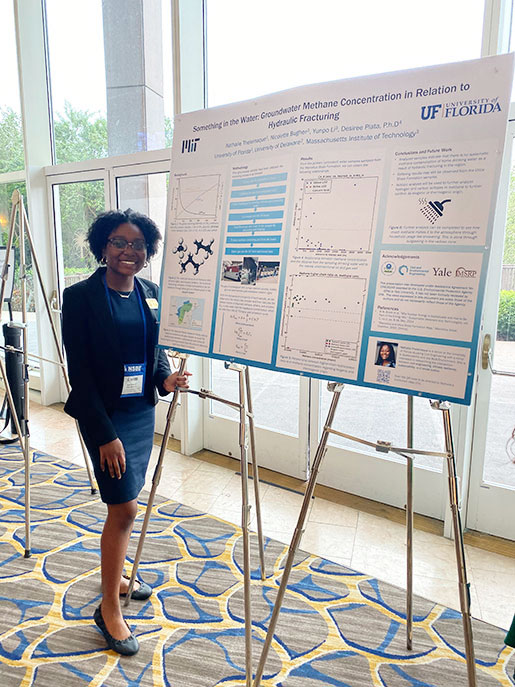 What do you enjoy most about the program?
My favorite thing about the program is being able to work alongside like-minded individuals who are eager to collaborate and provide guidance and resources. I additionally appreciate the diversity of interest and the applicability of research within the department.
Area of interest
I'm interested in the relationship between the built and social system, specifically critical infrastructure and communities, from a sustainability and resiliency standpoint. As changes to infrastructure services are expected in the coming years, this subject area will continue to adapt with climate change impacts and population dynamics in mind.
Research?
In my first year of the program, my advisor Associate Professor Jessica Kaminsky and I collaborated with researchers at the University of Texas at Austin on a study that observed how social distancing policies and lockdowns due to the COVID-19 pandemic had impacted the operations of water utilities. Currently, I am using similar methods to examine the processes of water utilities with a customer size of fewer than 10,000 people to identify the different magnitudes of challenges faced by water utilities of different sizes and the resulting resilience of their served communities. I am additionally working on a study that uses qualitative techniques to discover the successful and failed attributes of water system projects in rural Alaskan communities and what that means for population health and well-being.
Internship?
Before attending the UW, I was an intern at The Boeing Company where I developed a stress note document supporting the 777x Major Test Team. The multipage stress note document detailed the various load configurations, materials, and other physical characteristics of the pitch fitting, which is located at the joint of the plane's wing and body during fatigue testing.
Activities?
I currently serve as the socials chair for the Black Graduate Student Association, a recently created organization that aims at developing community amongst Black graduate students across various disciplines. I also am a project team lead for A Vision for Electronic Literacy & Access; in this role, I assist in creating a multi-week curriculum to introduce high school students to the basics of environmental engineering. Outside of these roles, I serve as an Outreaching Grad with the Office of Graduate Student Equity & Excellence and a committee member for the non-profit Association for the Children of Regnier, Haiti.
What is your dream job?
I plan on remaining in academia and becoming a professor. I hope to use my passion for sustainability, service to the community, and civil engineering to advocate for improvements to critical infrastructure through research and other initiatives.
Any advice for prospective students?
Despite being one of the oldest engineering disciplines, I'd argue that civil engineering is still adaptable and is growing every day. In this program, you can find the resources you need to explore the varied applicability of the field and further develop your interests. Don't be afraid to ask questions and get involved — there are a lot of opportunities out there!