Katie deLaveaga Price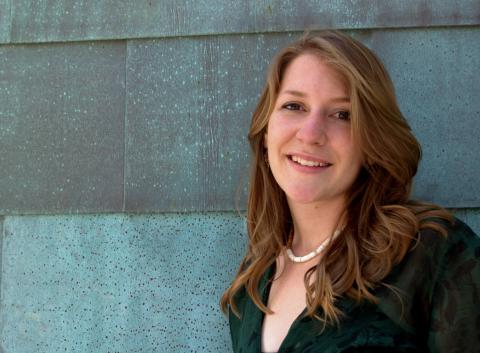 How did you first become interested in engineering?
I loved the idea and practice of architecture as a teenager. I was always good with my hands and loved to create in any way possible. Back then I understood the concept of architecture as an art practice for the design of bridges and skyscrapers, but after a few summer architecture gigs I realized I wanted something a little more practical, hands-on and mathematically oriented. This led me to earn a bachelor's degree in civil engineering at the University of California, Berkeley, which I thought was a realistic way to make my architect dreams a reality. During my sophomore year, I took a class in engineering geology and fell in love. I loved the study of the earth and its strange, powerful processes and dynamics. It wasn't long before I was known among my friends as the girl who was weirdly fascinated by rocks and dirt.
Why did you choose UW Civil & Environmental Engineering?
You will not find a better combination of competitive graduate education (truly one of the best geotech grad programs in the nation), large city atmosphere surrounded by incredible mountain and ocean beauty, and tight social sphere of peers and faculty that you just can't get in a large public or private school. There was really no other school I could find which could offer all of this in one package.
What did you enjoy most about the program?
I loved the program's emphasis on hands-on experience. Field trips, first-hand use of standard of practice modeling tools and computer languages, seminars given by practicing engineers, Seattle region ASCE dinners, etc. I had little to no experience and understanding of the practice of geotechnical engineering before my graduate program, so the insights and introductions to the Seattle geotechnical community were invaluable.
What aspect of the field are you particularly interested in?
Natural hazards engineering, particularly seismology and geotechnical earthquake engineering. Very challenging field and incredibly useful knowledge on the west coast!
If you were involved in research, what did you work on?
I worked with professors from UW and the University of Texas at Austin on the Next Generation Liquefaction effort. My goal for my thesis and for my time abroad was to create a high-quality database studying the mechanics of liquefaction, a phenomenon which occurs in some sands during earthquakes in which the soil becomes fluid-like and flows like water. Buildings can sink, pipes and subsurface structures can rise and crack, and occasionally people can die. As part of the Valle Scholarship & Scandinavian Exchange Program, I conducted the majority of my research and testing programs in Norway at the Norwegian Geotechnical Institute (NGI). In addition, I worked on some very interesting projects at NGI's Offshore Geotechnics Department. I developed tools for two separate projects. The first was a submarine slope stability screening tool and the second involved the creation of an in-house model to predict pile driving capacity.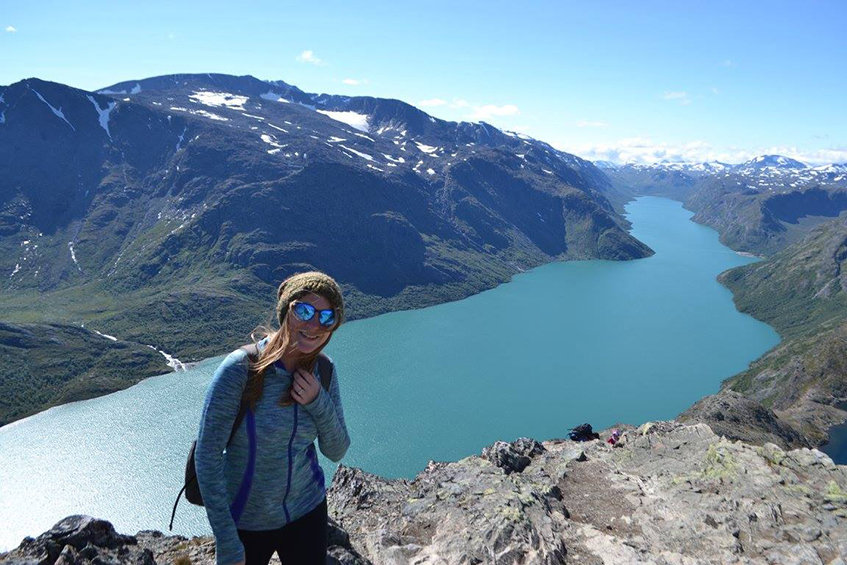 While studying in Norway, Katie hikes the Besseggen Ridge between two lakes in Jotunheim National Park.
How did you get involved in the Valle Exchange Program? What was it like?
I initially heard about the Valle Scholarship & Scandinavian Exchange Program in undergrad. The chance to go abroad was one of the things that drew me to UW. One of my professors at UW sits on the board and he encouraged me to apply. The program entails 7-9 months in a Scandinavian academic, social or commercial institution of your choice. I reached out to several geotech companies in Norway and Sweden before settling on the Norwegian Geotechnical Institute (NGI) in Oslo. I was there from February 2016 to September 2016, so seven months total. NGI is a very professional international company and I gained a lot of technical lab and engineering experience. It's very much a team effort there. I also gained so much appreciation for the way that every country balances their work and personal lives differently. Norway does a wonderful job of putting just as much emphasis on family and friends as on work. The political and social dynamics of Norway are surprisingly different from the West Coast, so it has been very exciting to see how such a streamlined, well-functioning country ticks through an insider's view.
What other activities on campus were you involved in?
During my time at UW, I was an officer for the Geo-Institute Graduate Student Society, the graduate geotechnical professional and social society. I was also part of the UW Kayak Club and a small team of friends and I created a city scavenger hunt app called Seattle Scavengers, which is available free on iTunes.
Where are you now working? Please describe your job.
I am working for a geotechnical consulting firm in Reno, Nevada, called Golder Associates. I work largely in mining engineering, designing large surface pit precious metal mines. I hope to make it back up to the Washington area within the next few years and take up the practice of earthquake engineering.
How did your UW CEE degree prepare you for your career?
My graduate degree at the University of Washington was completely invaluable to the work that I am doing now. It is an amazing experience to see what you have learned so intimately about in classes become a reality. I would not be able to be the engineer I am today without the University of Washington experience.
Any advice for prospective students who are considering UW CEE?
At UW, you work hard and you play hard. Study, explore and create. There's never an idle moment. Take advantage of all the professional and social opportunities that will come to you in such a small, focused program and you'll be amazed at the places they'll take you.