December 2, 2019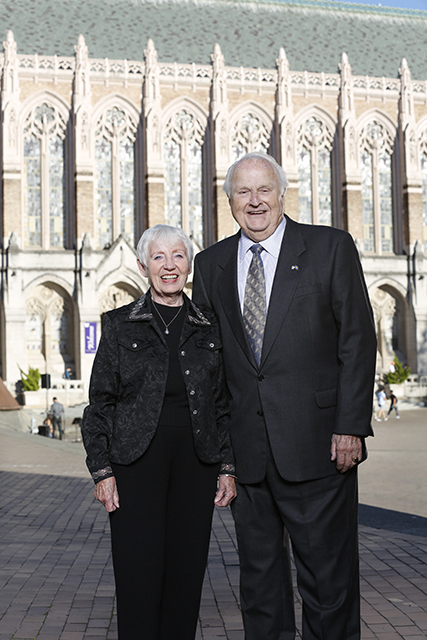 During his lifetime, alumnus Allan Osberg (BSCE '45) constructed more than roads and bridges. He also created a philanthropic legacy that will continue to support faculty and students for years to come.
"He was first and foremost a Husky," says Kimberley Lippman about her father. "His support of both faculty and students was a reflection of his deep appreciation for and ongoing relationship with the College of Engineering."
A longtime UW supporter, Osberg passed away at the age of 94 in March 2019. Over the years, he and his wife, Inger, funded both a professorship and a graduate student fellowship in the College of Engineering. Dedicated to higher education, Osberg also served as a trustee of the President's Club and was a member of the Foundation Board of Directors.
"They maintained ties with many of their graduate students over the years. Having an ongoing connection with cutting-edge projects undertaken by students and professors across all walks of engineering was a delight to them both," Lippman says.
Growing up in Seattle, Osberg had an early interest in engineering. After earning his bachelor's degree in civil engineering at UW, he completed a master's degree in civil engineering at Harvard, specializing in soil mechanics. After graduate school, Osberg returned to Seattle and joined the family business, Osberg Construction Company.
During his time with the company, Osberg oversaw the completion of several major projects in the Northwest and Alaska, including straightening the Sammamish River between Redmond and Lake Washington, reconstructing segments of the North Cross-State Highway (also known as State Route 20) and building the Yukon River Bridge for the Alyeska pipeline in Alaska.
"My father had a great deal of pride in constructing well-built projects that withstood the test of time. He enjoyed crafting new ways to build things and make them as robust as possible," Lippman says. "He was a thinker, but also a man of action. He liked to get things done and done well."
In recognition of his strong commitment to community service, Osberg was honored with a 2017 Diamond Award for Distinguished Service. The College of Engineering's Diamond Awards honor outstanding alumni and friends who have made significant contributions to the engineering field. In recognition of their cumulative giving over the years, the couple was also recognized as Laureates of UW.
"He gave of himself in terms of his expertise and experience as well as from his pocketbook," says Lippman. "My father recognized the value of community. He was always of a mind that if you set a good example, others would follow suit."