Brooke Fisher
Photos by Mark Stone / University of Washington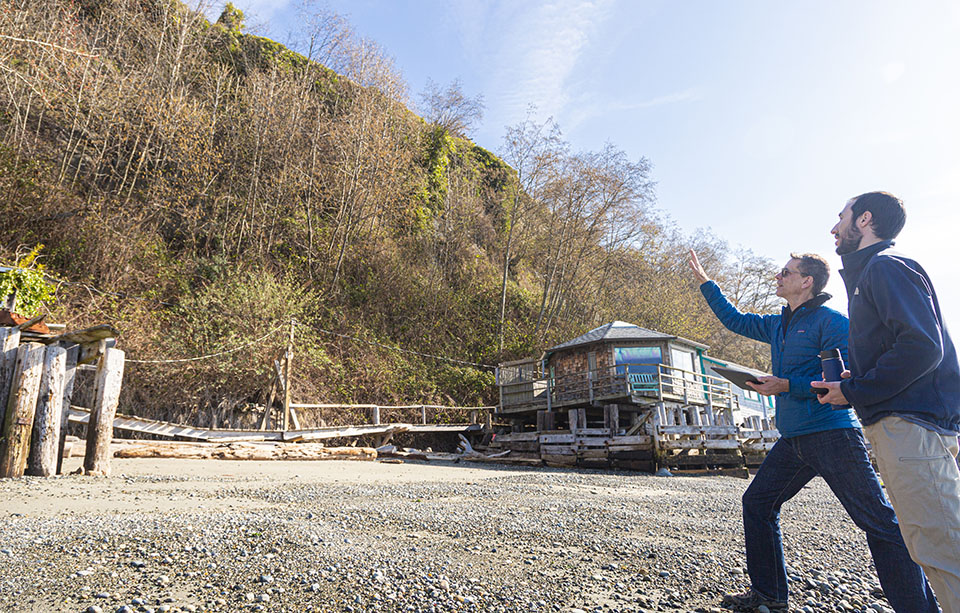 CEE researchers develop first-ever map that quantifies landslide risk in Seattle
When it comes to safeguarding Seattle from landslide hazards, UW CEE Ph.D. student William Pollock has a plan mapped out – quite literally. He will soon be releasing a first-of-its-kind map that predicts landslide risk throughout the city.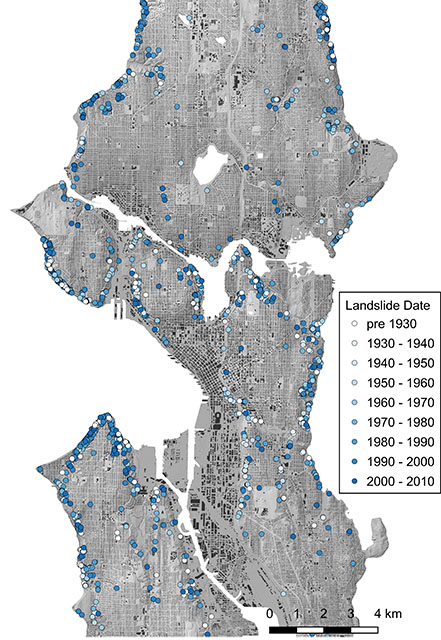 "As far as I know, this is the first map in the nation to quantify landslide risk on a regional scale – to put a number on it rather than just rating it high, low or medium," says Pollock. "This will help city planners know how to prioritize resources when mitigating landslide risk."
Throughout the United States, jurisdictions are responsible for monitoring landslide activity, as the U.S. Geological Survey doesn't track or inventory slide areas on a local scale. Since existing landslide maps for the city of Seattle only identify the location of landslide-prone areas, the risk map that Pollock is developing with CEE professor Joe Wartman will be more meaningful to stakeholders and communities.
"One of the big outcomes we are hoping to present to the city and public is being able to look at different areas of the city and estimate, on average, the number of dollars per year of damage we would expect and the potential for loss of life," says Pollock, who has been working on the project for the past four years.
Funded by a National Science Foundation EArly-concept Grant for Exploratory Research (EAGER) grant, the researchers are collaborating with geoscientists at the Institute of Geological and Nuclear Sciences in New Zealand. In coming months, they plan to share their work with the city of Seattle and the public to help guide and inform landslide mitigation throughout the city.
"We want the risk map to be understandable, open and accessible to all people, so they can make informed decisions," Wartman says. "Traditional landslide maps do not explicitly consider risk, but it is essential to do so since this is the best way to assess the likely consequences of landslides, not just their occurrence."
Seattle's susceptibility
In recent years, there has been heightened awareness about regional landslide risk, especially in the aftermath of the deadly landslide in Oso, Washington, in 2014. And a research collaboration across several UW departments, the M9 Project explored how shaking from a Cascadia Subduction Zone earthquake may trigger landslides throughout the area.
"The Oso landslide and the M9 Project both highlighted the urgency of understanding the landslide hazards and – especially – risks in the Pacific Northwest," Pollock says.
With its hilly terrain and rainy climate, the geology of Seattle is prone to landslides, which tend to recur in the same areas. More than 8% of the city's surface area is considered to be landslide prone, according to the city's Environmentally Critical Areas Ordinance. The majority of these areas are zoned for single-family residential and open space, such as parks.
"Landslides have resulted in the loss of life in Seattle and significant economic losses," Wartman says. "They pose a major hazard to many communities in the Puget Sound region."
In Seattle, the majority of landslides fall into two categories: large and slow moving, or small and rapid. Many landslides are activated during the rainy season and come to a relative halt during the summer. It's not uncommon for landslides to travel long distances and reach areas that are not generally considered landslide prone.
"The interaction between landslides and places of development often happens in the runout zone, which is how far a landslide travels," Pollock says. "That is where we start to see a lot of risk."
Although the city has undertaken a number of strategies to help mitigate risk, from slope stabilization projects to revising the zoning density near hillsides, pinpointing future risk can help identify where to allocate resources.
"We are doing this on a relatively fine scale, so we can evaluate neighborhoods and buildings to assess their risk to different types of landslides," Pollock says.
Risk management
Early in his graduate studies, Pollock traveled to Lebanon to help quantify landslide hazards and associated risk on a comprehensive scale. At the time, Lebanon's population was swelling due to the mass resettlement of more than one million refugees. Although the refugees were settling in less hazardous areas than where the existing population resided, they were actually more at-risk due to makeshift shelters.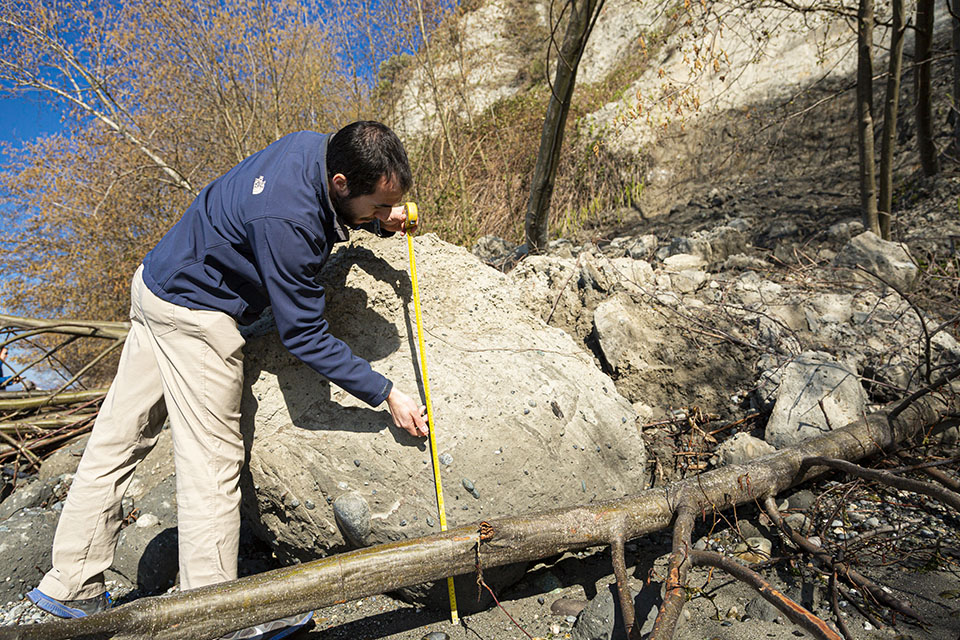 "If we just looked at landslide hazard, we would never have seen this," Pollock says. "This is why looking at risk matters."
The resulting methodology worked so well that Pollock is now applying it to Seattle, inputting Seattle-specific details about elevation, geologic features and soil quality, as well as building inventory and census population data.
Since the researchers are predicting events that haven't occurred yet, they tested the methodology using an unprecedented dataset that was developed after the 7.8 magnitude Kaikoura earthquake in New Zealand in 2016, thanks to a partnership with the Institute of Geological and Nuclear Sciences.
The landslide risk map will be part of a suite of maps that will provide comprehensive information about landslides — from estimated recurrence to how they are triggered.
"A unique part of this work is that we are not looking at just one type of landslide, but different types," Pollock says. "They have different effects on human infrastructure and that in itself is a novel part of this work."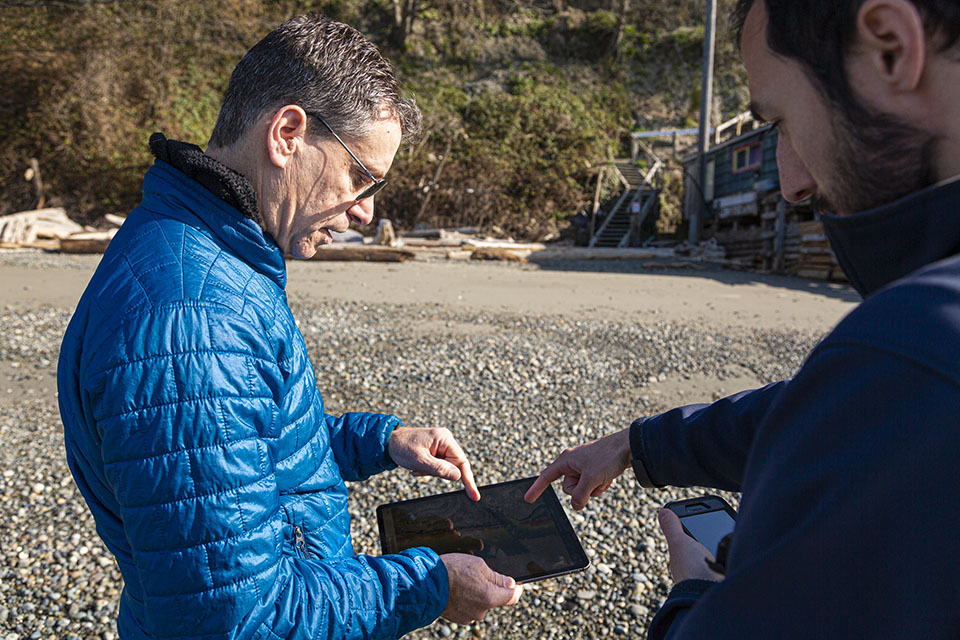 Practical applications
As Pollock refines the risk map, which entails visiting landslide hotspots such as West Seattle and Magnolia to verify data, he and Wartman plan to publish their findings in coming months. They will also present their results to city officials and discuss community engagement opportunities. During the process, they hope to develop some practical applications based on their findings.
"In the past, most zoning policies related to landslides and development have been based on susceptibility — the areas likely to have a landslide in the future, without consideration of their timing, runout or consequences," Pollock says. "Ultimately, we really should be making our zoning policies based on risk."
Originally published June 29, 2020