Brooke Fisher
January 21, 2021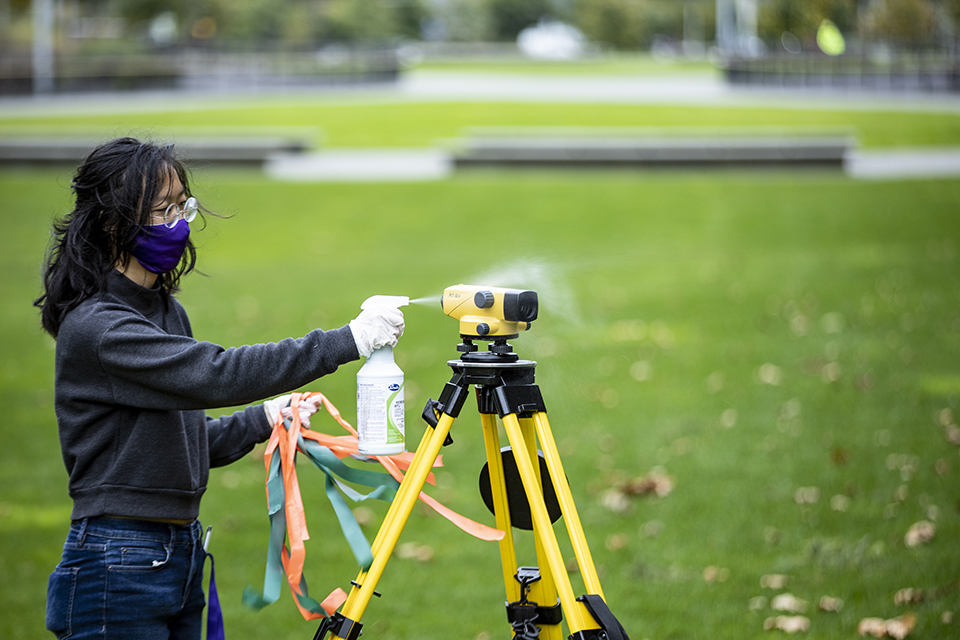 Embracing new strategies as remote learning continues
During autumn quarter, civil and environmental engineering students and faculty once again embraced the "new normal" of remote learning. But this time around, they had experience – and a few new strategies, from optional outdoor labs on campus to creative at-home labs utilizing items such as milk cartons and straws.
Online in autumn
During fall 2020, the following number of courses and students continued with remote learning:
Courses: 23 undergraduate and 36 graduate courses were held online.
Students: 377 undergraduate and 440 graduate students were enrolled in online courses.
GeoSurveying: Optional outdoor labs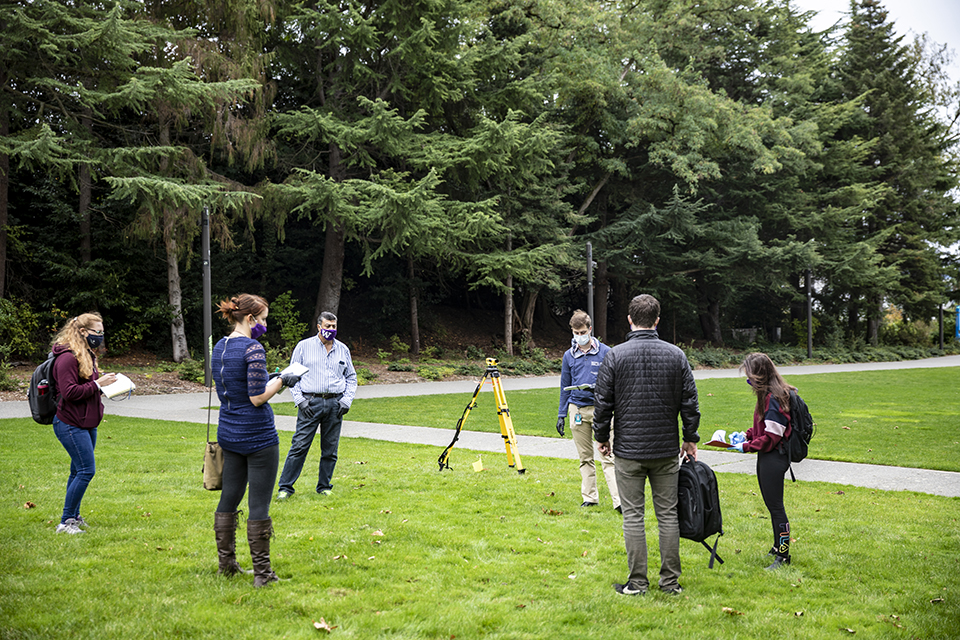 Although all courses were held remotely, the CEE 317 GeoSurveying course offered optional in-person outdoor lab sessions. Held at UW campus's Rainier Vista, the outdoor lab sessions were designed to adhere to safety protocols while allowing students to get hands-on experience using specialized surveying equipment. In the class, students learn measurement and digital mapping techniques, which can be used to guide the construction of buildings and roadways.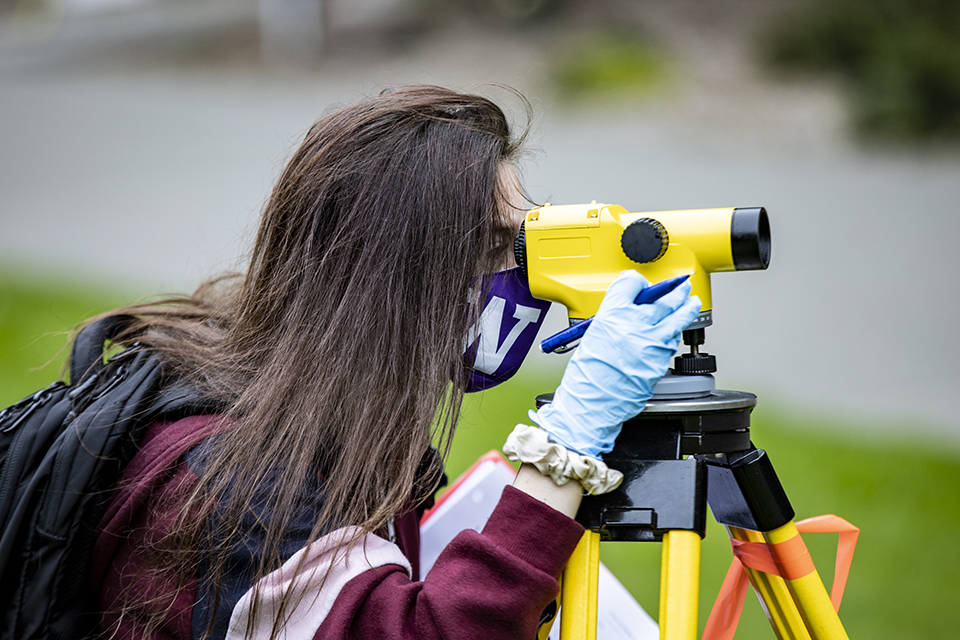 "Students appreciated the opportunity for hands-on training and to come out of their homes," says instructor Kamal Ahmed about the course. "Social distancing was carefully observed among the students and the labs were totally re-written to ensure that students would not get close to each other at any time."
Of the 126 students enrolled in the course, about 50% participated in the weekly outdoor lab sessions. About 25% completed all labs online and the remaining 25% opted to attend three in-person labs while completing the remainder online.
"I came up with this option to encourage students who want to attend online to attend basic training for three labs only," Ahmed says.
Prior to the start of autumn quarter, Ahmed developed a detailed safety plan for the outdoor lab sessions. Highlights included staggering student attendance during the three-hour lab session, establishing an order by which students used various instruments, and marking instruments with flagging tape to indicate if they were disinfected.
Fluid Mechanics: At-home labs get creative
For more than 100 years, CEE students have been conducting labs in the Harris Hydraulics Lab, which houses professionally built facilities for conducting fluid mechanics experiments. This year, however, students in the Intro to Fluid Mechanics class conducted labs at home due to COVID-19.
"This year the students did similar experiments, but they had to build them on their own with materials they could find in the kitchen at home. They had to be resourceful and creative in entirely new ways," says professor Alex Horner-Devine. "I was really impressed with how they stepped up to the challenge."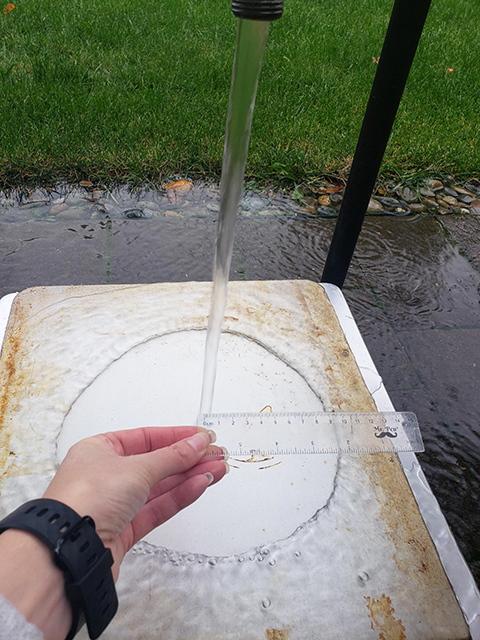 Completing a total of four labs on their own, students worked together in groups with their results to generate lab reports. Types of experiments that the students completed included measuring the speed that water flowed out of a hole in the bottom of a milk carton and comparing it to theory from the Bernoulli equation. Students also explored hydraulic jumps, which form white water in rivers when water at high velocity flows into slower water. For this experiment, students studied the ring that forms when water from a faucet hits the bottom of a sink forming a small-scale circular hydraulic jump.
For CEE junior Amber Salahdin, the at-home labs allowed her to grasp concepts that would have otherwise been difficult to understand without hands-on learning. Since students completed experiments using items available at home, such as milk cartons, she enjoyed discussing various sources of error and possible improvements with classmates.
"Sometimes I had to approach the experiment in a couple ways before I got results I was happy with," Salahdin says. "I really enjoyed the challenge of coming up with ways to do the labs at home while collecting meaningful data."