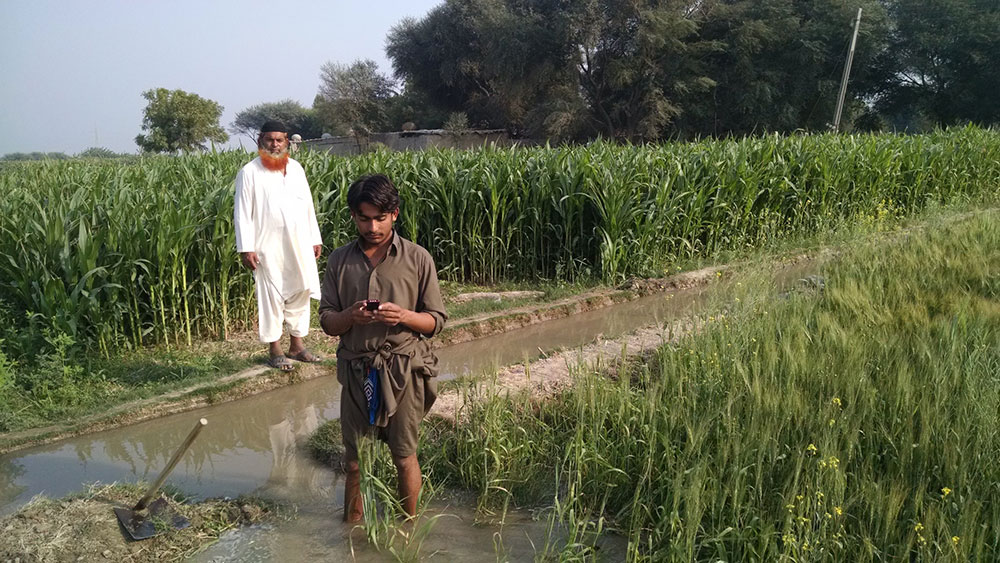 Five years ago, when Professor Faisal Hossain helped implement a new satellite-based irrigation advisory system in Pakistan, it was uncharted territory. But that territory now includes three countries and more than 100,000 farmers who benefit from water conservation and improved crop yield.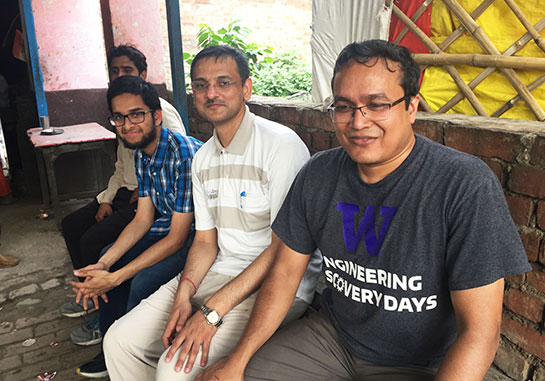 "Because this was never something I planned to do, I am pleasantly surprised at how successful the system has been and how it's grown and expanded to other countries like India and Bangladesh," Hossain says. "This is one of the most enjoyable things I've worked on."
Water scarcity is a pressing issue throughout South Asia and beyond. While modern-day irrigation practices enable more farming and food production, they are estimated to consume between 60-90% of global freshwater. To help conserve water by preventing the overwatering of crops, the Pakistan Council of Research in Water Resources began working on a project in 2015 to utilize satellite-based data to provide irrigation advisories to farmers. When the government agency realized that available information wasn't user-friendly for farmers, they reached out to Hossain.
"I had an epiphany; we do all this great scientific research driven by making it user-inspired," Hossain recalls. "I realized this is not hard to solve, we just need to package it in a way that is user-ready."
The advisory system that Hossain and his research team helped develop utilizes weather and satellite data and estimated water consumption by crop to generate text messages that are delivered directly to farmers' cell phones. The system can be used for a variety of crops, from rice to bananas to wheat. Examples of messages include "Dear farmer friend, we would like to inform you that the irrigation need for your banana crop is two inches this week" and "Corn fields do not need irrigation due to sufficient rainfall prediction this week."
"The farmers mostly over-irrigate and sometimes under-irrigate due to lack of information. I grew up in a farmer family in Bangladesh, so I understand the stressful time that farmers pass during the winter dry season," says alumnus Nishan Kumar Biswas (Ph.D. '21), who worked on the advisory systems during his graduate studies. "Farmers don't have access to weather forecast information and crop water demand. Thus, they don't know if plants need water right at the moment and if there will be any rain in the upcoming days."
Expanding east
First implemented in Pakistan, the irrigation advisory system has since expanded to India and northeastern Bangladesh, now serving more than 100,000 farmers. In Bangladesh, which is the world's fourth largest rice producer, the system is being considered for adoption countrywide in 2022 by the government's Department of Agricultural Extension (DAE).
In each country, the system is tailored to the specific needs of the farmers. For example, farmers in India and Bangladesh grow a wider variety of crops on a smaller scale than farmers in Pakistan. To account for the greater variety in crops, the researchers introduced inexpensive low-power ground sensors in India. The sensors collect information specific to each plot of land, such as temperature and humidity, which is used to generate a greater number of irrigation advisories. And depending on the country, text messages are customized to reflect how farmers in a particular area may measure water. For example, a text message may advise farmers to "apply half a finger of irrigation," which ends up being about 1.5 inches. This is based on finger markings that divide fingers into three parts, each about 1 inch in length.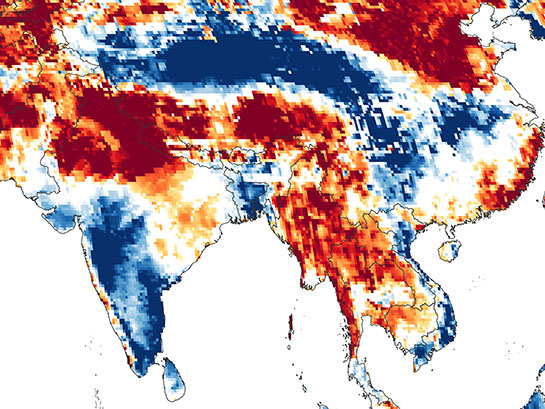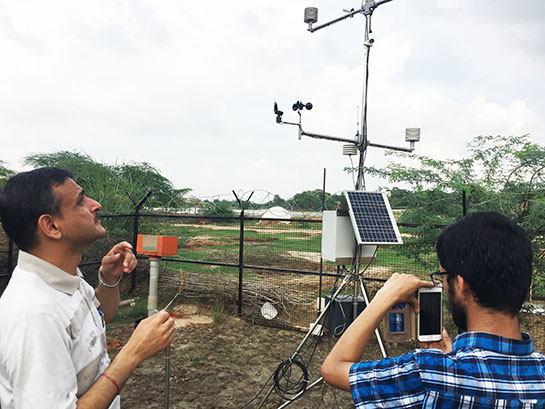 "We realized that we had to customize the solution," Hossain says. "We couldn't use the same exact method somewhere else, as it would be received differently given different customs and culture."
The researchers have also been eager to add innovations along the way. In Bangladesh, the advisory system was made "smarter" by adding additional satellite data that helps track farmers' individual water use. This allows the DAE to strategically target farmers in specific areas where severe over-irrigation occurs.
Irrigation impact
Throughout the three countries, studies and assessments indicate that the advisory systems have been largely beneficial. During dry-season rice production, a control group study was conducted in Bangladesh, supported by the Asian Development Bank. The study revealed that the farmers utilizing the advisory system used significantly less water and diesel fuel, which powers water pumps. On average, the advisory system reduced irrigation water use and fuel consumption by up to 40% while increasing earnings by up to 30% through increased rice production, a benefit of not overwatering crops.

85%
of farmers in India reported the system was beneficial

25%
increase in wheat yield

40%
savings in irrigation water in Pakistan and a 15% increase in crop yield
Informal assessments in the other two countries similarly revealed that the advisory systems were valuable. In India, 85% of farmers reported the system was beneficial. Farmers there also saw an increase in wheat yield by up to 25% when compared to the historical yield. In Pakistan, farmers saw up to 40% savings in irrigation water and a 15% increase in crop yield.
"I get a lot of joy when farmers tell us this advisory system is giving them so much benefit," Hossain says. "At the end of the day, that's what we are supposed to do. We are supposed to make the world a better place."
Originally published December 13, 2021