By Julia Davis
October 18, 2023
The award-winning paper focuses on the link between redlining and air pollution disparities in cities across the U.S.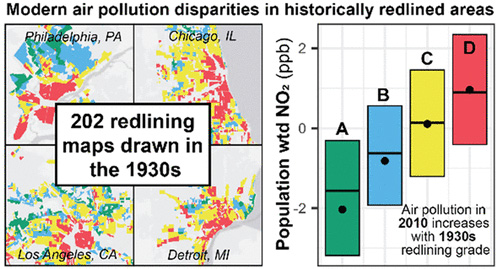 In a recent announcement, Environmental Science and Technology Letters awarded CEE Professor Julian Marshall a 2022 Best Paper Award for his research, titled "Historical Redlining Is Associated with Present-Day Air Pollution Disparities in U.S. Cities." The research uncovers the disturbing link between redlining — a racially discriminatory mortgage appraisal practice from the 1930s — and present-day air pollution disparities in 202 U.S. cities. His study underscores how communities of color, especially Black and Hispanic populations, bear the brunt of these long-term environmental repercussions. The paper sheds light on how historical injustices continue to influence current environmental conditions, posing health disparities in marginalized communities.
Marshall's research focuses on exposure assessment, with the goal of understanding the scope of pollution exposure and devising strategies for its reduction. At the heart of Marshall's work lies a commitment to environmental justice. He explores who faces higher pollution exposure, the correlation of exposure with attributes such as race or income, and how changes in emissions might bridge existing exposure gaps.
Learn more
Read the award-winning paper here.