March 1, 2016
Image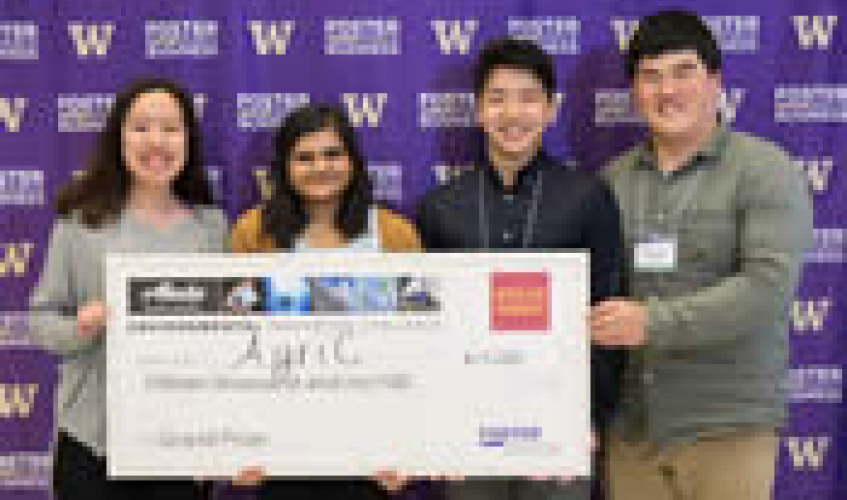 Biodegradable plastic made out of chitin, an organic material derived from crustacean shells.
Creating a biodegradable plastic for agricultural uses that can suppress weeds and conserve water before decomposing into fertilizer sounds like a good idea. That's what the judges thought, too.
The grand-prize winning team at the eighth annual Alaska Airlines Environmental Innovation Challenge impressed judges by developing a new type of biodegradable plastic that may provide an alternative to conventional plastic mulch. Called AgriC, the winning team includes Civil & Environmental Engineering student Xinyao Ding. Competing against 23 teams from seven universities throughout Washington state, AgriC won the $15,000 grand prize.
"I thought our project was good enough to win a prize, but first place never came across my mind," said Ding, who is an exchange student from Sichuan University, China. "This will reduce non-biodegradable plastics that are swirling in the environment."
Ding's team created the biodegradable plastic out of chitin, an organic material derived from crustacean shells. The biodegradable plastic is intended to be used to cover crops as a mulch film and decomposes into fertilizer after use. Although still in the research and development stage, the biodegradable mulch film may one day provide a more sustainable alternative to conventional plastic mulch, which is predominantly used in large-scale vegetable farming and the disposal of which is an emerging environmental concern. The product was inspired by research conducted by the Wyss Institute for Biologically Inspired Engineering at Harvard, which uses design principles from nature to develop more sustainable devices and materials.

CEE junior Xinyao Ding, far left, is one of four students to win the grand prize at the Environmental Innovation Challenge in March 2016. Teammates are students Daniel Park (Foster School of Business), Moni Pal (Economics) and Andy Tan (Biology and ACMS).
"What makes our prototype unique is the idea of using it to make mulch film, which has a niche of serving as a fertilizer after decomposing," Ding said. "Previous research only focused on items such as shopping bags, cups and egg containers."
Ding oversaw development of the prototype. After contacting several local plastic manufacturers requesting to use their equipment to produce the mulch film, Ding was repeatedly told that the new chitin material may damage their machines. So, she made the prototype in her kitchen using chitosan powder and white vinegar. She is currently working to refine the recipe.
Although her AgriC teammates will not be continuing the project, due to new jobs and internships, Ding plans to continue developing the product when she returns to China this summer. She hopes to eventually return to UW to earn her master's degree.
"I have faith in the project," Ding said. "I will get the perfect recipe first and then consider going to market."
Held at Seattle Center in March 2016, the Environmental Innovation Challenge encourages student teams to present business ideas that positively impact the environment. More than 150 judges awarded a total of $36,000 to winning teams. The competition is hosted by the Buerk Center for Entrepreneurship at the UW Foster School of Business.