May 27, 2022
CEE faculty and graduate students are experts in building many things, including teaching programs. In recognition of their excellence as instructors, two members of the CEE community — Professor Steve Muench and his Ph.D. student Milad Ashtiani — were honored at the annual College of Engineering (COE) Awards ceremony on May 26.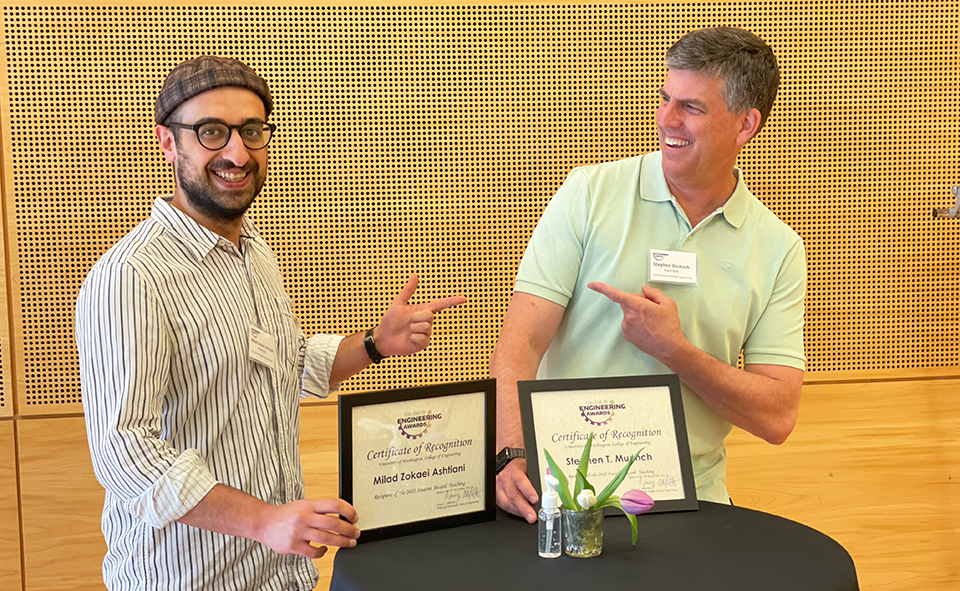 COE Faculty Teaching Award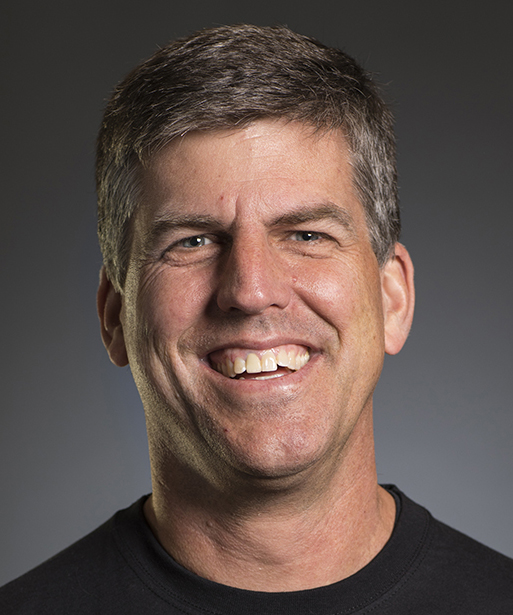 Professor Steve Muench is a recipient of one of two 2022 COE Faculty Teaching Awards. During the past 18 years, Muench has worked to improve learning, mentoring and professional opportunities for both undergraduate and graduate students. Known for taking on significant course loads, he has instructed more than 90 undergraduate and graduate courses, teaching 3,000 students combined.
"He typically teaches six courses per year (the average for the department is three courses per year) and his average rating on the four primary items of the course assessment activity ranges between 4.0 and 4.8. That is a very high assessment for this department and particularly so given the number of courses taught," according to the nomination.
An advocate and leader in online learning, Muench has created award-winning courses for two online degree programs: MSCE in Construction and MSCE in Energy Infrastructure. Muench is also actively involved in two study abroad programs: he developed and continues to teach the Engineering Rome Study Abroad Program, where he takes about 20 students to Rome every other year. And, he serves as the director of the Valle Scholarship & Scandinavian Exchange Program.
Preparing students for internships with industry is also a passion of Muench's. He does this by building students' skillsets in the CEE 307 Construction Engineering course, which he teaches twice per year to classes of about 75 students. The construction engineering group, in fact, supplies the largest percentage of undergraduate internships in the department — 40%. "The industry feedback is extremely positive as to how well our students are able to do early, meaningful project-related work. This is largely due to the type of carefully selected and taught content by Dr. Muench," according to the nomination.
Muench has also played an essential role in growing interest among students in the construction engineering field. Ten years ago, he was selected for the Tom and Marilyn Draeger/The Beavers Charitable Trust Professorship, established to help grow the number of students in this field. "Since then, the number of undergraduate students interested in construction engineering (per an annual survey) has increased from 32% to 55%," according to the nomination.
COE Student Teaching Award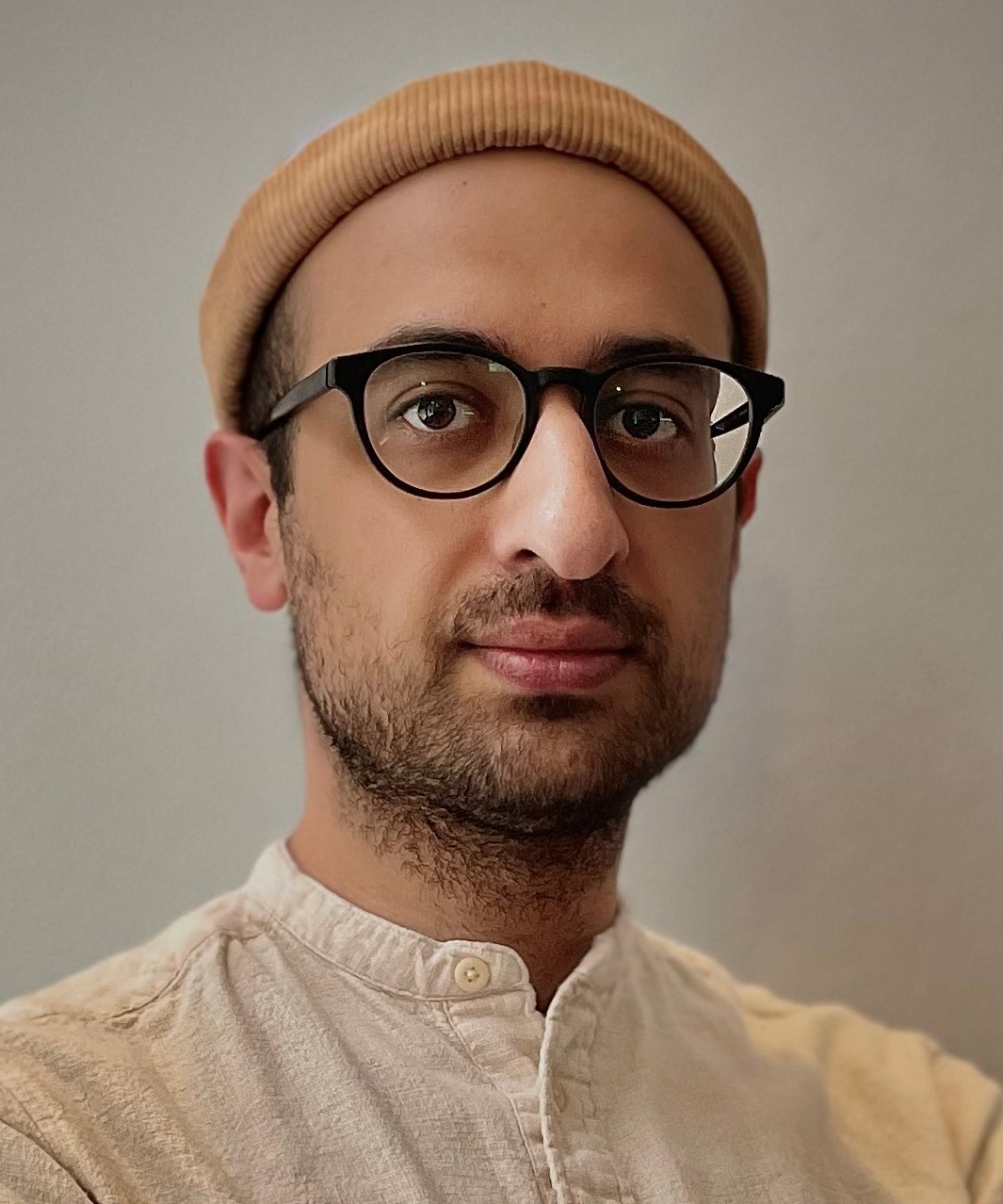 Ph.D. student Milad Ashtiani has received the 2022 COE Student Teaching Award. A teaching assistant (TA) since 2018, Ashtiani plans and instructs laboratory sessions in addition to other responsibilities such as class grading, advising and tutoring. During the past four years, he has taught an estimated 700 students in more than 300 laboratory sessions.
"Milad is a major teaching strength in our department. His passion for teaching, constant work on inclusion, and deep understanding of multiple topics make him invaluable," according to the nomination. "Milad's dedication to the student experience and excellence in teaching has really stood out during the pandemic."
As a TA, Ashtiani is known for going above and beyond. In fall 2021, he served as the primary instructor for the CEE 337 Construction Materials course, without assistance from a lab manager or technician due to a job vacancy. "This was a large responsibility to put on Milad (teaching with no help from lab staff) and he was fantastic," according to the nomination.
During the pandemic, Ashtiani was instrumental in quickly transitioning lab sessions online for multiple courses. This was not an easy task, considering the hands-on nature of the lab experiments. Ashtiani implemented a creative approach where he used multiple cameras and other media technologies to livestream the lab sessions, enabling students to observe and interact with various sample creation and test activities.
"This created an environment where students were virtually interacting with Milad by giving him directions and making experimental decisions. Milad's approach in teaching these labs was incredibly successful based on our direct observation and as indicated in student course evaluations," according to the nomination. "His ability to take a long-standing intensive physical laboratory class and convert it into a fully functioning virtual course was amazing."