CEE Endowed Lectures
Throughout the academic year, UW CEE is pleased to offer three annual endowed lectures supported by generous donors.
The lectures provide an opportunity for the greater UW CEE community of alums, students, faculty and friends to gather for an educational and social event. Lectures are free and open to the public.
Annual endowed lectures
Learn more about CEE's three endowed lectures, each of which features an annual lecture.
Upcoming 2017 Edward Wenk Lecture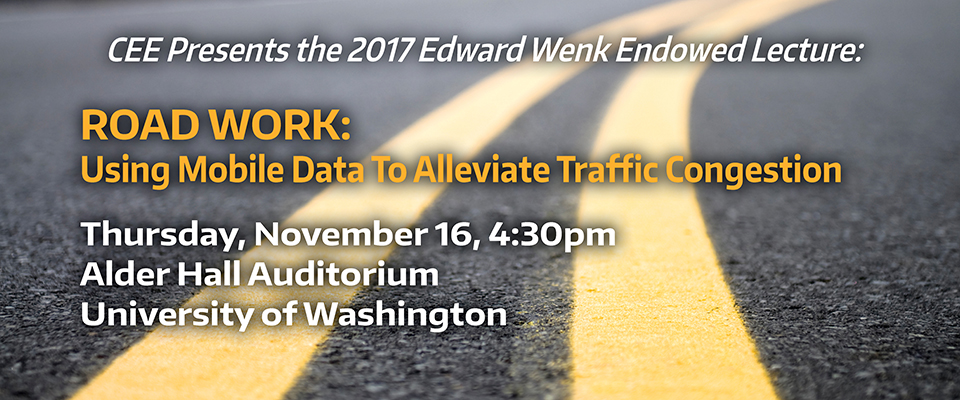 Alexandre Bayen
Featuring Alexandre Bayen
Thursday, November 16, 4:30pm
Alder Hall Auditorium
University of Washington
Light reception to follow lecture in Alder Commons.
Free and open to the public. No RSVP required.
Road Work: Using Mobile Data To Alleviate Traffic Congestion
Slower speeds and longer trip times are becoming the new normal. The fast-growing Seattle area, in fact, ranks 10th in the nation and 20th worldwide for traffic congestion*. To address this challenge, expert Alexandre Bayen proposes utilizing crowdsourced mobile data from drivers and passengers. This data, combined with optimization techniques and game theory, has the potential to enhance algorithms that control traffic estimations as well as infrastructure such as traffic light timing and variable speed limits. * INRIX global data
Alexandre Bayen is the Liao-Cho Professor of Engineering at UC Berkeley, in the Electrical Engineering and Computer Science and Civil and Environmental Engineering departments. He is the Director of the Institute of Transportation Studies, and also serves as Director of the Transportation Initiative at Lawrence Berkeley National Laboratory. His research has been covered hundreds of times in the mainstream media.
Questions?
Contact Janeka Rector at 206-543-8879 or janekar@uw.edu.