COVID-19 Update on Operation of the UW Structural Research Laboratory (SRL)

The UW SRL provides critical support to transportation and building construction projects as well as research and other commercial work. In compliance with the WA state "Stay Home Stay Healthy" mandate, the SRL will remain open to serve essential needs. The SRL administration has implemented reccommended OSHA protocols for control and prevention of the virus while retaining all safety protocols. Any questions about the laboratory operation at this time should be directed to the laboratory director, Professor Dawn Lehman, at delehman@uw.edu.

UW researchers: Please be aware that the SEL is open with limited operation. Only essential staff are working. Students are required to have permission from the SRL director and their research adviser to work in the facility.
The largest facility of its kind in the Pacific Northwest, the UW Large-Scale Structural Engineering Testing Laboratory (SETL) is located at the University of Washington's Seattle campus, in More Hall.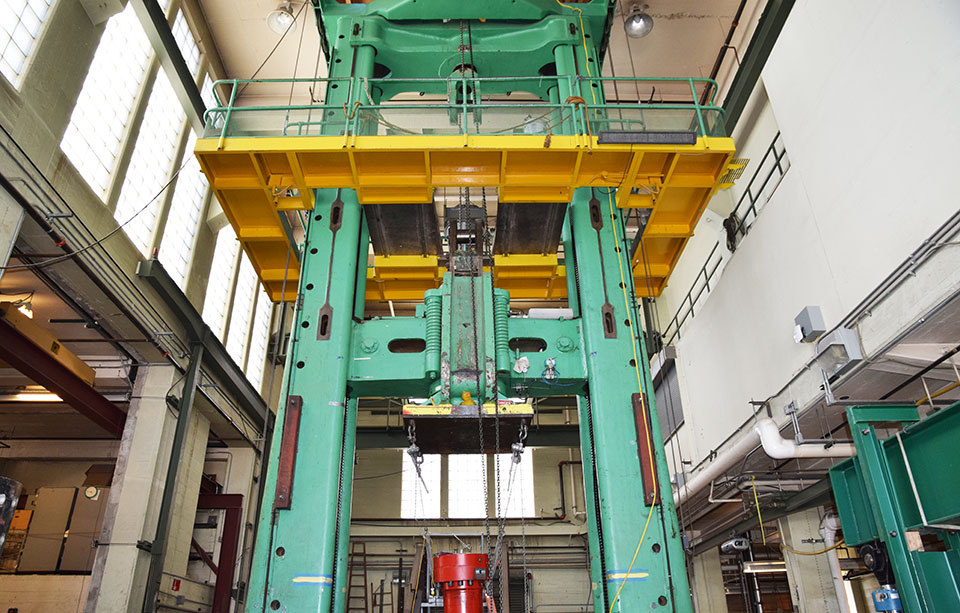 The Large-Scale Structural Engineering Testing Laboratory is a versatile facility for performing large-scale structural engineering experiments on civil infrastructure components and systems. The facility features a strong floor and strong wall that can be used to apply large static and dynamic loads. Experiments conducted in the facility contribute to the development of new structural engineering innovations, changes to building codes and solutions to critical problems associated with the structural design of civil infrastructure. The Large-Scale Structural Engineering Testing Laboratory has a long history of supporting industry, research and educational projects.
The Large-Scale Structural Engineering Testing Laboratory offers several unique pieces of equipment:
A digital servo-controlled 2.4 million pound Universal Testing Machine, called "Big Baldwin," used for research and commercial tests.
High capacity dynamic actuators (one capable of applying more than 400 kips or 400,000 lbs.) that can cycle structural and other large capacity components to 10 inches in each direction.
Dual-camera Optotrak system for movement capture, with more than 200 channels.
Panel Element Tester: The first machine of its kind to be available on the west coast of the United States, the tester is an advanced apparatus that can apply arbitrary combinations of in-plane stresses to thin membrane specimens.

Structural engineering design firms, contractors and suppliers utilize the large-scale testing facility for project needs.
To advance the field of structural engineering, the facility is used for a wide range of research experiments.
Graduate and undergraduate students routinely conduct research in the Large-Scale Structural Engineering Testing Laboratory.
The facility offers specialized equipment to support a variety of large-scale experiments.