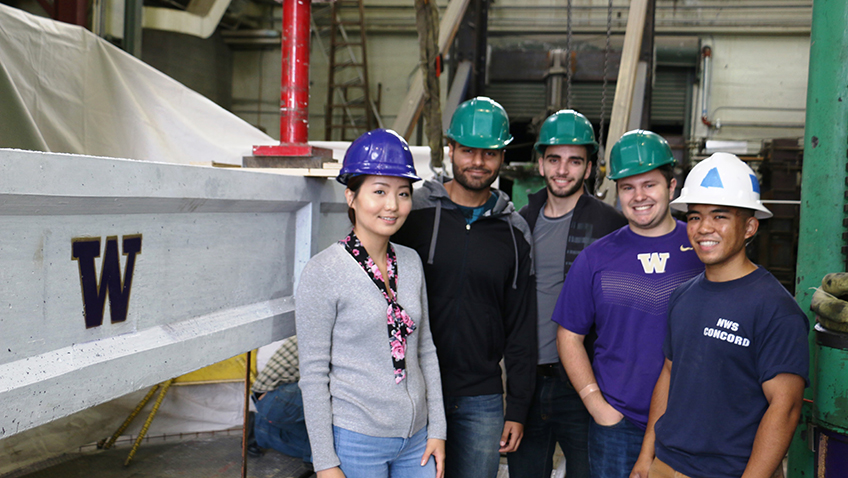 What is civil engineering?
At the University of Washington, civil engineering students are preparing to take on the challenges presented by aging national infrastructure and the pressing needs of both urban and developing communities around the globe. Civil engineers design, build, operate and maintain urban environments to improve people's lives. From transportation to water quality to earthquake preparedness, resilient systems play a crucial role in enabling livable, sustainable cities, healthy environments and strong economies. Learn how civil engineers change the world.
Job outlook
With aging infrastructure and rising water needs, as well as pressing global-scale environmental issues, the demand for civil engineers is expected to surge in coming years. Below are a few statistics that forecast considerable job growth:
20% increase in demand for civil engineers by 2022*
650 civil engineer positions expected to be added per year in Washington state, more than any other engineering discipline*
* Bureau of Labor Statistics
Careers & internships
Civil Engineering is a broad field, with specialty areas that include transportation, structural, geotechnical, water, construction and environmental engineering. Civil engineers typically work for contractors and consulting companies, as well as local government agencies and environmental organizations. According to the American Society of Civil Engineers, the field entails "the design and maintenance of public works such as roads, bridges, water and energy systems as well as public facilities like ports, railways and airports." Civil engineers are heavily involved in such projects from the start, working on designs, analysis, projected costs and overseeing construction.
In addition to working with renowned faculty in classrooms and labs, more than 85 percent of students pursue internships, working on high-profile projects. Many internships result in job offers and real-world experience prepares graduates to work for companies such as Kiewit, Puget Sound Energy, Boeing, U.S. Army Corps of Engineers, Skanska, CH2M, Bechtel, Port of Seattle, KPFF and many more. Learn more about internships.
ABET accreditation
UW CEE'S BSCE degree program is accredited by the Engineering Accreditation Commission of ABET, http://www.abet.org. ABET establishes quality standards for courses, with detailed ABET Educational Objectives and Student Outcomes. Learn more about ABET.
Learn more