Geotechnical Research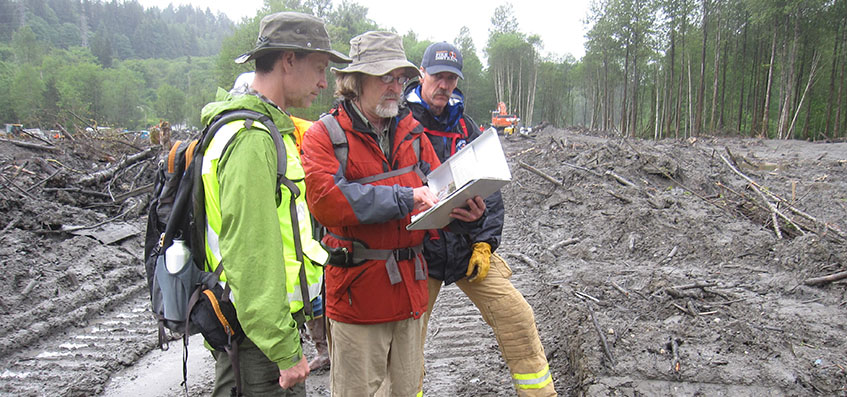 Associate professor Joe Wartman (left) leads a team of NSF-sponsored researchers to collect data following the 2014 Oso landslide, the deadliest in the history of the United States.
Overview
The UW CEE Geotechnical Engineering research group explores a broad range of areas related to geotechnical engineering. Students come from across the United States and around the world to work closely with faculty on research projects, both as master's and Ph.D. students. Researchers draw upon their collective expertise in analytical and numerical modeling, experimental simulations and field methods to study problems in geotechnical earthquake engineering, geologic hazards, soil mechanics, rock mechanics, engineering geology, foundation engineering, bio-geotechnics and reinforced soil systems.
The group is highly interdisciplinary and current research projects entail collaborating with experts in structural engineering, mechanics, geology, seismology, remote sensing and statistics. Research is funded by federal and state agencies such as the National Science Foundation, the Pacific Earthquake Engineering Research Center, the U.S. Geological Survey, the U.S. Agency for International Development, and the Washington State Department of Transportation.
Research Topics​
Tools​
Labs
CEE faculty oversee labs and research groups, where they investigate a variety of critical problems related to transportation engineering. Undergraduate and graduate students are encouraged to participate in research.
Hennes Lecture
The department hosts an annual geotechnical lecture, named in honor of former Professor Robert Hennes who established the geotechnical program
Centers
UW CEE hosts several centers, funded by industry and government. The centers headquarter research on specific themes and act as hubs connecting faculty and students with resources to support research, education and outreach activities.
Social Media
UW Geotech Group
Professional Societies​
Earthquake Engineering Research Institute
Degree Programs
Latest News