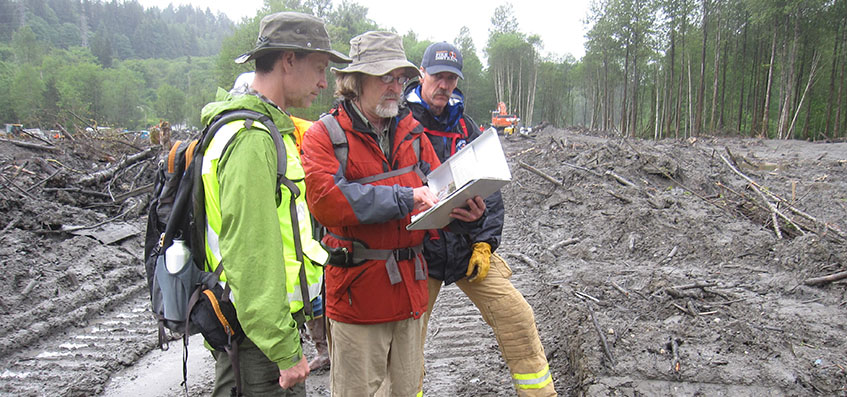 Associate professor Joe Wartman (left) leads a team of NSF-sponsored researchers to collect data following the 2014 Oso landslide, the deadliest in the history of the United States.
Overview
The UW CEE Geotechnical Engineering research group explores a broad range of areas related to geotechnical engineering. Students come from across the United States and around the world to work closely with faculty on research projects, both as master's and Ph.D. students. Researchers draw upon their collective expertise in analytical and numerical modeling, experimental simulations and field methods to study problems in geotechnical earthquake engineering, geologic hazards, soil mechanics, rock mechanics, engineering geology, foundation engineering, bio-geotechnics and reinforced soil systems.
The group is highly interdisciplinary and current research projects entail collaborating with experts in structural engineering, mechanics, geology, seismology, remote sensing and statistics. Research is funded by federal and state agencies such as the National Science Foundation, the Pacific Earthquake Engineering Research Center, the U.S. Geological Survey, the U.S. Agency for International Development, and the Washington State Department of Transportation.
Research topics
Student research
Protecting Infrastructure from Seismic Soil Movement
Researcher: Andrew Makdisi, master's student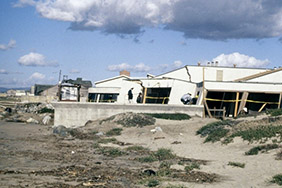 Induced by seismic shaking, lateral spreading is a phenomenon that causes soil to move horizontally, which can result in significant damage to buildings and other infrastructure, as illustrated in the above figure. Master's student Andrew Makdisi researched a commonly used analytical procedure used to assess lateral spreading, revealing biased and extraordinarily uncertain estimates of lateral spreading deformations. Makdisi received a Valle Scholarship & Scandinavian Exchange Program fellowship to conduct part of his research during a nine-month stay at the Norwegian University of Science and Technology.
Evaluating Seismic Earth Pressures on Retaining Walls
Researcher: Cyndi Lopez, Ph.D. student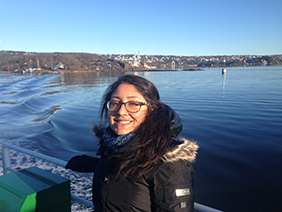 During an earthquake, an increase in soil pressure on retaining walls can lead to wall failures on a catastrophic level if the wall is not adequately designed to sustain the additional forces. To address this, Ph.D. student Cyndi Lopez is performing finite element analyses with the goal of improving the outdated methodology for estimating seismic earth pressures. Thanks to a nine-month Valle Scholarship & Scandinavian Exchange Program fellowship, she traveled to Oslo, Norway, to work on her research with the computational geomechanics department at the Norwegian Geotechnical Institute.
Tools
Labs
CEE faculty oversee labs and research groups, where they investigate a variety of critical problems related to transportation engineering. Undergraduate and graduate students are encouraged to participate in research.
Hennes lecture
The department hosts an annual geotechnical lecture, named in honor of former Professor Robert Hennes who established the geotechnical program
Centers
UW CEE hosts several centers, funded by industry and government. The centers headquarter research on specific themes and act as hubs connecting faculty and students with resources to support research, education and outreach activities.
Social media
UW Geotech Group
Professional societies
Earthquake Engineering Research Institute
Degree programs
More resources
This 5-minute video produced by the DFI Women in Deep Foundations (WiDF) Committee answers the question: "What is the geotechnical field?"
Latest news