Hydrology & Hydrodynamics Research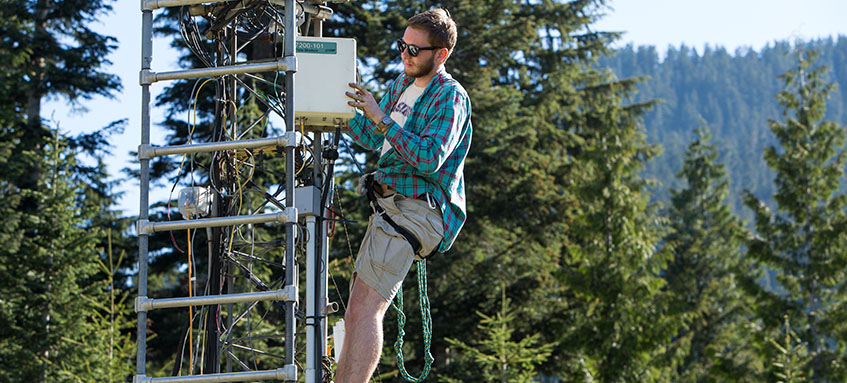 Undergraduate student Colin Butler (BSCE '16) services a weather station at Snoqualmie Pass, which collects data for a snow measurement study led by Professor Jessica Lundquist.
Overview
UW CEE Hydrology & Hydrodynamics research area addresses pressing societal issues, from investigating the supply and quality of the world's freshwater to predicting flood and sedimentation risks to building innovative tools to empower developing nations to manage water resources. The UW Hydrology & Hydrodynamics research area encompasses two related areas of study. The hydrology area focuses on monitoring, modeling and predicting water resources both above and below the earth's surface while hydrodynamics examines the behavior of fluids in the environment. Research is funded by federal and state agencies such as the National Science Foundation, NASA and Environmental Protection Agency. More details about each area are provided below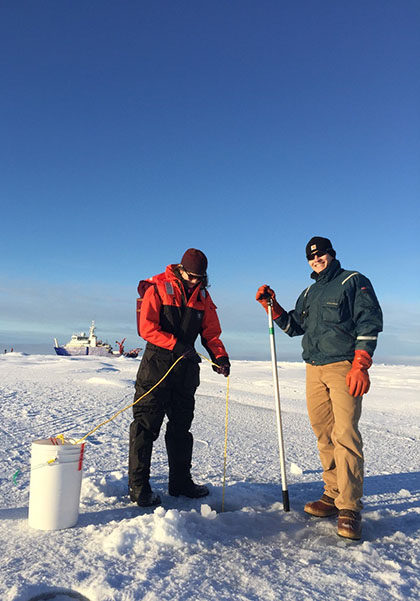 Graduate student Maddie Smith and Associate Professor Jim Thomson deploy a conductivity-temperature-depth probe through the sea ice in the Arctic Ocean.
Hydrology
Hydrology is the study of occurrence, movement, distribution, and quality of water on and beneath the surface of the Earth and its relation to living and non-living components of the environment. UW hydrology faculty undertakes field studies, laboratory experiments and numerical modeling to improve the understanding and prediction of: water resources driven by snow and glacial melt runoff, streamflow variability, flood risks, water quality, erosion and sediment transport, and ecosystem response. The hydrology area also examines water resource challenges driven by global change such as droughts, groundwater contamination, water and human health relations. Research activities include drought-monitoring, snow accumulation and melt dynamics, sustainable water resources development using climate and hydrologic forecasts and satellite remote sensing, as well as watershed and regional hydrologic modeling.
Hydrodynamics
Hydrodynamics research examines fluids in motion and is therefore often referred to as Environmental Fluid Mechanics. Researchers explore the behavior of fluids in natural flows that are influenced by a variety of factors, such as turbulence, the earth's rotation and density stratification, when density differences causes water to separate into distinct layers. Research projects explore the fluid dynamics of rivers, estuaries and the coastal ocean, investigating topics such as sediment transport and fish passage. Research is conducted via field observations using boat-mounted and moored instruments, and laboratory experiments using advanced laser-based measurement techniques.
Faculty Research Areas
Centers
UW CEE hosts several centers, funded by industry and government. The centers headquarter research on specific themes and act as hubs connecting faculty and students with resources to support research, education and outreach activities.
Facilities
Research Groups
CEE faculty oversee research groups, where they investigate a variety of critical problems related to hydrology & hydrodynamics engineering. Undergraduate and graduate students are encouraged to participate in research.
Hydrology
Hydrodynamics
Technical Publications
Water Resources Series Technical Publications
Degree Programs
Latest News